This happened a week ago, but was the same day as Daniel's eye appointment so I haven't gotten it posted.
We had another delightful day at co-op. These are honestly some of my favorite days. I love the creativity and energy put into it by the other moms. I also love seeing the expressions of creativity by the children. I always learn new things and just love spending a fun morning with friends!
As always, we start with reading the story. We spend our time outside as often as weather allows.
The children had a discussion about illusion because in the story Albert, he checks the weather to see if it is a good day for going outside. It is, until he hears a "bad noise" and then he decides to stay. The excuse is the weather when in reality that isn't the real reason at all. Isn't that a great thing to be talking about with children - to help them understand and deal with reality.
Miss Lynn had some examples of things that she partly showed them and then when they saw the entire thing, they realized that it was not as it had appeared. Then they spent some time looking at some puzzles and optical illusions.
This is the book that was used and it is a really neat one!
In the story, when Albert holds his hand out to check the weather, a bird drops a twig in his hand. Surprised, he stands there and watches as the mama and papa bird continue to drop sticks into his hand until a nest is built. To explore a little about birds, each child was given a tag with a picture and description of a bird. They could use this to talk and ask questions and share which bird they happened to be.
One of the highlights of the day was ... egg-speriments. My boys loved this!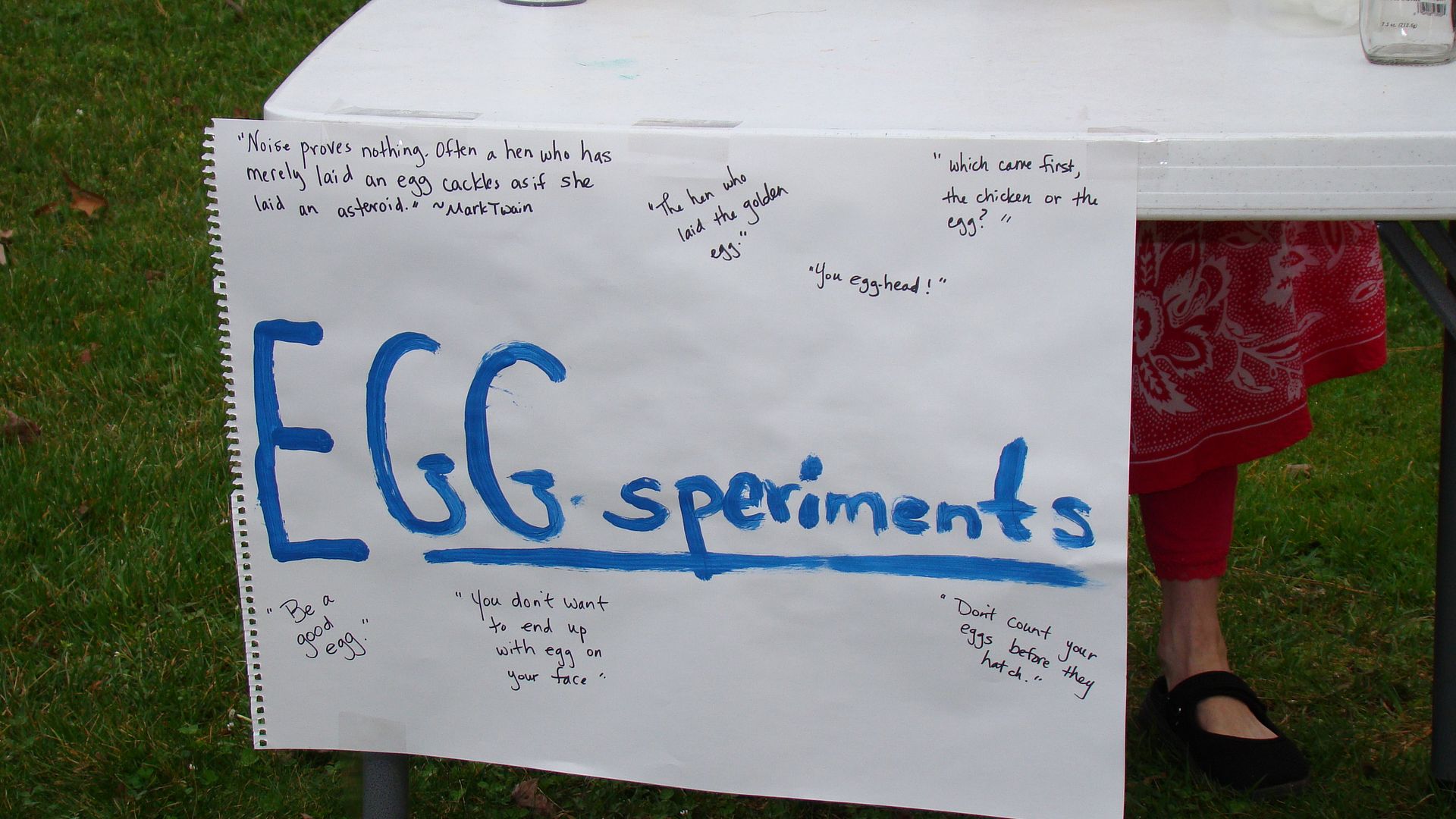 One of the experiments including observing what happened to an egg soaked in vinegar (a chemical reaction that causes the shell to be gone/absorbed (?) and turns the egg into a rubbery form that bounces. Another demonstrated the strength of the egg shell.
Next, what happens to an egg when you light a match, place it in a bottle and place an egg on top of the bottle (blocking the entrance)?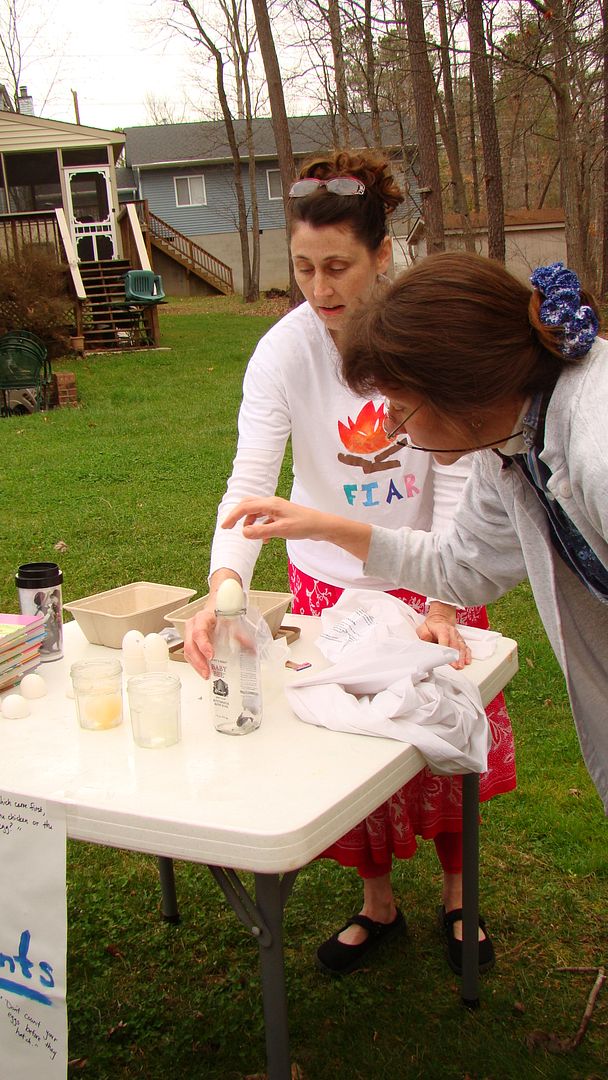 The lighted match creates a vaccuum pulling the egg into the bottle.
Learning how to tell if an egg is boiled or not by spinning it, stopping it with your finger and then watching to see what it does. (The raw egg starts spinning again due to the yolk still being in motion from the prior spinning.)
The children were given more pictures of birds while they looked at a poster with a variety of bird's nests on them. They then took turns placing the birds with their nests.
The children were then given the opportunity to express themselves by decorating eggs. They could chose to do one that had been "blown" or one that was hard-boiled. They could use paint, markers, colored pencils, and/or tissue paper/mod podge to decorate the eggs.
Each egg was unique and different. It's always a treat to see the children express themselves. (And I had to try not to laugh when one of mine painted his egg ... white!)
The children played with some of the extra eggs with some making nests by the creek and others made
Egg bombs. (One of those moments you don't envision when you first become a mom of boys!)
I just thought this was a neat picture of the egg flying through the air on its way to a tree.
The last lesson was on noise and how it moves through the air (waves) as well as the decibel level of various items. The children learned about the effect of loud noises on their ears too. Each child was given a slip of paper with a noise on it - from jet plane to a whisper and lots more. Then then tried to guess the decibel level and were able to see if that item was at a sound level that was dangerous for their ears.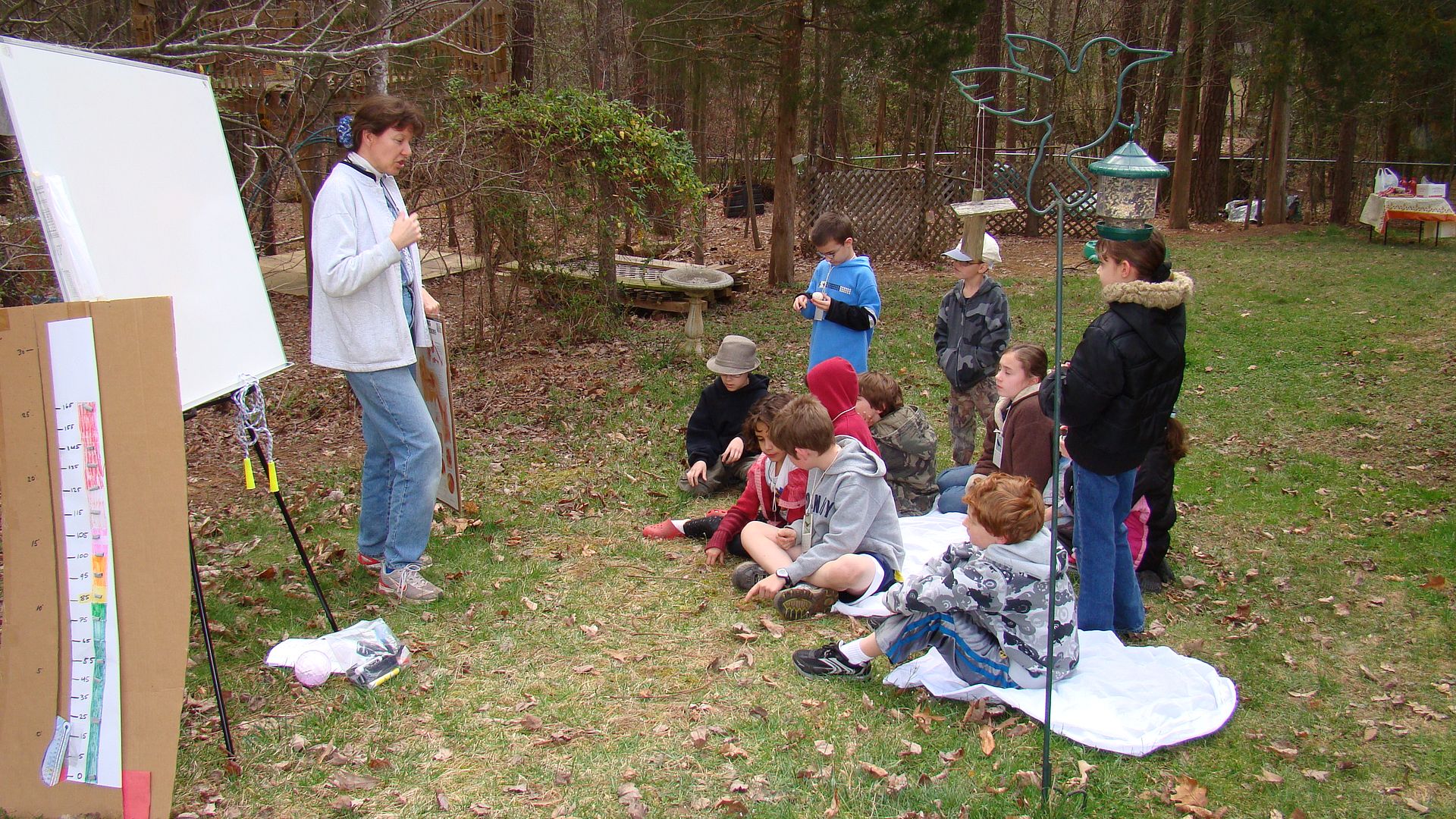 We finished with a yummy snack - egg, nuts, seeds.
The children were given a cute little fabric nest for their eggs.
Thanks Lynn and Vivian for a wonderful morning! We had a blast!
Hope you enjoyed a peek into our day.
Blessings
Leslie