Today was our second day of camp - and it was a beautiful day! The gals doing the teaching arrived early to do set up and then we were ready to have fun!
Our day started in the same format as before - prayer and devotions and reading the story. We love learning more about creation and God's hand in the design of animals. Our story for today was Are You a Snail?
The group (young and old) stayed together for some storytelling and facts. This gal is a great story-teller! Lots of interesting things to look at and to examine as well. Who knew there was so much you could learn about snails!
Then the groups split and the younger children did some learning about snails using their senses.
A box filled with eggs - each containing something they could touch or feel that related to a snail. What a neat hands-on way to learn! (The picture was upside down, but hopefully you can get a look at it.)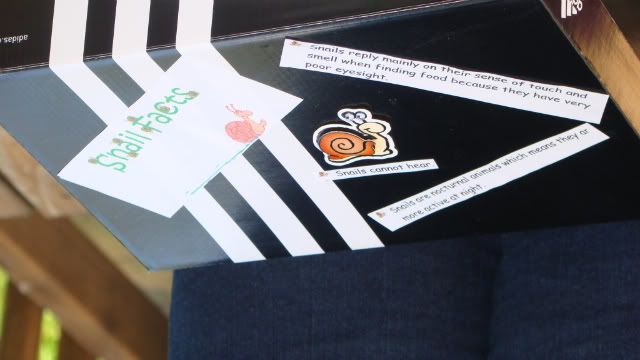 The older kids learned about some of the chemical make-up of a snail. For instance, did you know that a snail has blueish-green blood? It is because a snail doesn't have iron and instead has copper. You know what happens to copper when it is combined with oxygen. Cool, huh?
Even Eliana enjoyed looking at the periodic chart. (She liked "counting" the squares.)
Eliana also liked playing some football with Christopher. He loves sharing his love of the game with her. I think its really sweet!
Look at the snack the children had today! Isn't it cute?!
The snail is made from turkey and cheese rolled up, carrot for the head and antennae and a spinach leaf underneath. They had tapioca that could be used for the slime.
They also had some vegetables since snail like our garden produce. It was all very yummy!
The younger children then made a hands-on sensory book about snails! Each part of the snail's body was demonstrated with something that they could feel or touch.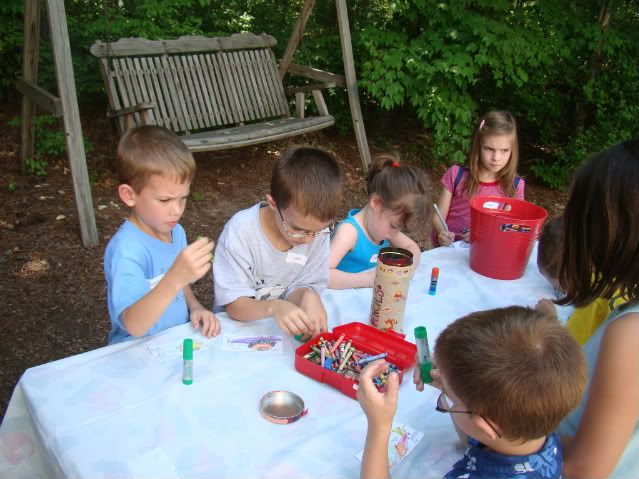 I liked this picture of Daniel. He is working hard and having fun! He is the youngest camper and I wasn't sure how he would do without camp. He is having a good time. :-)
This is the cover of their book. Each child decorated it however they wanted. A glittery slime trail was added after I took this picture.
Here are the inside pages for those who want to see more.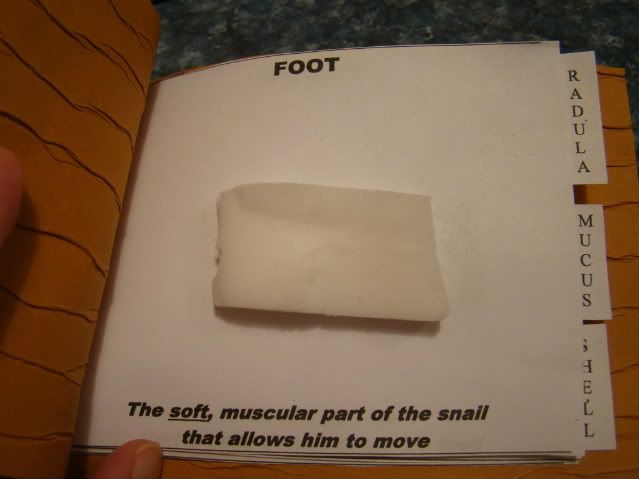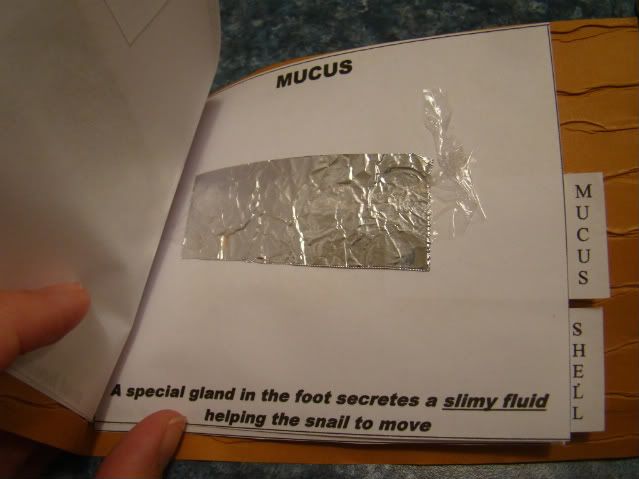 The older children had a relay with blood cells made from foam floor mat pieces and balloons. They had to race to trade out their white balloons (oxygen?) for the black balloons (CO) and stay together as a group of 4 while they did this. They clearly had fun with it.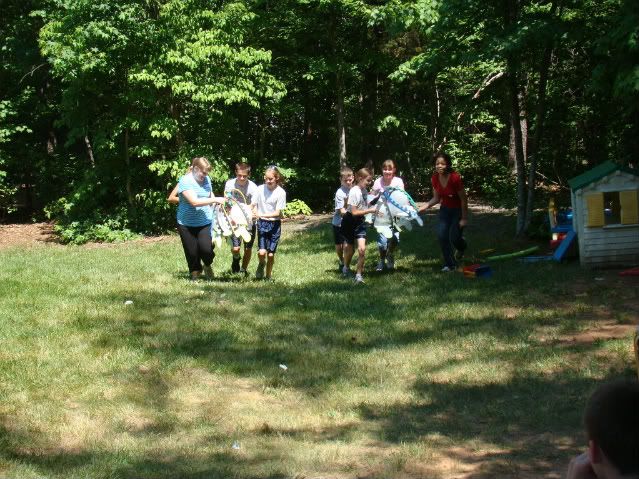 Last was a game in the woods to demonstrate a little of what it is like being a snail. Some of the children were snails and when it rained (children with water squirters), they would come out of hiding. When they saw a predator (fox or thrush) they would crouch down to hide. If tagged, they went into the den of the predator. They could be rescued by another snail.
Games are always fun and in interesting way to reinforce some facts and get rid of some excess energy.
Again, it was an interesting, informative and memorable day. We are all having fun and learning along the way. You can't ask for more than that! God is good!
Blessings
Leslie