I have been going to a local consignment sale for years. I started consigning and volunteering early on too as that meant you could shop early and get better deals. It has been a wonderful blessing for my family as we have found many nice things there at a fraction of the cost at a store. It's been a great way to do a lot of shopping all at once too. (I really don't like shopping and this helps me get a lot done and then not have to do it again for awhile.)
I bought clothes for my youngest 5 - not too much for Rebecca though. A pretty dress and a shirt. Each of the boys got 6 pair of shorts and a variety of shirts. Eliana though - she got a LOT! What can I say? It's soooo much fun to shop for little girl clothes! And the prices are so good! And did I mention how cute the clothes are?! Out of all that I bought - probably half was for Eliana. That's a little embarrassing, but true.
Rebecca wanted to try clothes on Eliana when we got home. We took a couple of pics. Her hair is a mess, but she was a really good sport about trying things on.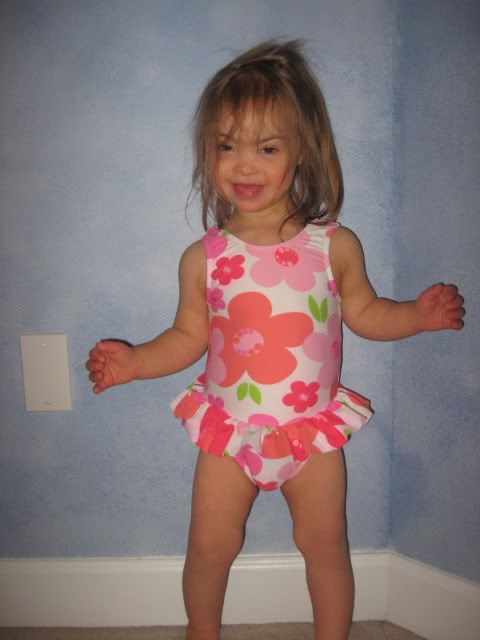 The sale also has books, toys, games and things. I was able to buy a couple of things that Eliana has been using in therapy. One is a great set of stringing beads. The problem with most sets is that the string is too hard to get through and you have to kind of feed the string through the bead. Does this make sense? Well, these had a long wooden "needle" to thread through the wooden farm animals. So cute - and just right for Eliana.
I bought a few games and things that I think will be great for our workboxes!
We also went back today for the 50 percent off and bought a few more games and puzzles to be used during our school day. Now I just need to find places for everything. *grin*
Blessings,
Leslie