Well, I'm behind – and going to try again to catch up. So, you'll probably be seeing a few "retroposts" from me for the month of October. I really want to catch up so we can share what we did TODAY! We were part of an awesome event with our homeschool group and I can't wait to share pictures! More later.
On Oct 12, we attended our local Buddy Walk. We went to our first one last year. I remember not knowing what it would be like and not really knowing many people. We went anyway and I am so glad that we did. This year, we were all very excited to go. Our local group does an awesome job in putting on the event! So many things going on and not nearly enough time to do it all!
We arrived and checked in – receiving a goody bag and t-shirt to wear. I was amazed by the size of the event. There was a very large tent with tables for eating lunch. There were games and rides for the children, clowns, face painting, booths with information and goodies and more!
There was various entertainment – including a drum group with one member being a young man with Down syndrome. The highlight of the day was Rachel from Signing Time! She was there with Alex and Leah to perform a variety of songs. We had front row seats and loved the entire show!
If you aren't familiar with these DVDs, please check them out here. The company was started by a mom (Rachel) to help teach others signs. She was motivated to help her daughter was was born deaf. She in turn is helping many other families to be able to better communicate! While Eliana does have a couple of words, she has many, many more signs! This is a fabulous way for all of us to learn to communicate with her. As a family – we are sold!!!
After the show was the walk. It was a short walk around the grounds on a paved path. Last year Eliana was in a stroller. This year, I carried her and then decided she could probably do part of the walk herself.
My favorite part of the walk is the signs. There are signs all along the walk with pictures of children with Down syndrome. We bought one for Eliana this year which she found interesting.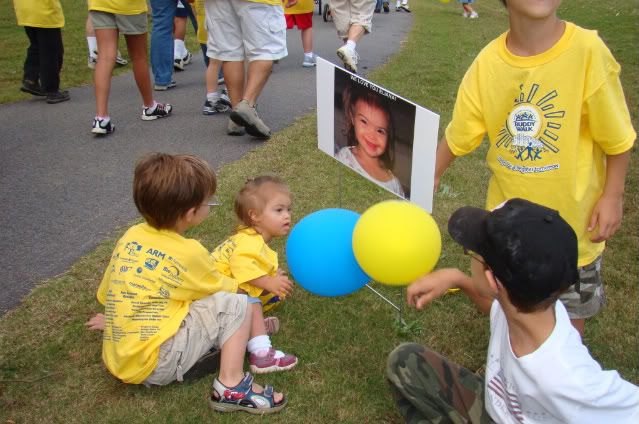 This is the picture that we used for her sign.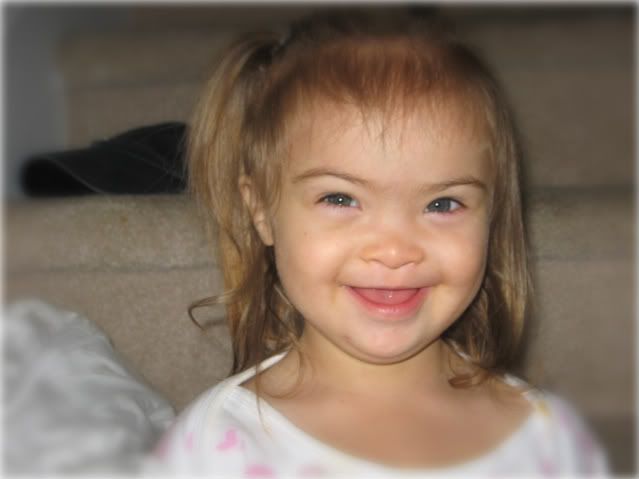 We were thrilled to be joined by some dear friends at this year's walk. We'd love to have more of you join us next year. It really is a neat time of celebrating a special group of people. Last year, I remember just crying at seeing all of the beautiful faces of other children with Down syndrome. Having spent much of the first 10 months of Eliana's life at home, we hadn't gotten out much. I am thankful for the support we have here locally – and the support we have personally.
And while I wasn't sure I'd ever say this soon after Eliana was born – I can say it completely now. I'm so glad to have a precious little girl with Down syndrome in my family. She is a delight!!! I'm thankful for the amazing gift of children – all of them!
Blessings,
Leslie