Just thought I'd share briefly a little of what we've been doing around here this month.
We went to Bethlehem. A local church (not ours) puts on a fabulous interactive "Journey to Bethlehem". You are led through a market and to meet various people on the way - Herod, the wise men, merchants, shepherds, angels, the innkeeper - before seeing the Nativity. The costumes and sets are amazing! It's one of our family's favorite activities. I don't think you are ever to old to experience the Christmas story in such a real and fresh way.
The girls met for Keepers of the Faith and did a second class on Herbs. You can read more about it here. Roger and some of the children went to a Christmas parade. We attended Christopher's football awards banquet. It was a very nice event and we enjoyed being there.
We made applesauce/cinnamon ornaments. The children enjoyed this and we used them on the small tree. The room smells soooo good and the tree looks beautiful. I'll post a picture when I get it uploaded.
We also made trees out of rice krispy treats. This was an idea of a friend, Jen, and we enjoyed it too. We used our hands to shape trees, snowmen, balls, whatever they felt like doing. We decorated with sprinkles - and then ate.
We attended a St. Lucia party hosted by some dear friends. She goes all out in decorating and attending to all of the details of making the event a beautiful and fun one for all invited. The house was beautiful, the food was delicious and bountiful (and Swedish), and activities were fun for the children. The adults had a great time just talking and catching up. It's an event we look forward to each year!
Rebecca wrapped up some of our Christmas books and put them under the tree. The younger boys have been opening one each day or so and then enjoy listening to the story.
Each of the children received an ornament. I try to choose something the represents some aspect of their year or their personality. Here is what they received this year.
Eliana - an angel that loves to dance. That's pretty much says it all, doesn't it?
Daniel - a little drummer made of candy. He plays music and beats the drum. Daniel loves candy and music has been an important part of his year in terms of therapy. He loves this ornament. We've had to convince him that it isn't a toy to be played with and needs to stay on the tree. LOL
Isaiah - Pooh and Tigger sledding. Isaiah loves the action of sledding and the constant movement also reminded me of my active and energetic little boy. He loves watching it move.
Joshua - Two bears cuddled up with a book. Joshua loves to read -and to be read to. It's a gift that has taken him many places.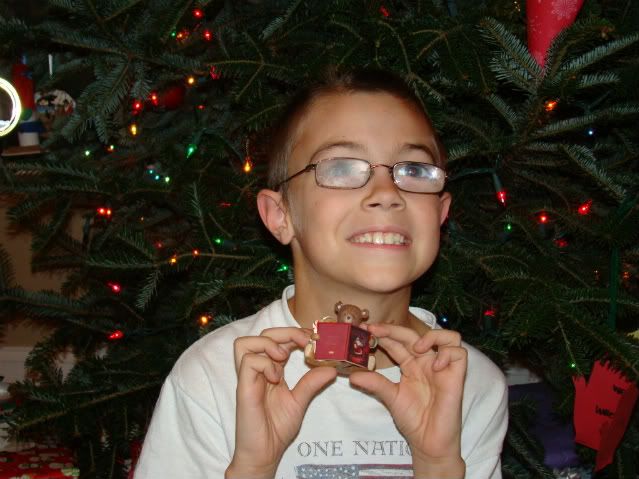 Rebecca - A handcrafted ornament with beads and wire - which reminded me of her bracelet making. There is also a cross which reminds me of her love of Jesus.
Christopher - An ornament that says "License to Drive". Another one that explains itself. There is a space to place a photo and Christopher is covering the photo that came with the ornament.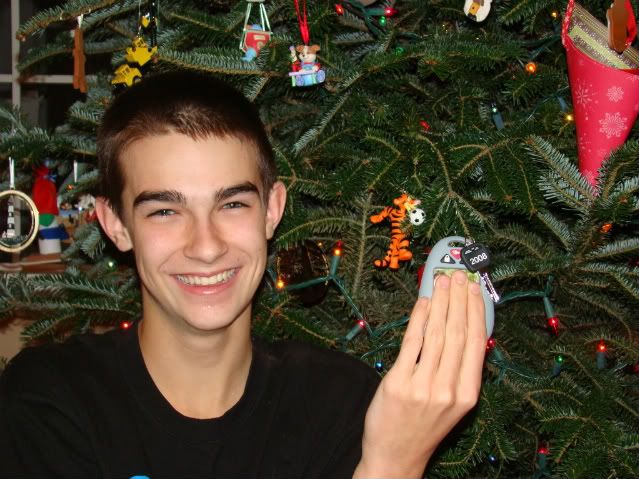 More later on Christmas itself.
Blessings,
Leslie