I thought I'd play a little catch-up on my blog. We did do some fun things this month, though perhaps not as many as I would have liked. My heart just wasn't into things as much this year. It can be hard to grieve and also celebrate.
I appreciate the prayers, notes and encouragment that I've received. Thank you. This has been hard for my heart. I try to stay busy as it helps keep my mind off of things. I am also trying to be thankful. I'm thankful that a family has come forward for Tonya. I continue to pray for her daily as well as for the family that has commited to her. I'm also continuing to pray for the many other children waiting for a family and still praying that perhaps one day this will be our path. I'm not "over it" and honestly, this leaves a hole in my heart. I know that time will heal and also know that part of my heart will always be with this precious little girl that I've loved through prayers.
Please join me in praying for these children. There are 147 million orphans around the world. This breaks my heart. I'm praying and giving and waiting to see if there is more that I could be doing. Is there more that you could be doing?
I wanted to share one of the fun times we had early this month. Rebecca and I were given a gift after we did the program with the Duke Athletes - a tea for 8. It was enough for our whole family! Or if some of them didn't want to go, we could ask friends to join us. We ended up going with the a mix of the options - half family and half friends. It was a lot of fun!
We went to the Washington Duke Inn - a very nice local place. It was beautifully decorated and we went on a Friday afternoon. We met friends and then went into the lovely dining area. We each chose a drink. Most chose a tea, but they also had other options for those who wanted something different. Hot chocolate was an option for several of the children. Doesn't it look delicious?
Pink lemonade was also a choice.
We sat and talked as we waited to see what would happen next. We'd never been to this hotel for tea and I've never been out for tea so I didn't really know what to expect. It was nice to spend time with friends in a relaxed and lovely setting. Here I am with two of my handsome boys.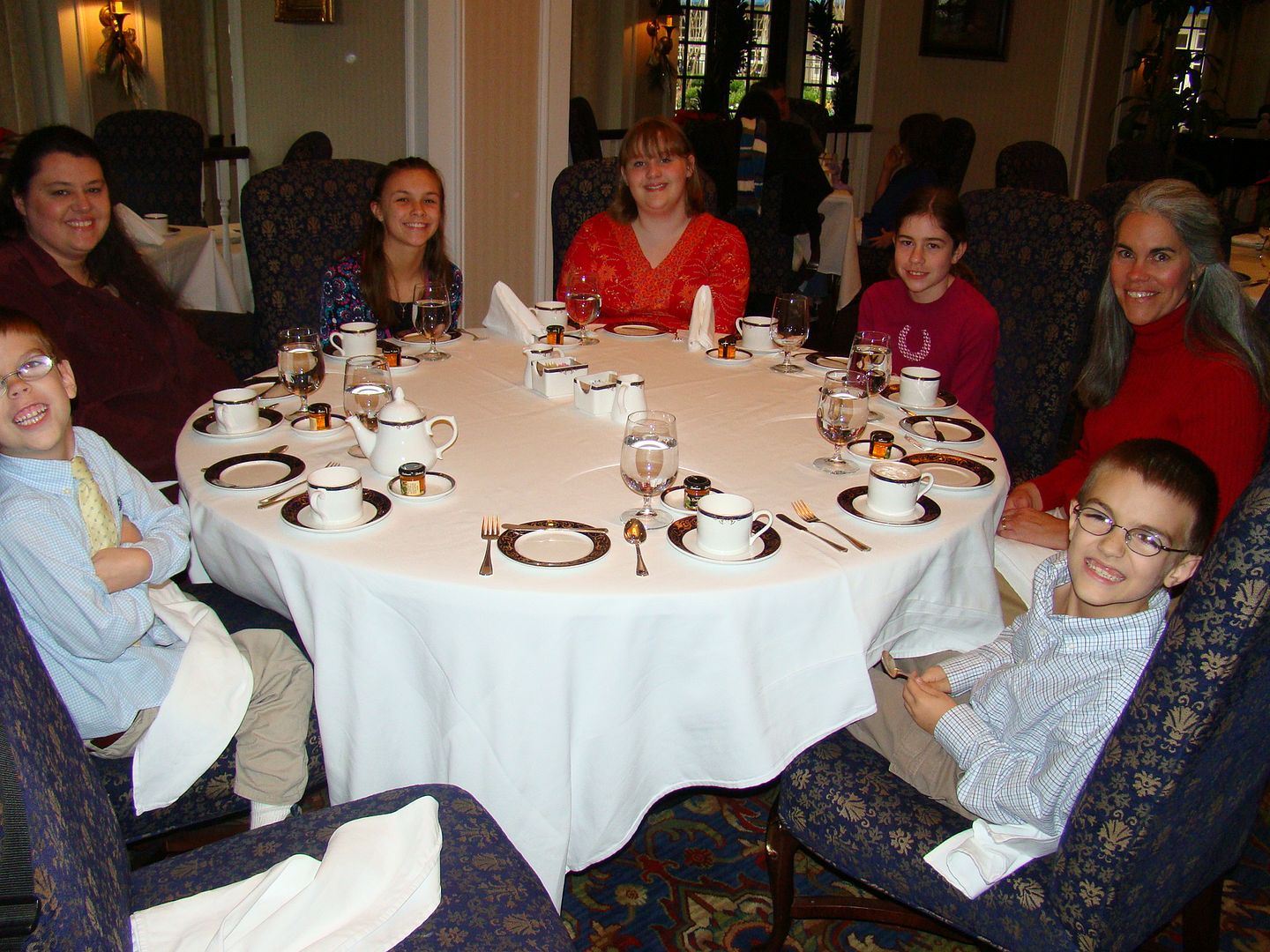 When the waiter brought out the food, it was incredible! There were 3 layers of delightful offerings and enough for everyone to have one of each item.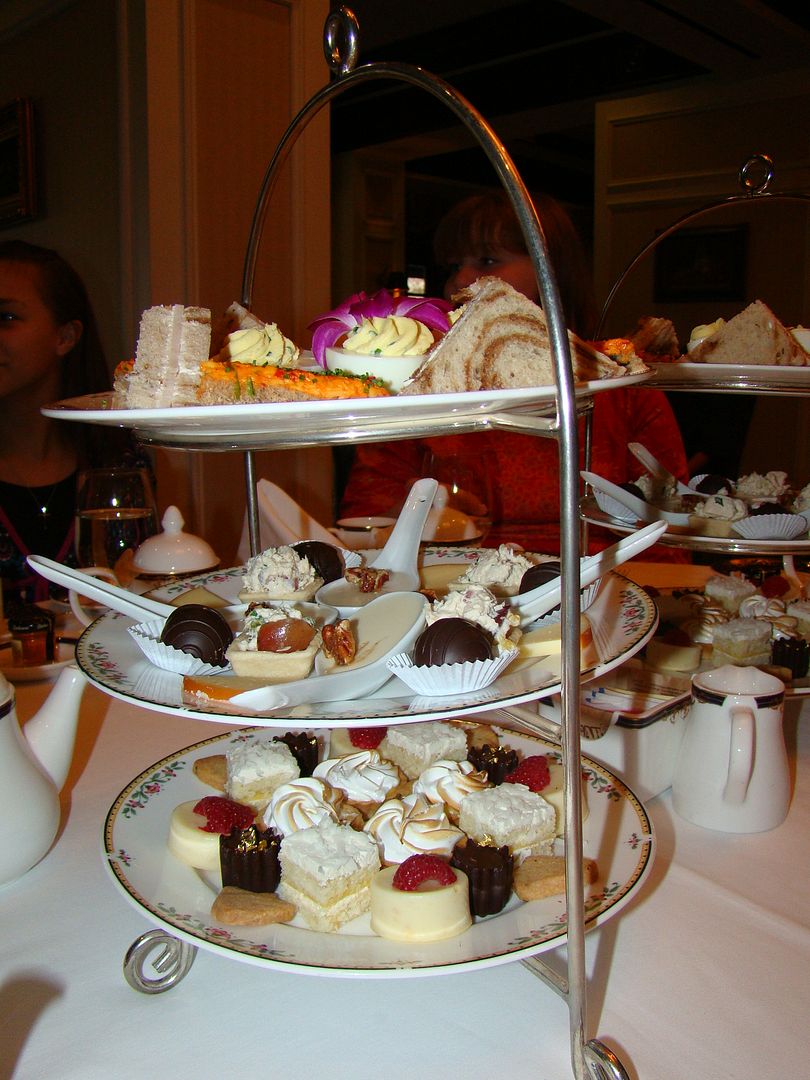 The top tier included a cucumber sandwich, a pimento cheese sandwich, a devilled egg and a turkey sandwich with a cheese and dill spread. The waiter described each item to us in a very tasty way - but I can't remember the details. They were as yummy as they look!
Next, chicken salad in a little shell, a truffle, smoked cheese and a type of pudding. (Now this is all to the best of my memory and I could be wrong!).
The last tier - cheesecake, coconut cake, lemon meringue pie, shortbread cookie and a dark chocolate truffle with edible gold.
We talked about which level we liked the best and we all had different responses. They were all yummy, but we each had our own favorite. Afterwards, we had a group photo made in the lobby.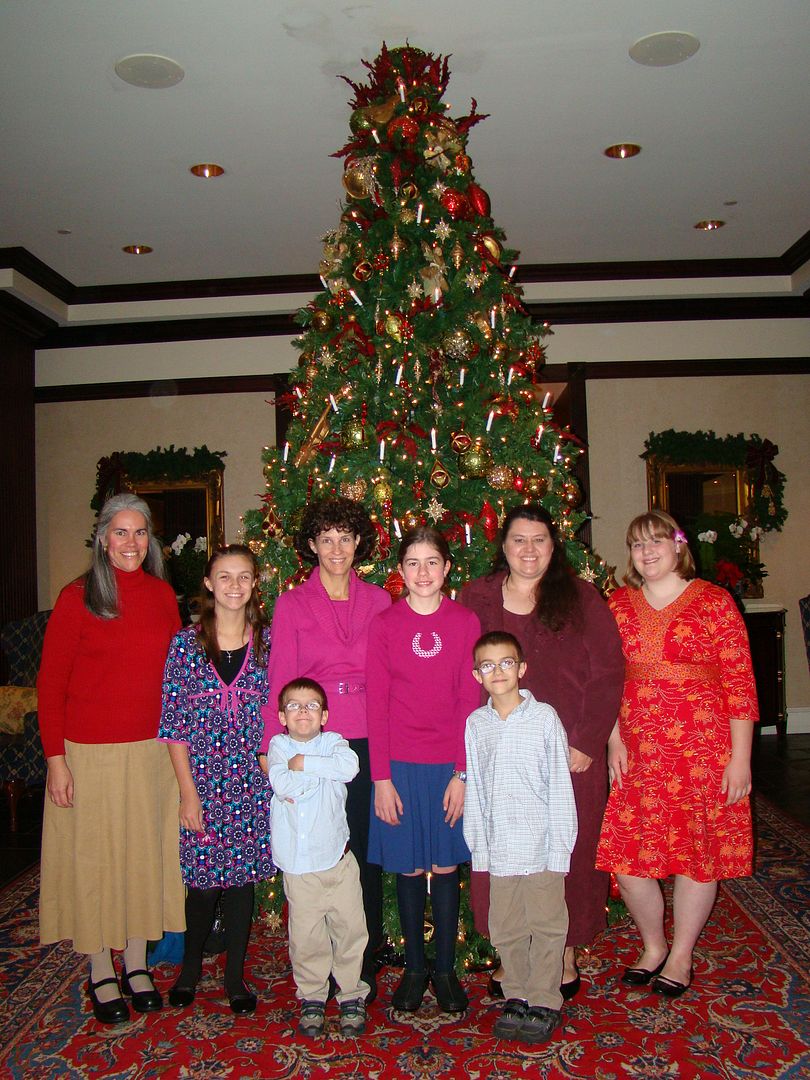 We also said our good-byes in one of the sitting areas off of the lobby. The children enjoyed this carousel which was playing Christmas carols.
Thank you friends for spending the afternoon with us and making sweet memories of this time together.
Blessings
Leslie