This is another "retropost" until I get caught up. lol This was another great field trip to go with our Mailing May/trains study. We visited the North Carolina Transportatin Museum for their homeschool days. This is one of our state historic sites - which we love!!! (And we've visited all of them with our "NC History Group"!) We were joined by 3 families for a beautiful, fun and full day!
We began in the morning by being split into 6 groups. We rotated through various stations learning about cars, riding on a turntable, learning the difference between diesel, electric and steam engines, hearing about rail transportation, air transportation and also about dug-out canoes. Each station had a different interpreter to share information with us. We also had worksheets which the children could complete as they learned things at the various stations.
This is our group riding on the turntable. You can see the roundhouse behind us.
Listening to an interpreter inside the roundhouse - which was huge! This roundhouse was part of the "Spencer Shops" which was the site for many train repairs during the early 1900s.
Learning about how dug-out canoes were made (fire) and then getting inside of it. (Isaiah even brought some of the soot home with him - on his white shirt of course. lol)
My two beautiful girls. Eliana likes to walk around as much as she can - and explore wherever she can. Rebecca is great about helping to keep up with our little curious one.
We then had an hour for a picnic lunch before boarding the train for a ride around the site. Daniel and I sat in the very back - in a row that was all by itself and at least 15 feet from the rest of the rows. Not sure why those 2 seats were there and at first he was not buying it. They were the last seats though and it was fun. He even took some pictures from the window of the train. Here's a photo we took of ourselves.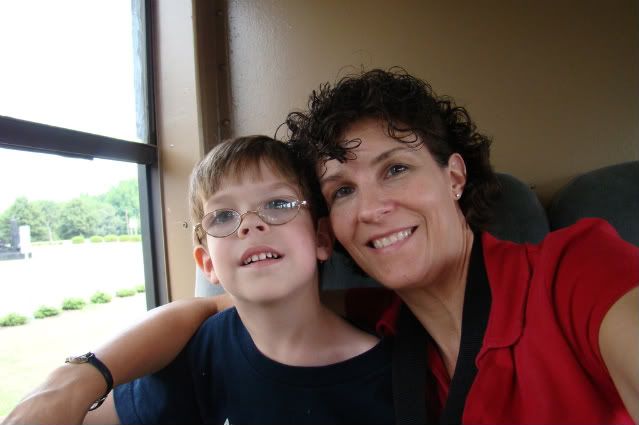 After our ride, we explored the very large museum. It's all part of an old roundhouse that was used to repair trains in the early 1900s. It's an amazing building!
There was even a mail car like the one in our story, Mailing May.
We didn't get any rain until our ride home for which we were very thankful.
As I reflect on this day, I'm reminded of how much for which I have to give thanks. I'm also reminded that it isn't just in the times of blessing that I am called to be thankful.
I'm thankful that I'm able to go on fun trips like this with my family - and also for friends that can go with us! I'm thankful that God has blessed us with good health and a flexible schedule. I'm thankful for the opportunity to learn in a fun and hands-on way and to make great memories.
Thank you God!
Blessings,
Leslie