We got all of our things ready - working right up to the deadline to get things framed and to finish quilting. *sigh* I thought I'd planned ahead. LOL
When we arrived at the fair, they just let us drive in! I was stunned. No permission, no questions - just drive right in. So as I was manuevering the van around construction equipment, vendors stands and lots of people working - I had to marvel at all that goes on behind the scenes of a fair. It was cool - well most of it was cool. Getting face to face with an 18-wheeler turning around in a tight space wan't the highlight.
After driving around and finally parking, we walked into the first building where I dropped off my quilt. The gals in there were so nice and all loved playing with Eliana. The children were each carrying the items they had made and looked so cute - especially the little boys holding their pictures. I wish I had taken a picture of that!
The next building was for artwork. My oldest 4 all had entries in this catagory. When we walked in a lot of the artwork was hanging and I was surprised to see how much they had gotten done! We had to search to find someone working in there and then were told we were a day too late! My face just fell. She told me I should have read it more carefully. I thought I did. I didn't know that there were different deadlines depending on the department. I apologized and just said I didn't know. I didn't try to make her change her mind or even explain why we were a day late - other than to say I didn't realize that the date was different. My sweet friend that was with me started getting tears in her eyes. I know that touched the woman with whom we were talking. Perhaps too seeing my two little boys holding onto the pictures so proudly and just listening to what she had to say.
She asked us to wait a minute. While she was gone I started trying to explain to my children that we were too late for them to enter. She came back with her supervisor who asked about out pictures. She also asked if we were homeschoolers. Then she agreed to take the pictures. Wasn't that nice! If we didn't realize it then, the first woman told us that last year's supervisor would never have allowed this breaking of the rules. I appreciated her grace. She certainly didn't have to do it. It was completely my fault. I was feeling so badly that I had made the deadline for my item and not for most of their items. We were all so very thankful for this sweet gal's heart.
Our last stop was a distance away where we went to enter Rebecca's bracelet and crosstitch. My friend had made beautiful ornaments to enter. Original sculpey ornaments for a Jesse tree. She was told she had entered the wrong catagory. They would not allow her to change it. Similar scenario as before with a much different reaction. My dear friend handled it with grace, but we were so sad for all of her hard work to prepare these ornaments. Hopefully she will try again next year - she does exquisite work!
Here are some photos of the things we entered.
I just love this picture - though I know it's hard to see in the photo. It's one that Isaiah drew when we were studying the book Mike Mulligan and His Steam Shovel. I love the hands with all of the fingers sticking out and the smile on the steam shovel's face.
Joshua drew this picture. He pays such attention to detail in his drawings. I love the row of pirate heads at the bottom of the picture. (Looks like the main pirate is having a little meeting.) He used a lot of art techniques that he had learned from shading and perspective to cross-hatching. He wasn't pleased that I had chosen this picture, but I think it's great!
Hmmm ... you can't really see the detail in this picture either. I can hardly see any grass or sky at all. I'm not sure if you can see more. I'm guessing that these pictures aren't the best as we were in a hurry to take them. This is a picture Rebecca drew of herself playing soccer. She loves drawing people - little people. She has a very distinct and very cute style too!
A photo of a photo seems silly, but I'll replace it if I can find the original. This is Christopher's entry. He took the photo last fall on a trip to the Outer Banks. It's a beautiful picture. He enjoys taking photos of landscapes and animals - and not people.
The photo of Rebecca's bracelet didn't turn out at all. It's a pink beaded bracelet with charms - several different types of heart charms. Very pretty.
This is Rebecca's cross-stitch. She made this last spring as part of her Keepers of the Faith project. (A club for girls in which they learn various skills and earn badges.) She worked very hard on this and did a beautiful job.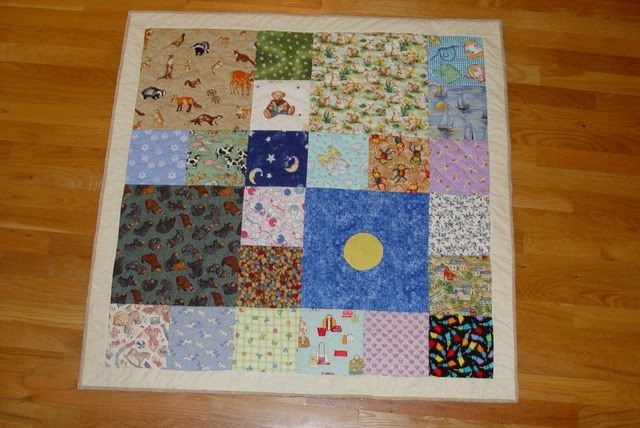 This is my quilt. It's an "I Spy" quilt. Each square represents a different children's picture book from the curriculum we use. These go with Before Five in a Row. It's machine pieced and hand stitched. I'm not sure it will mean much to anyone else and I'm not really sure why I entered it. I think for us, it represents a lot of fun we've had learning with and reading books over the years. This quilt is for Eliana.
We are planning to go to the fair early next week and check all of the entries. It will be fun this year to see things that we and our friends have entered.
That's all for now.
Blessings,
Leslie