The week-end before last, we went to visit our sweet friends in VA. We had planned to go to the homeschool day at New Market Battlefield State Historic Site. As the day got closer, the predictions for rain kept going up - to 70 percent. *sigh* The Dads decided to stay home with the little ones and Catherine and I took the older children and hoped for the best.
As we were driving there, it started to sprinkle, but though the day remained overcast and dreary, it was also mostly dry! Yeah! Thank you God for a small blessing.
We had a blast! Have I mentioned how much I enjoy living history? The people at this site did an awesome job!
We started out in learning about soldiers in a hands-on manner. The children enlisted. They were asked how some got around the age requirement of 18 and I was surprised that Joshua knew the answer. You could write "18" on a piece of paper and stand on it. When asked if you were over 18, you could technically say that you were.
After enlisting, they had more to learn. Such as putting up a tent.
Digging a hole for a latrine.
Getting rations. We learned about the various types of foods the soldiers ate. One that surprised me was hearing that canned oysters were a treat.
They learned a little about the "discipline" that some soldiers received.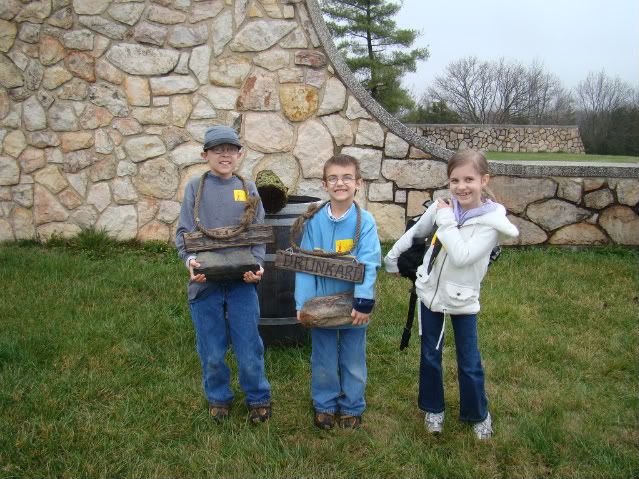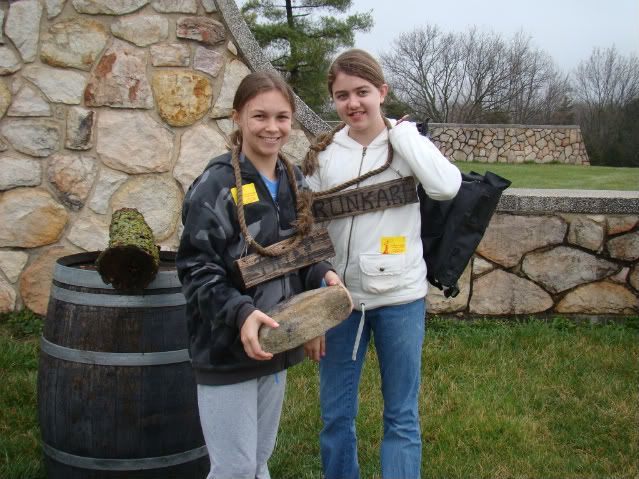 Next, were rifle drills. Some were very serious about this.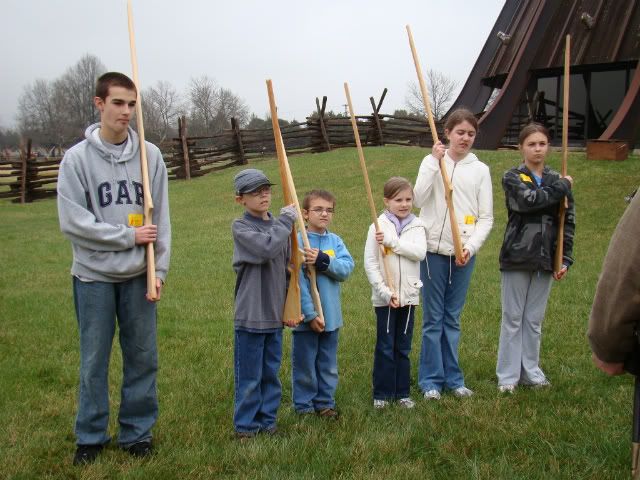 They looked at some of the tents. One even had a make-shift fireplace. They wrote a letter home. And dressed in clothes of the time period.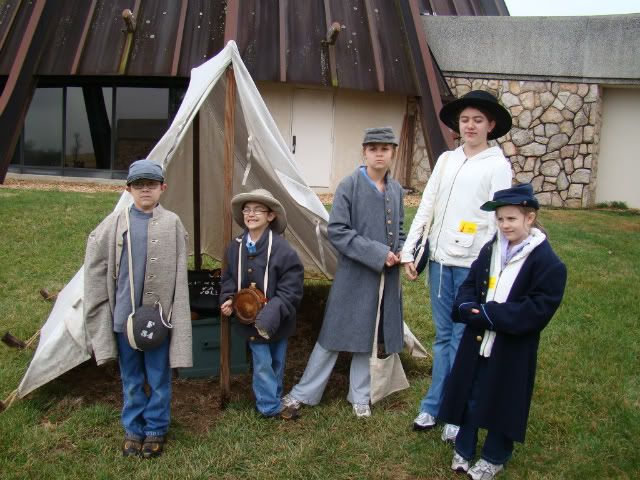 As we were experiencing all of this, Joshua (9) kept saying that this was the best field trip ever. As we were walking to the next area, Joshua fell in the mud. As he got up and then walked with me, he again exclaimed what a great day this was, even while his pants were wet and muddy. :-) Gotta love a happiness that is not dampened by wetness or mud!
The children played several games. One was a ball toss into various hoops placed at a distance. You got more points for getting the ball in the hoop the farther the hoop was from you.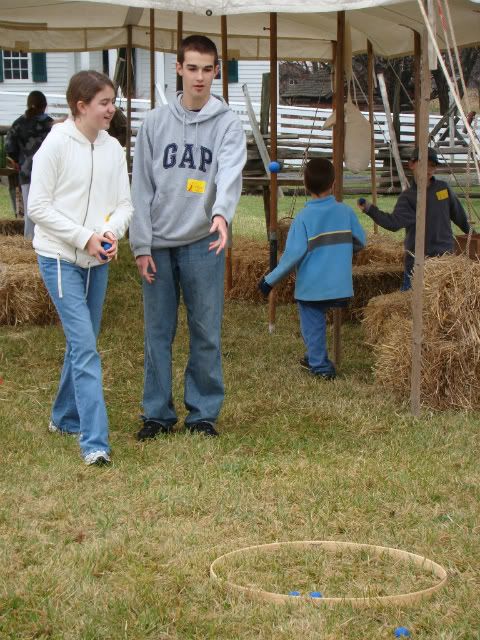 They also played ring toss.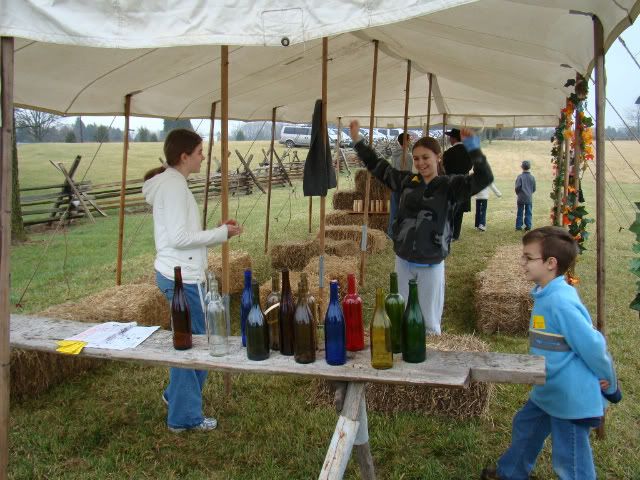 The last game was a type of bowling. The reenactors were wonderful, helpful and interesting. It made several of us long to do this. We had begun to pursue this prior to Eliana's birth and then let it go. It may be time to consider it again.
We toured the home. The family that lived in this home, was in the basement while the battle raged around them. Can you imagine? The horrors of war can seem so distant, and while there, it was easier to imagine how it could be in your own back yard. Literally.
We saw a wonderfully done movie about the "Field of Lost Shoes". So named because so many of the soldiers lost their shoes in the muddy field while running across it. We learned about acts of bravery and also kindness. We learned about Moses Ezekiel. A soldier that went back to find a friend and stayed with him for 2 days before he died. He went on to become a very famous artist and was even knighted by the King of Italy. We saw one of his sculptures in the museum. It was of Thomas Jefferson.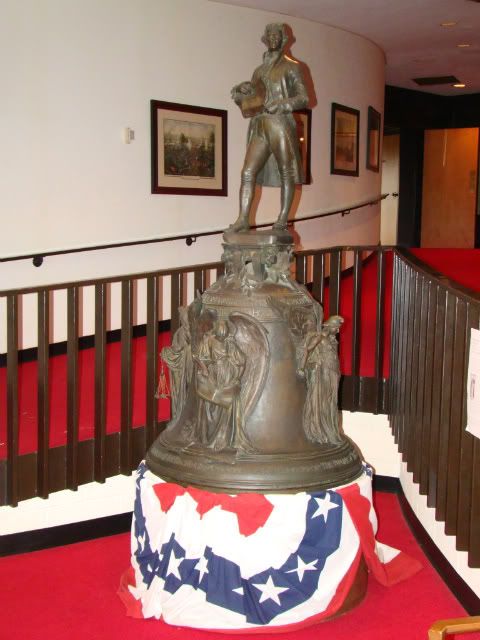 As we toured the museum, we learned about individuals and their stories. We learned about the war and it's toll on our country. It was well done on a topic that is difficult. This beautiful stained glass window was made to represent the battle.
We also toured the battleground.
Found a beautiful scenic overlook and even an old trough in the woods that had been a place where a spring bubbled up.
The children did some crafts - made harmonicas, flags and quilts. There were games and dancing to round off the day.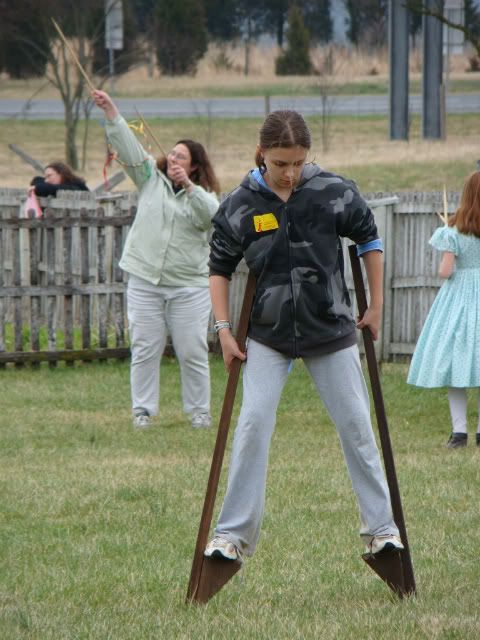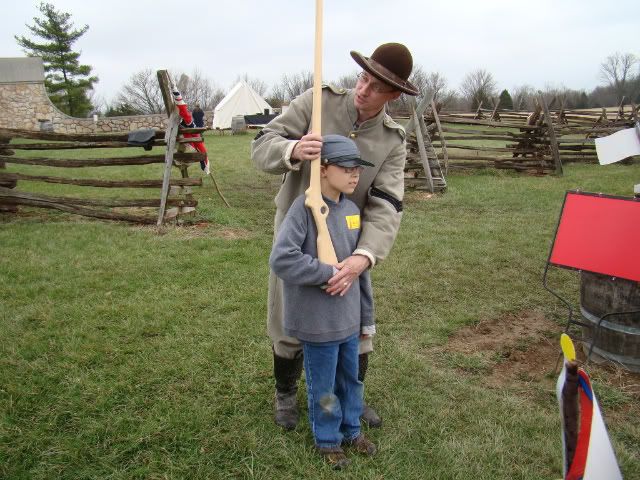 I have so many more pictures (about 240) that it was hard to choose which ones to share. We had so much fun! I highly recommend this site if you are ever in the area. It was well worth the trip! Call in advance to arrange programming if you are interested.
Blessings,
Leslie