Our last field trip with our Five in a Row group was to the
Joel Lane House
in Raleigh.  It was a very hot day for a trip to this historic site of the man who is considered the "Father of Raleigh" and the "Father of Wake County".   This was a perfect tie-in for our study of Betsy Ross since the house was built in the 177os.  It was on Isaiah's birthday, so Roger took the day off of work and spent it with us.  It was a fun outing.  (Of course, I think that of all field trips.)  We brought along another visitor - a "Flat Stanley" from a friend. 
We split into 3 groups by age.
Roger went with the "middle" group and I went with the younger children.
The docents were all dressed in period clothing which gives a much more authentic feel to the trip.  Our guide did a wonderful job of answering questions and giving information, in a way perfectly suited to young children.
Each group rotated areas.  We started in the small herb garden.  Many herbs were used for food, flavoring and medicinal purposes - just like today!  The Lambs Ear, which Daniel is touching the photo below, was used for bandages.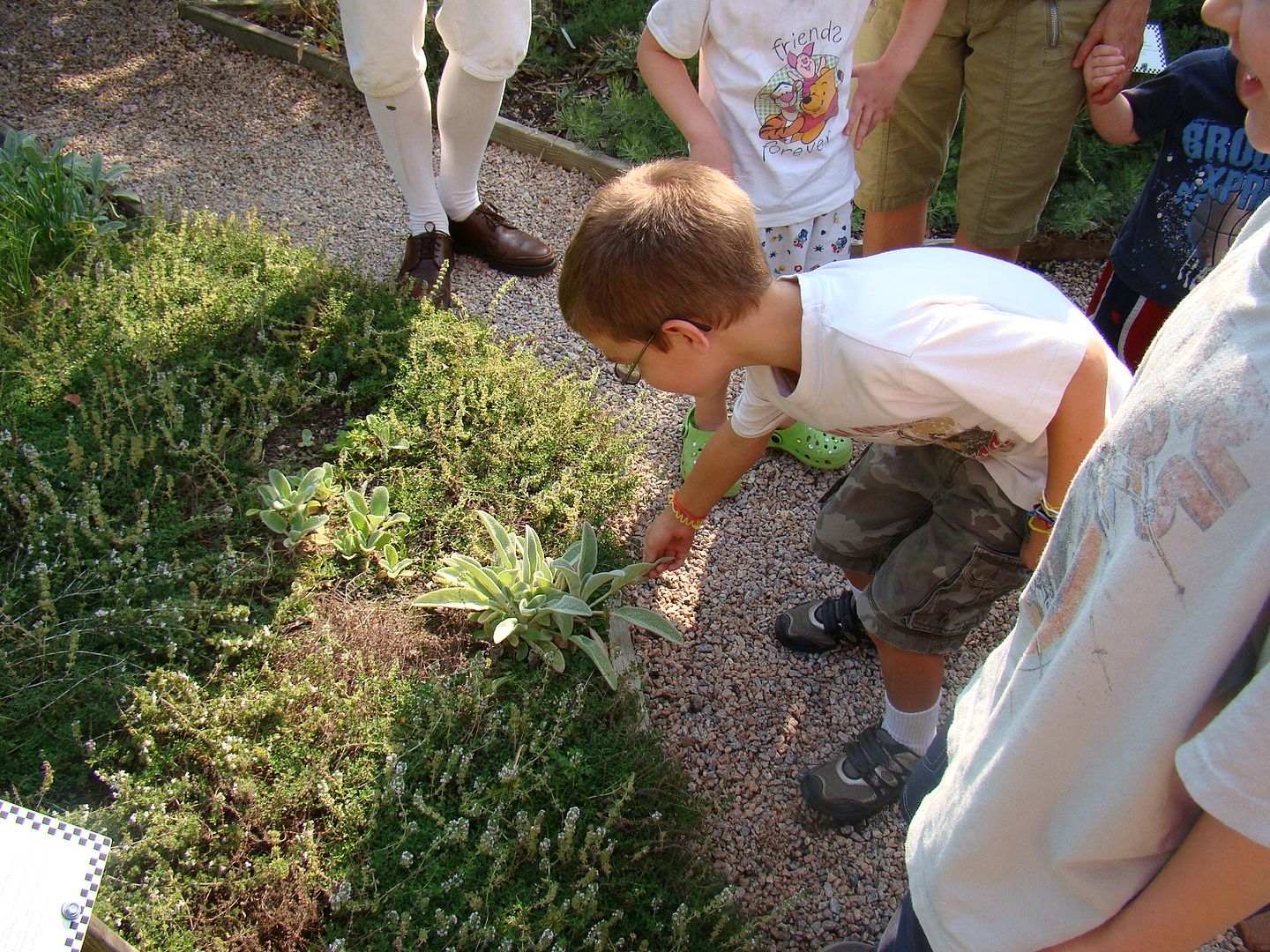 Next we visited the kitchen - a separate building from the house in order to reduce the incidence of the house burning down.  We learned about various tools used in the kitchen.
Additionally we learned about how clothing was made the the types of fibers used in clothing (wool, cotton and flax/linen).  I couldn't help but think about the smell of people in all of those clothes, in the heat and with infrequent baths.  (Sorry for the image.  Time around sweaty football players lately has affected my senses.  LOL)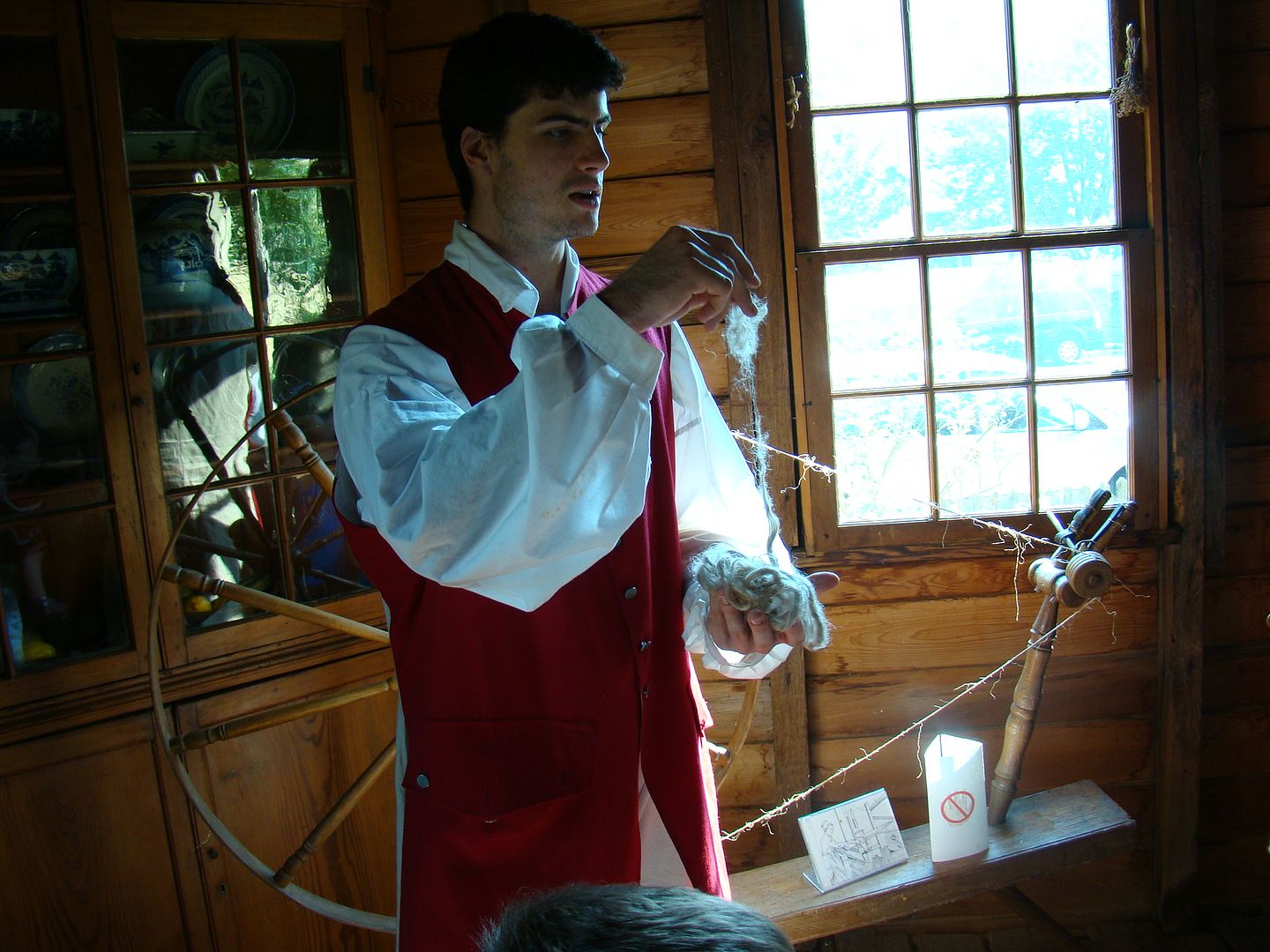 Next we entered the main house.  It was considered quite a nice house at this time period.  There were three rooms downstairs in addition to a large entry.  First we were in the dining room.  The painted walls were a symbol of wealth.
Next was a parlor with a writing desk in addition to some games and examples of food.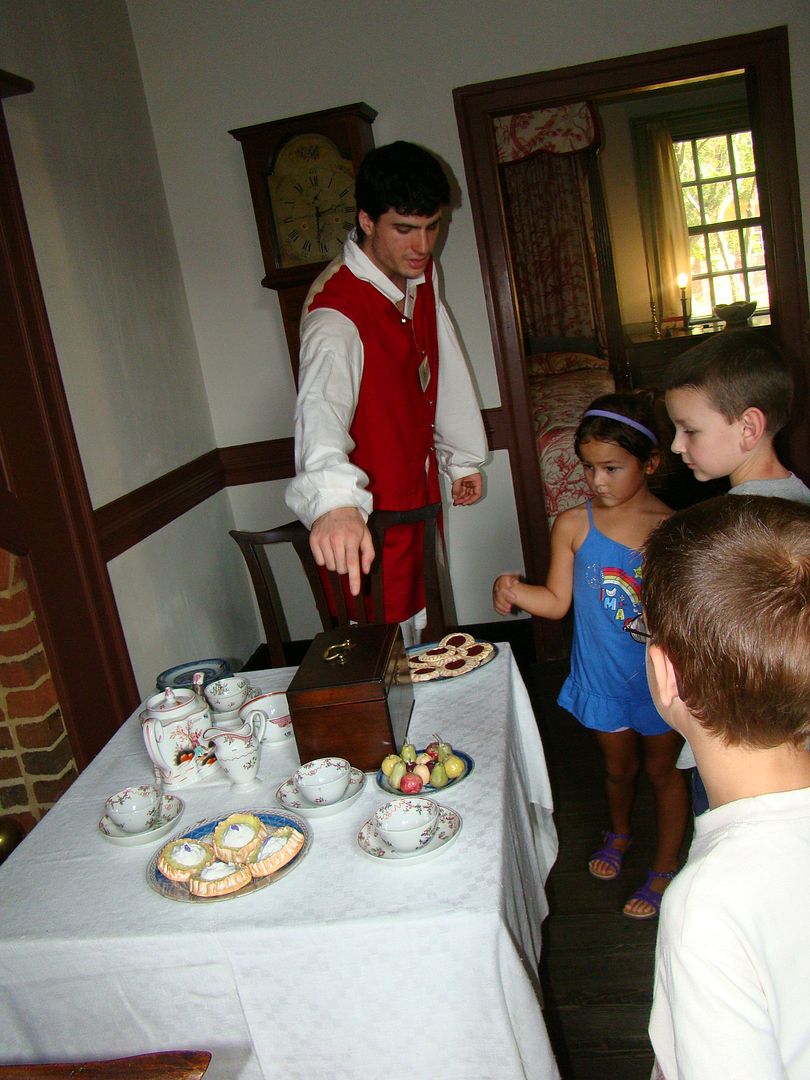 The docent told about the money used during the colonial times and the children loved holding and examining it.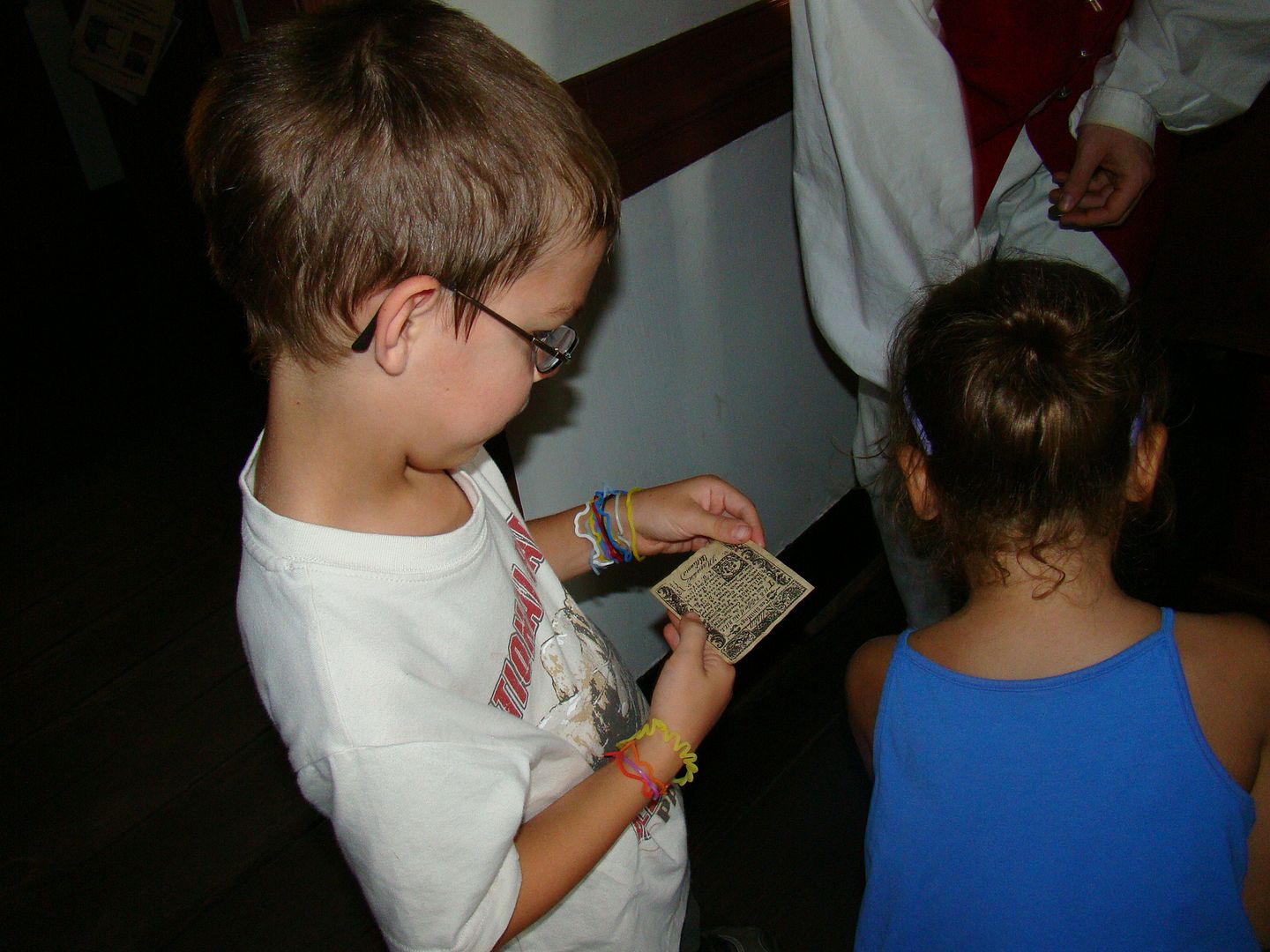 There was also a bedroom used for guests and travellers.  They could fit 4 to 5 people a bed!  Can you imagine?!!
Upstairs were two bedrooms - one for the children.
We learned about the various things that could be in a "ticking" (mattress) including moss and corn husks.  We don't always realize how very good we have things today!
The other bedroom was for the parents/baby. 
I think the clothing from this time period is beautiful, but I'm also thankful I don't have to wear so many layers during the hot southern summers.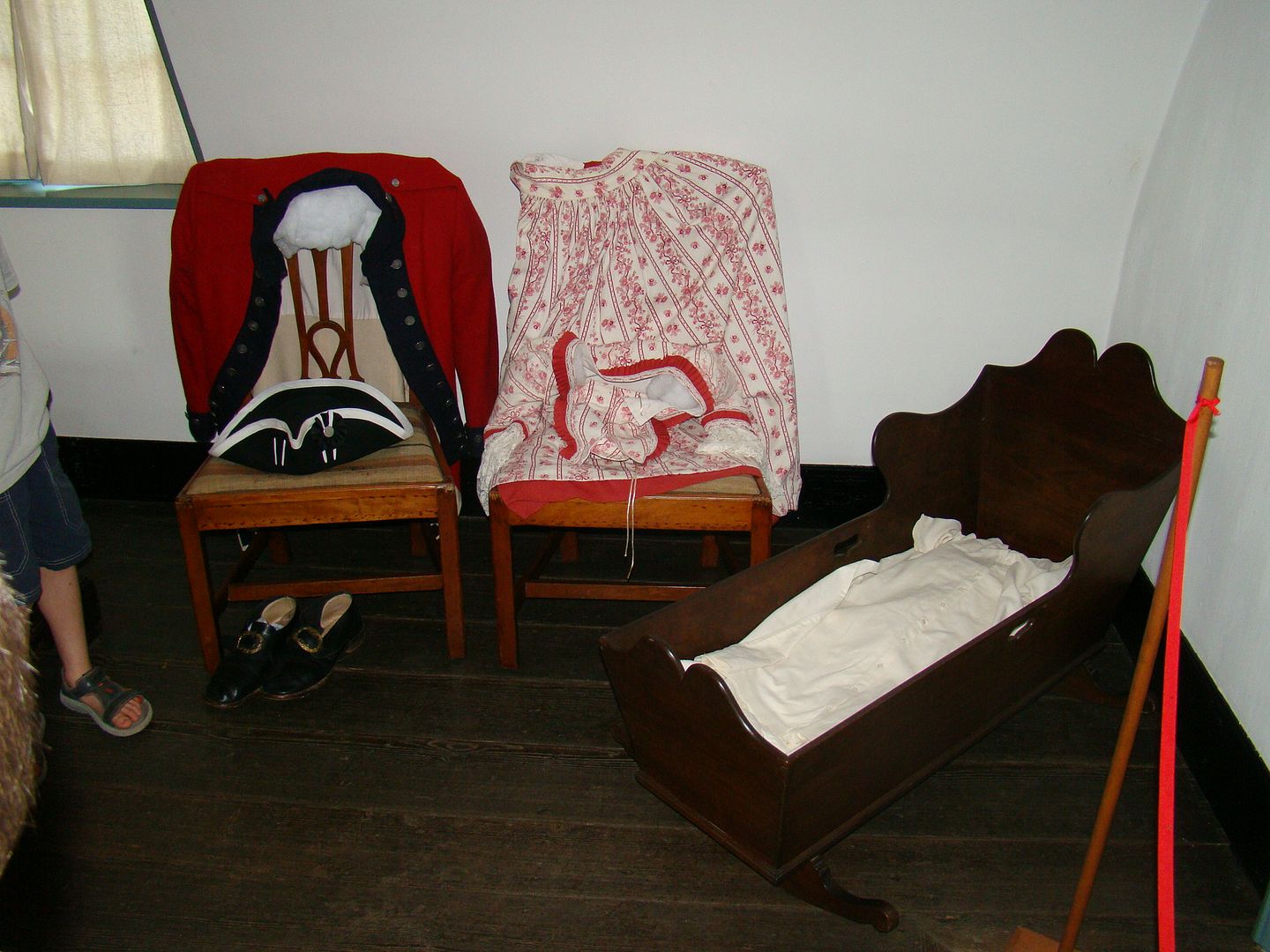 The last part of our morning was spent outside in various stations.  This was in a little courtyard in front of the house.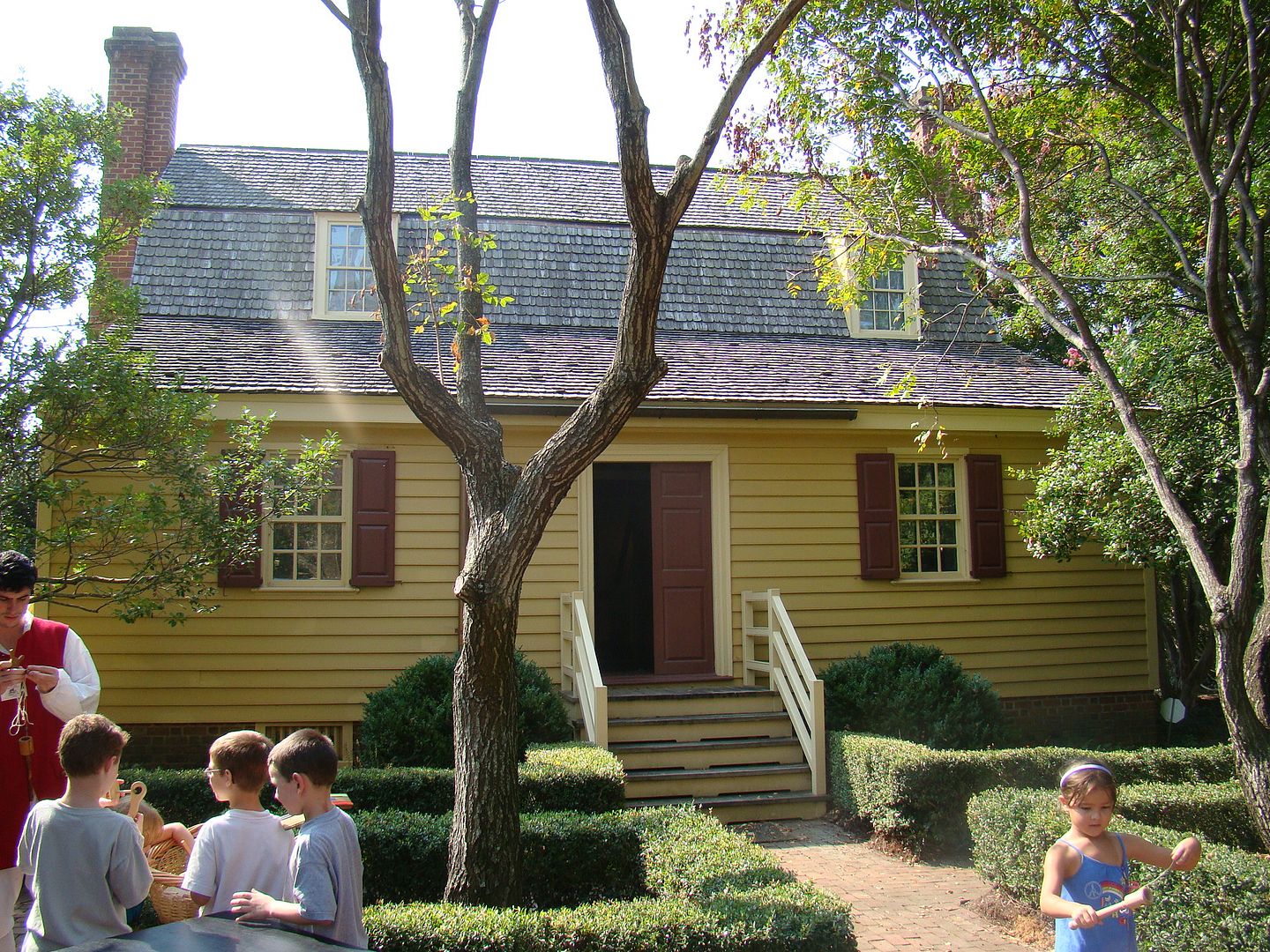 One was on kitchen stations.  This was a favored spot due to the cool position under the arbor.  Here they learned about kitchen implements.
There was a station about schooling and also on on toys.  All the children loved the toys.  Some things never change!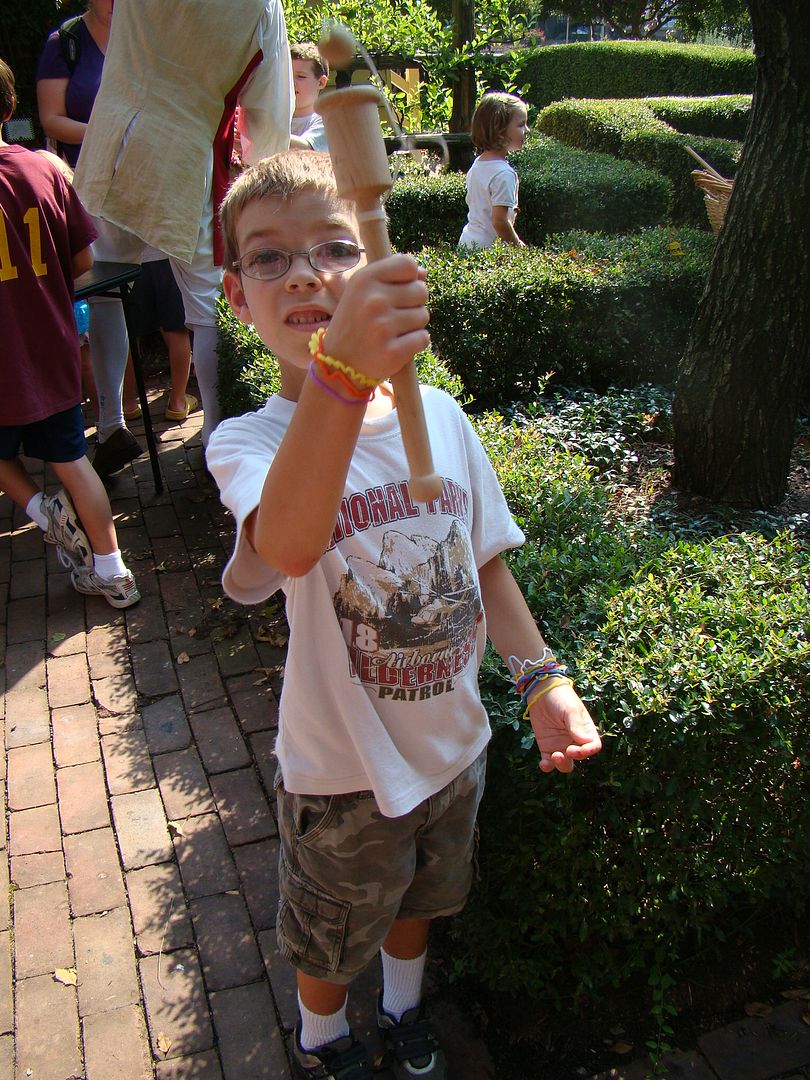 After our morning was finished, we headed to a nearby campus for a lovely picnic.  Even though some mornings it is hard to get up and get everyone ready, I know it will be worth it!  These days are a sweet time of  learning and hanging out with friends.  I'm thankful for these days.
Blessings
Leslie