Too many things to catch up on, so I'm going to try to lump some together. ;-)
I had a birthday this month - don't ask how old - I'm not telling. ;-) I really don't like getting older. I know it's better than the alternative, I just don't want to get "old". Being diagnosed with osteoarthritis a few years ago didn't help with that. I thought I'd have a few more decades before getting something like that. One doctor told me that he wasn't surprised at all - that it made sense given the difficulties of my pregnancies. It was still worth it though - every single one of those precious children!!!
My birthday was made sweet by family and friends. Rebecca made me breakfast in bed - accompanied by cards that she and the boys had made. I love this sweet and thoughtful gesture from ALL of my children.
Later in the morning, a precious friend also named Rebecca, gave both Catherine and I the gift of a pedicure. We were surprised to find a beautiful gift basket of chocolates waiting for us when we arrived. Did I also mention that she stayed at my house and watched all of our children? (Minus the oldest who was in Drivers Ed) It was relaxing and pampering to have this time out.
I received a gift that was something I've been wanting - a new camera! Mine died a few months ago. Christopher's has gone missing. So we've been down to one camera - Rebecca's - and it's been hard for me. Roger and his parents gave me this wonderful gift and I'm loving it!!! It has a huge screen on the back and lots of neat features. Did I mention that I love it?! :D Hopefully I'll get better about posting more on here.
I was treated to 2 desserts - chocolate cake and banana pudding. Rebecca made them both and we all thought they were delicious.
The following week, while Roger was out of town, we headed to Virginia to visit with friends. We had a great time and one of the neat things we did was to tour a cave. I love caves! I've always been interested in them. Our family visited Mammoth Caves about 5 years ago and since then I've been hooked. These were beautiful and interesting. Christopher took lots of photos for me so my hands were free to help little people. Here are a few highlights.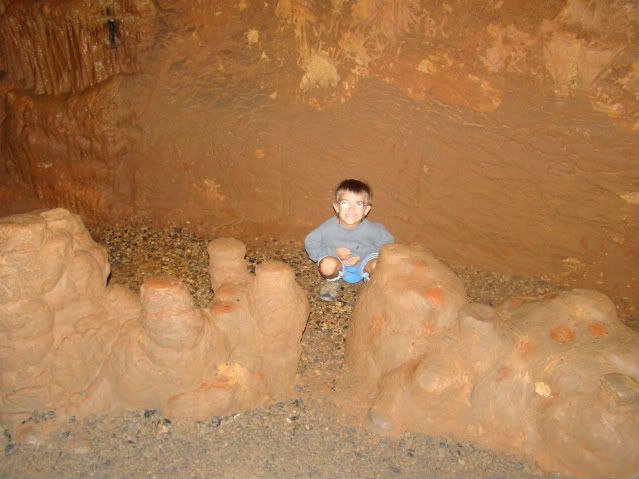 We also had fun just playing and being with our friends. We still wish they lived right next door though! That's probably enough for now. More later on schooling and a few other August happenings.
Blessings,
Leslie