We've had a few things going on here the last couple of weeks that didn't involve sickness or diabetes. (Not a lot, but a few.) I thought I'd share some of them.
Isaiah lost a tooth. It's been bothering him (didn't think he could eat certain foods with it being looose). I was glad to see it come out. The one beside it is also loose and should come out soon too. I love the look of no front teeth! So cute.
A funny story on this loose tooth. While it was loose, he really didn't like things touching including food and the toothbrush. One night when Roger was brushing his teeth, Isaiah pointed to the loose tooth and said that this tooth didn't need to be brushed because he didn't use it anyway. LOL He cracks me up!
We've redeemed a few coupons from the children's coupon books. Isaiah chose to cook with Mommy. He was able to pick what he wanted to cook and he chose pizza! A hit all the way around. He did such a good job with all of it!
Here is one of the finished pizza - doesn't it look yummy?! (It was!)
Just had to share a picture of this cutie all ready for the 4th of July!
As a special treat, Rebecca made us a festive and patriotic looking dessert. It was yummy too! I love that she initiates cooking treats for us!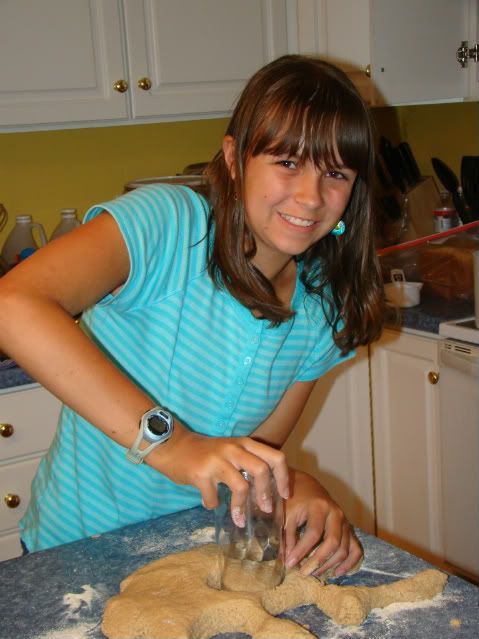 This is not the best picture, but it is the best one I have. Eliana fed herself lunch! Mac and cheese! She did it all herself. :-) What a sweet thing to watch her using her little fork and feeding herself. I realize that this may not seem like a huge milestone, but it was a very sweet one for all of us. She has been a little resistant to feeding herself and honestly sometimes it is just easier for one of us to help her. I'm so proud of her for doing this and she seemed to enjoy it too!
Rebecca attended another drama camp. This time the production was Get Smart. Remember the old tv series? It was very funny and the kids had a blast putting it on. Rebecca was a "blond" - that wasn't. LOL She is on the right in brown.
This is the cast.
We all enjoyed the play - it was very funny and they did a super job! Wish you all could have been there. Afterwards there was a snack reception which provided one of those tough moments for Joshua. We had planned ahead and brought snacks that we knew he could eat. Well, of course he wanted to have some of what everyone else was having. I can understand that.
He had 2 oreos and then some of what we brought. I thought it was a good compromise. He was bummed not to have a drink (even though we'd brought something for him). I think it is just some of the loss he is dealing with. I hope I don't make him sound like a whiner for the way he is acting because he really isn't. It is a loss. A loss of freedom to be able to eat what you want and when you want it. It's a freedom that most of us take for granted. I know I have. I don't have to eat on a schedule and only certain types or amounts of foods. I've tried to encourage him that it will get better as we are better able to regulate his numbers and going to a pump sometime in the future would help too.
Just a little of what is going on here. I remain behind and have just accepted that perhaps that is to be life now and I'll just enjoy it where I am and do the best that I can each day. I know God has a plan for me, for my days and for my time. I'm trying to follow His lead as best I can.
Blessings
Leslie