We started school this past week.  It wasn't a particularly good week to start as we had a lot of other things going on, but I didn't feel like we could put it off any longer.  I've tried to schedule out our weeks so that we have some room in case things come up (and we all know that they do).  I want to have Christopher be able to finish most of his work by the end of April/early May - again with some breathing room in there.
One of our traditions for the first day of school is to go out for breakfast.  Roger likes to join us on this outing and he couldn't go on our actual first day so we went a few days early.  Before we headed out I took some photos of the children (while they were still clean).  I took group and individual shots.  Unfortunately, many of the individual ones are as good as I would like with the sun in their faces.  I'll have to try again.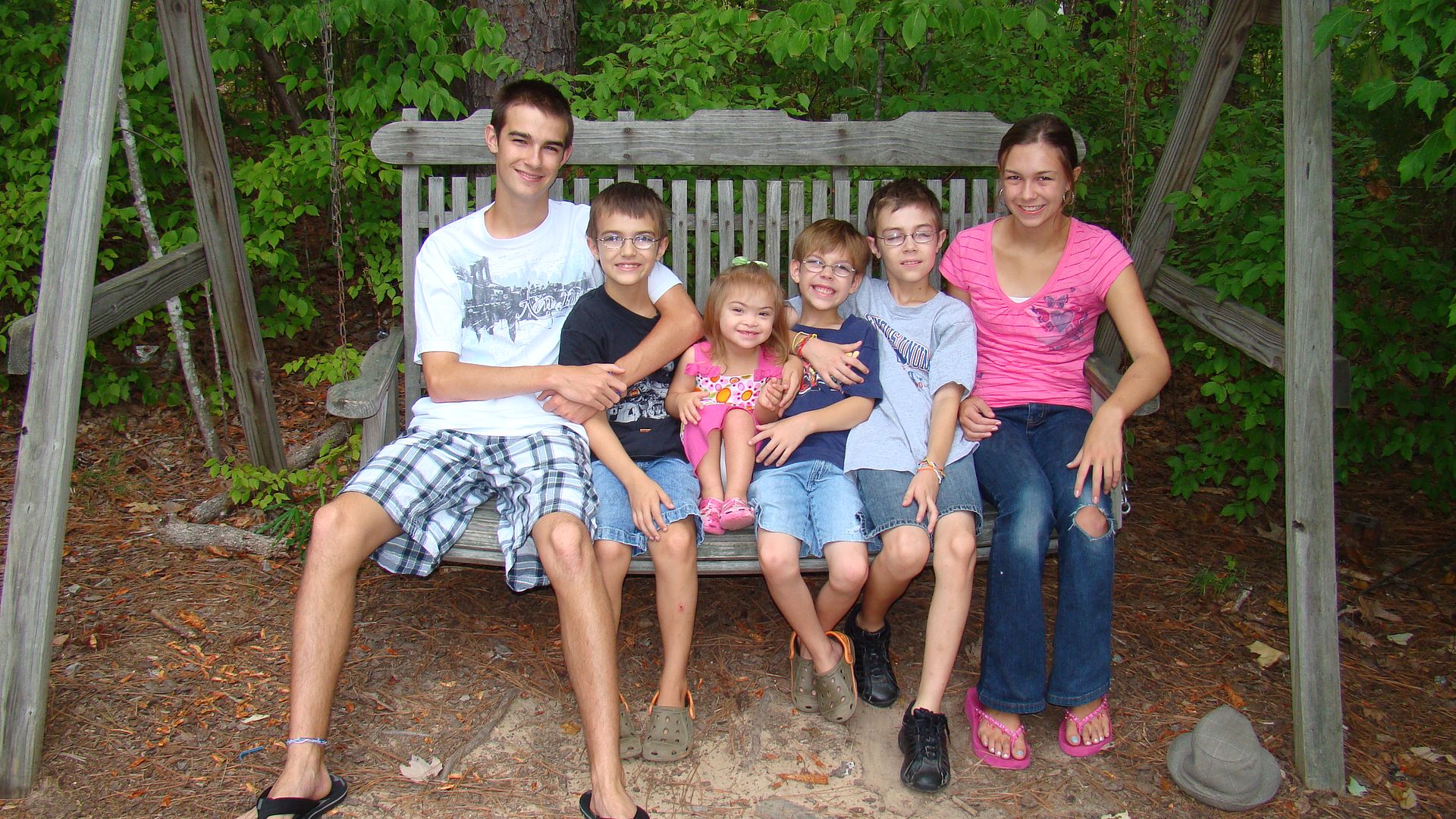 We chose to go to Golden Corral this year.  With so many choices, everyone was happy.  This was a treat for our family as we rarely go out to eat.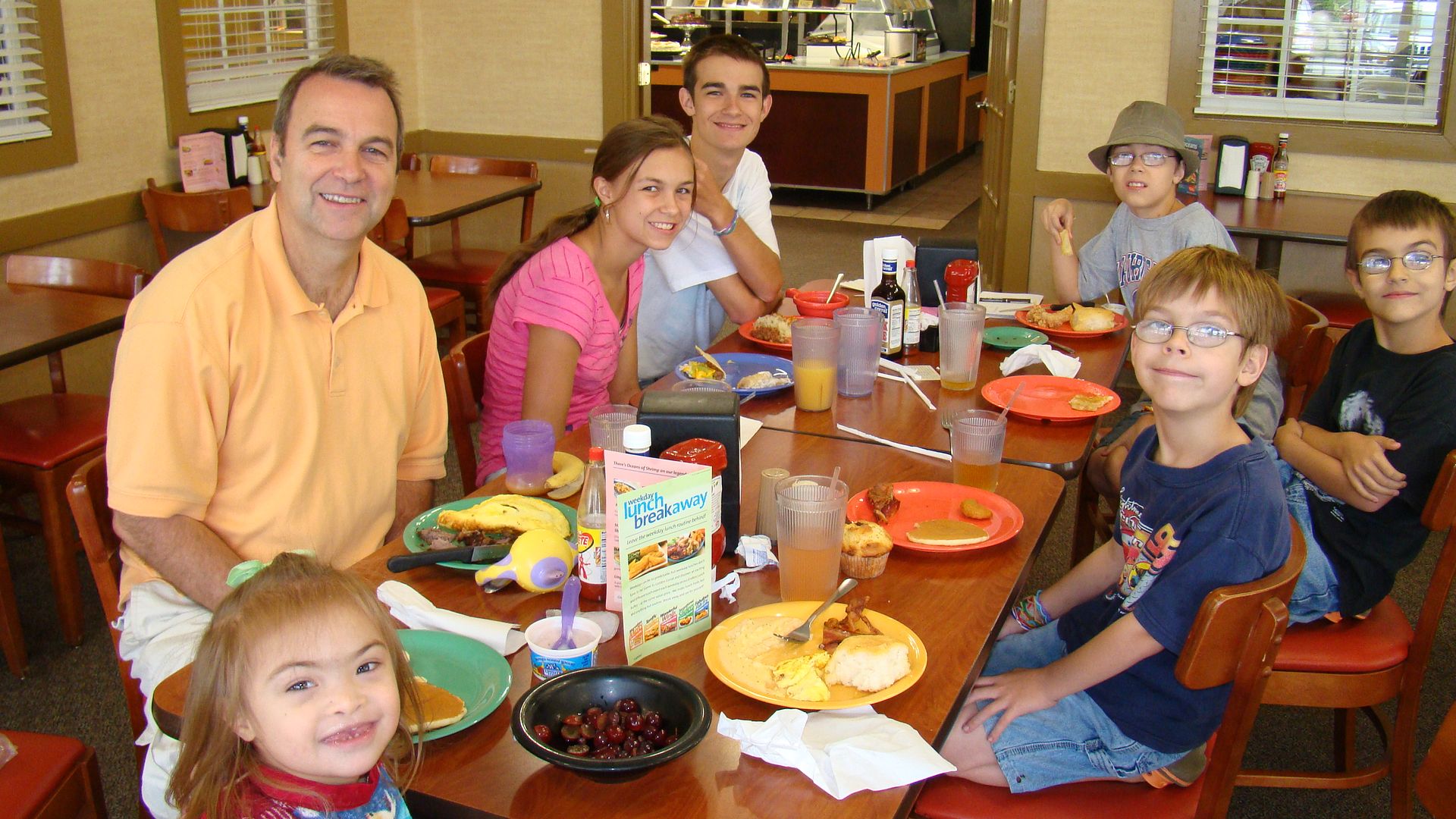 A picture of me with all of our children.  These photos don't happen too often as I'm usually behind the camera.  I'm so very thankful for the privilege and blessing of being able to homeschool.  It has provided our family with many opportunities.  I look forward to seeing what this year will hold.
Another tradition is to surprise them with new things for the upcoming year.  These are typically some of the books that they will be using along with some fun things to add into our days.  I didn't add in all of the school books this year as we are using some of the same things (like Five in a Row), so the pictures are mostly of the fun things.  Some of these things I've been collecting for months.
Eliana has some books, counters and markers.
Her favorite item is the one she held onto tightly ... a new Signing Time!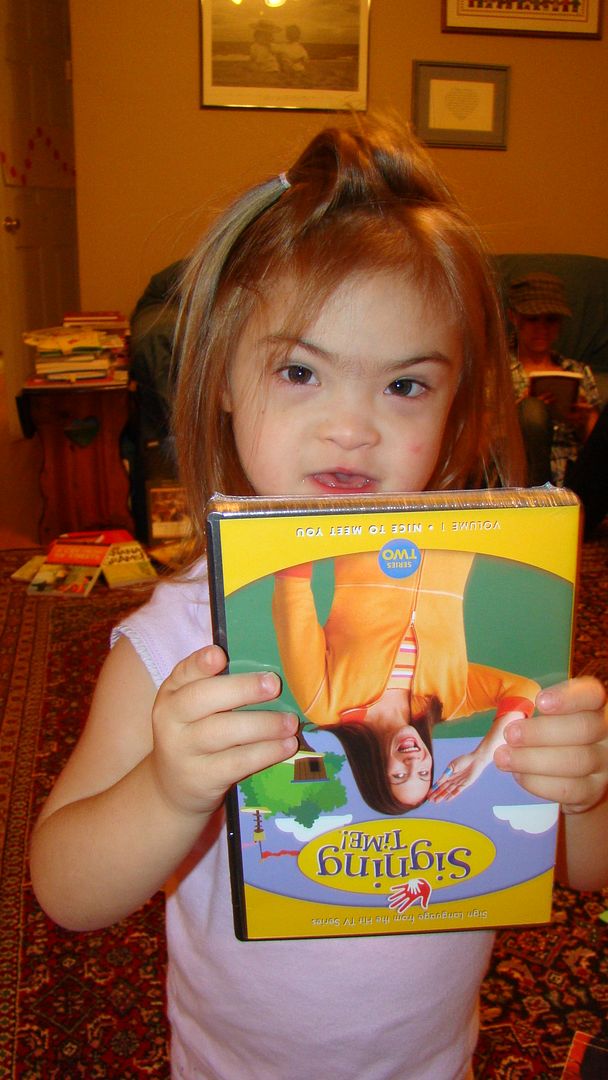 Daniel has a game, Reading Made Easy (he will be the 4th to use this book), handwriting book and new markers. 
He was excited about the Lite Bright (bought at a consignment sale earlier this year).  He made a picture right away.  I'm going to need to find some more patterns for him.  (The box was missing quite a few of them.)
Isaiah has a new spelling program (All About Spelling),  handwriting, puzzles, colored pencils and a lego book that I really thought he would be excited about.  It took him a few days, but now he is loving it!
His favorite was the math war game (given to us by a friend) and the balloon helicopter.
Joshua has some new books, pens, and balloon helicopter.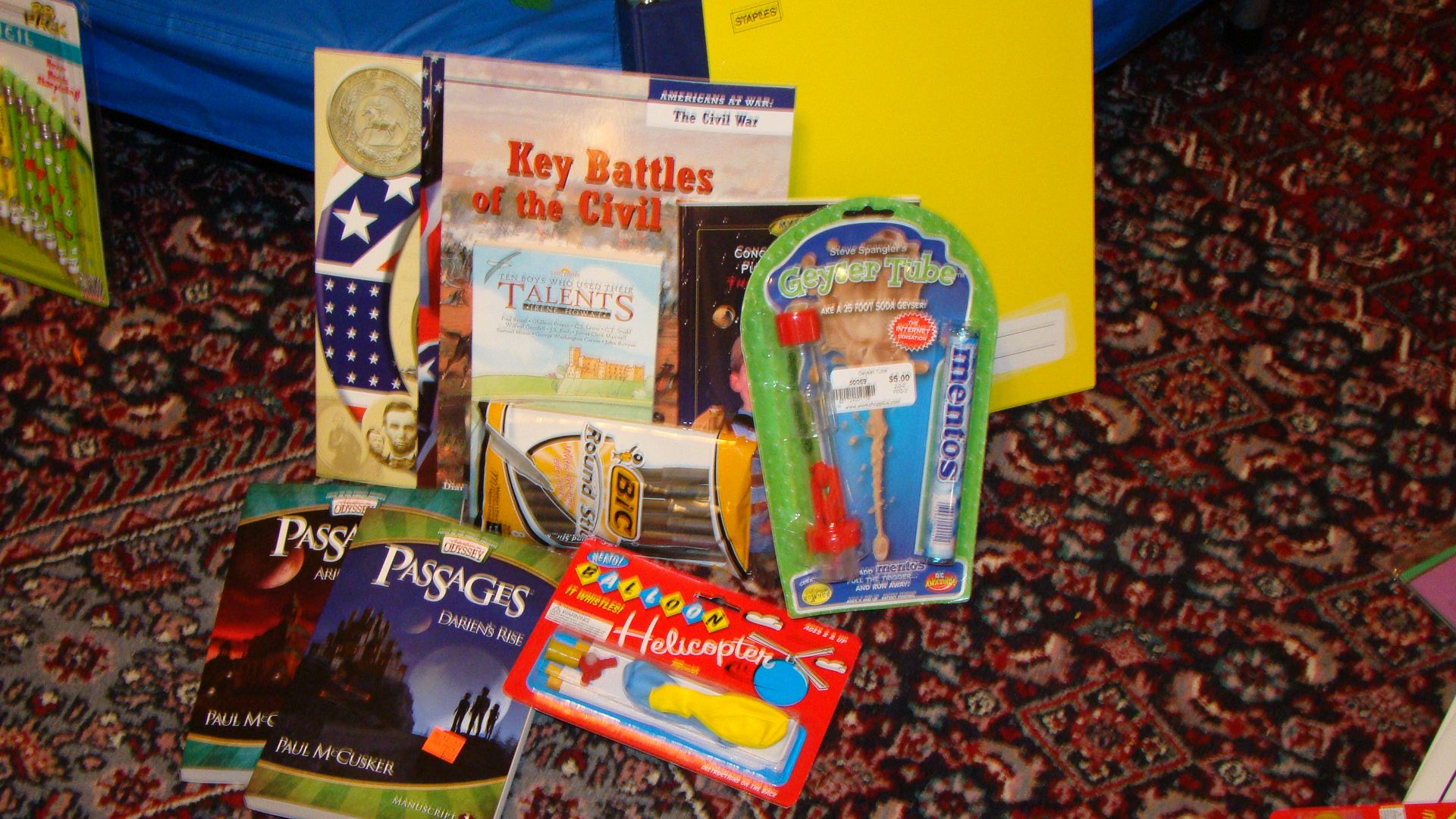 He is excited about the mentos experiment!
Rebecca has books (this will be a theme with my oldest children), CDs and copywork. 
The thing she is excited about ... pencils.  Yes, mechanical pencils.  She loves them.
Christopher has mostly books - and a fun book on bananagrams.  (Really a neat game if you haven't yet tried it!)  Christopher reads a LOT!  Most of these books are ones that he needs to read for school - though not all of them (or even close to all of them as I haven't ordered all that we need for the year).
Just a fun photo.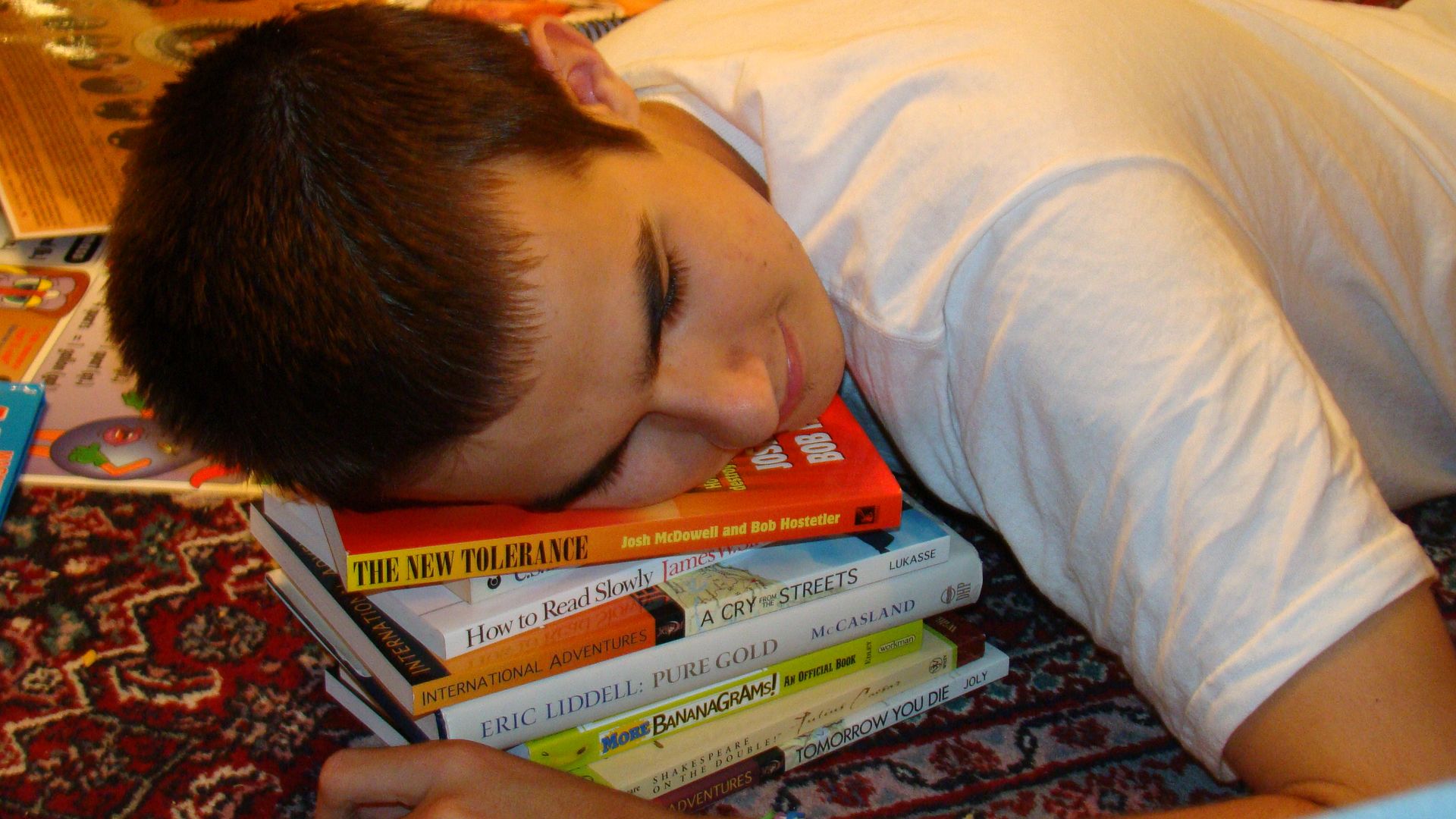 A few things for everyone to enjoy - new placemats, books and our new Bible curriculum.  (I'm really enjoy this one!)
I'm hoping to share more soon on how I've organized things for the year.  I'm hoping it will really help me to stay focused on our goals for the year.  It's only been a week, but so far, so good.
Hope your week is going great!
Blessings
Leslie