This is a wonderful book which is part of the Before Five in a Row curriculum. If you have a 2 to 4 year old, I highly recommend this wonderful resource! It has been blessing our family for more than 12 years now! :-)
We've been reading this book with Daniel over the last week. It is a story about a little girl that goes to town with her mom on a bus. She takes her empty big green pocketbook with her. As they run errands, she collects things and puts them in her purse. At the end of the outing, she falls asleep on the bus ride home. As they get off, she forgets her pocketbook. She is sad because her whole day is in it. Thankfully, the bus driver returns her pocketbook in her mailbox. (She is picked up by the bus at her home.)
We decided to take a bus ride to town too. I did this many years ago when Christopher and Rebecca were little. It was fun to do it again! Christopher and Eliana stayed home and had fun together.
We drove to the nearest bus stop and waited for the bus to arrive.
The children liked putting the quarters in for our ride. It cost 2 dollars each for Rebecca and I and the little boys were free. We split up and sat in our seats to enjoy the ride.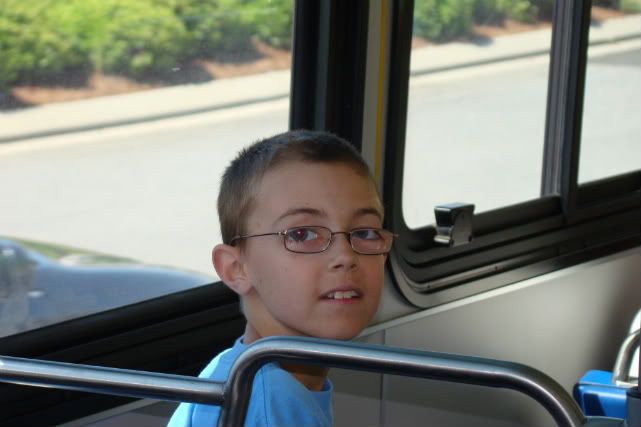 We rode for about 30 minutes and then arrived in downtown Chapel Hill. I hadn't planned our stops, but had thought we would just explore and enjoy the town. Our stop dropped us in front of this store.
We had to go in. They had homemade gelato. It was early, but we all agreed that it would be nice to have a treat. We split some gelato and Daniel chose a cupcake. It was very yummy!!! If you are local - give it a try!
Next we went to the bank. We needed change for the bus ride home. Rebecca had found a lollipop in her pocketbook. She gave it to Daniel as that is what happened in the story.
Our next stop was the Post Office.
Daniel had a letter to mail. We stood in line to get a stamp. While we were waiting, we looked at a mural painted on the wall and talked about it. We tried to figure out what was going on in the painting and in what time period it was taking place.
It was fun finding clues in the painting and looking at the expressions on faces. We then read a plaque on the wall that let us know our guesses were accurate. When it was our turn, we bought a stamp and Daniel mailed his letter.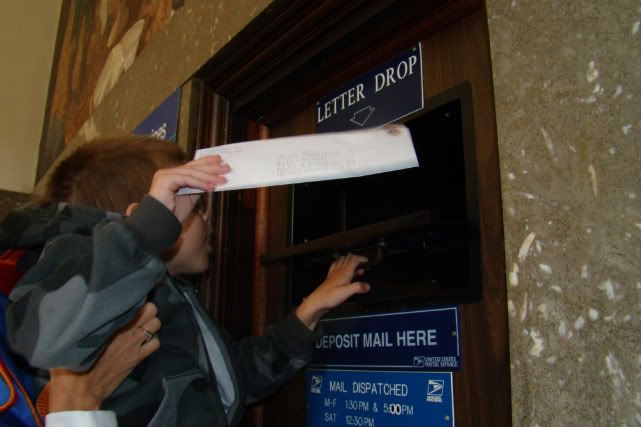 After looking at the picture, we were curious as to when the post office had been built as it is an obviously old and beautiful building. I had told them we might find a clue outside. And we did ... a cornerstone!
This fascinated Isaiah and he began looking for cornerstones on other buildings - and found them too.
As we crossed the street, the children were delighted to find their Daddy on the other side! We walked a short ways to a church - the one Roger and I were married in.
We tried to go in, but the front doors were locked. We walked around and found another entrance into the church. Still the sanctuary doors were locked. Isaiah was excited to find a cornerstone though - 1925. Here are Roger and the kids in front of the church.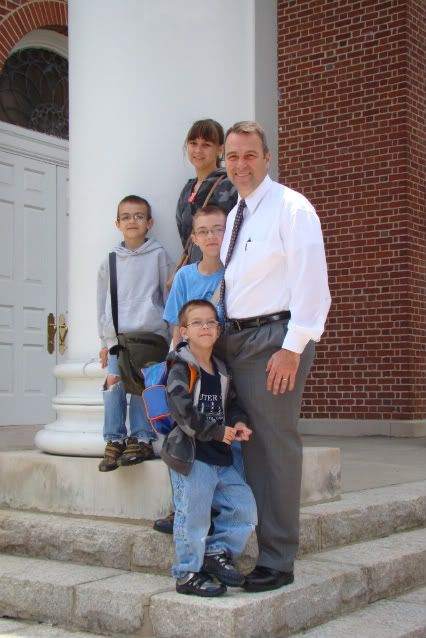 Next it was time for lunch. We went to a drugstore (like in the book) to eat. This store has been here since 1923. It is quite a local tradition!
They have great burgers, sandwiches and more. It was a yummy lunch and fun to eat with Daddy!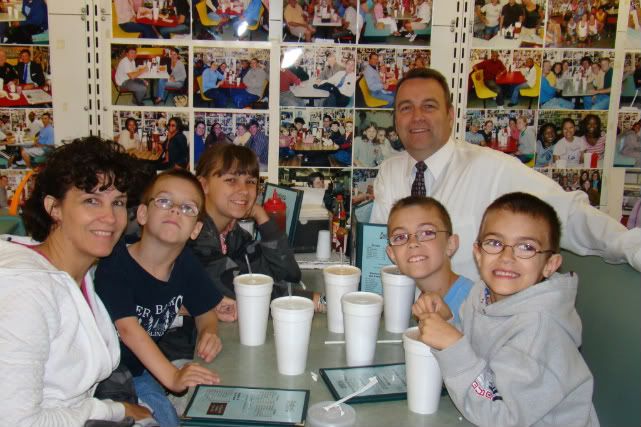 We visited a "UNC store" (as Isaiah called it). The owner is so nice! We bought a t-shirt for Christopher here.
We walked with Roger back through campus. It is such a beautiful campus. Here is a campus landmark, the Old Well.
Given Isaiah's interest in cornerstones, we looked for one we thought he'd really think was neat. It is the oldest building on the UNC campus. Old East. Check out the date!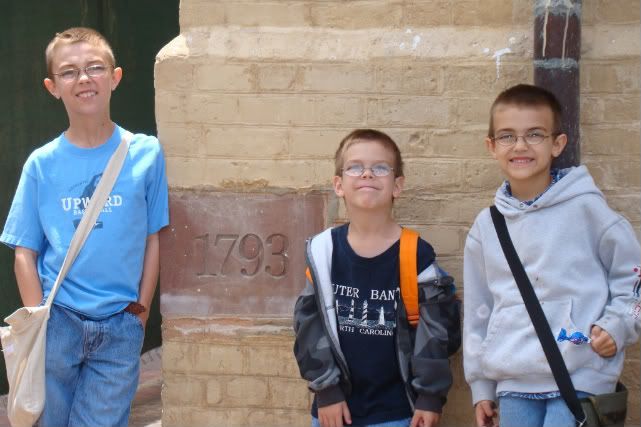 As Roger headed back to work, the children and I looked a few more things. We stopped by Wilson Library to look at the North Carolina collection. There were many interesting things in there and I hope we can go back again when we have a little more time.
We walked through Student Stores, checked out Fetzer gym and then waited for our bus.
It was a short ride back to our van. As we were getting off the bus, I carefully checked to make sure the boys had their bags. Thankfully a gentleman called me back to get my pocketbook! I can't believe I almost left it.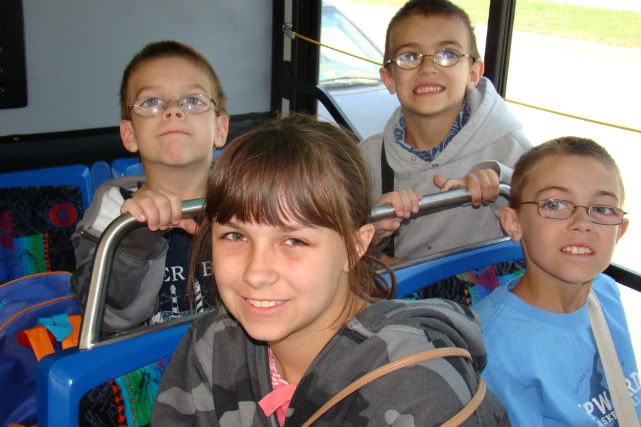 What a fun day! I'm so glad we did this. I was motivated to do something since we had no therapy today. I should probably just plan fun little trips like this more often. If it looks like fun - give it a try! We had a blast!
Blessings
Leslie