We went on a spontaneous (kind of) field trip today. I've been wanting to go to an apple orchard and recently heard of one that was relatively close by (one hour away). I called to find out how long the season was going to be and heard that our best time to come would be today. So, with just one day to plan, I mentioned it at the park after our field trip yesterday. There were 5 other families wanting to do this too! What fun! (Lots of pictures to show for our day too!)
We left early this morning to drive to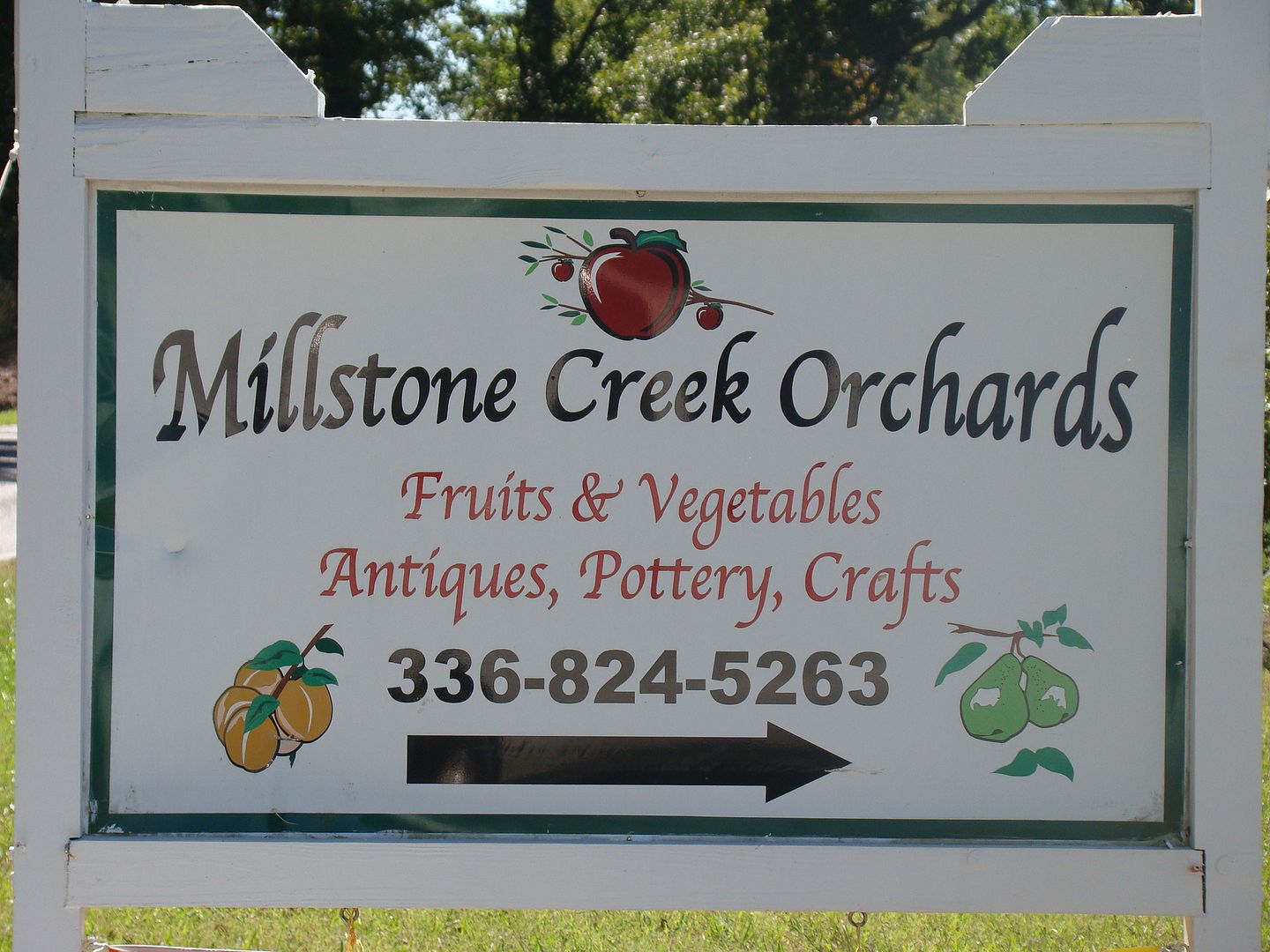 It was an absolutely gorgeous day! While waiting for our tour to start, Christopher was playing with the settings on my camera. (I need to do that more often!) I thought these pictures were a lot of fun!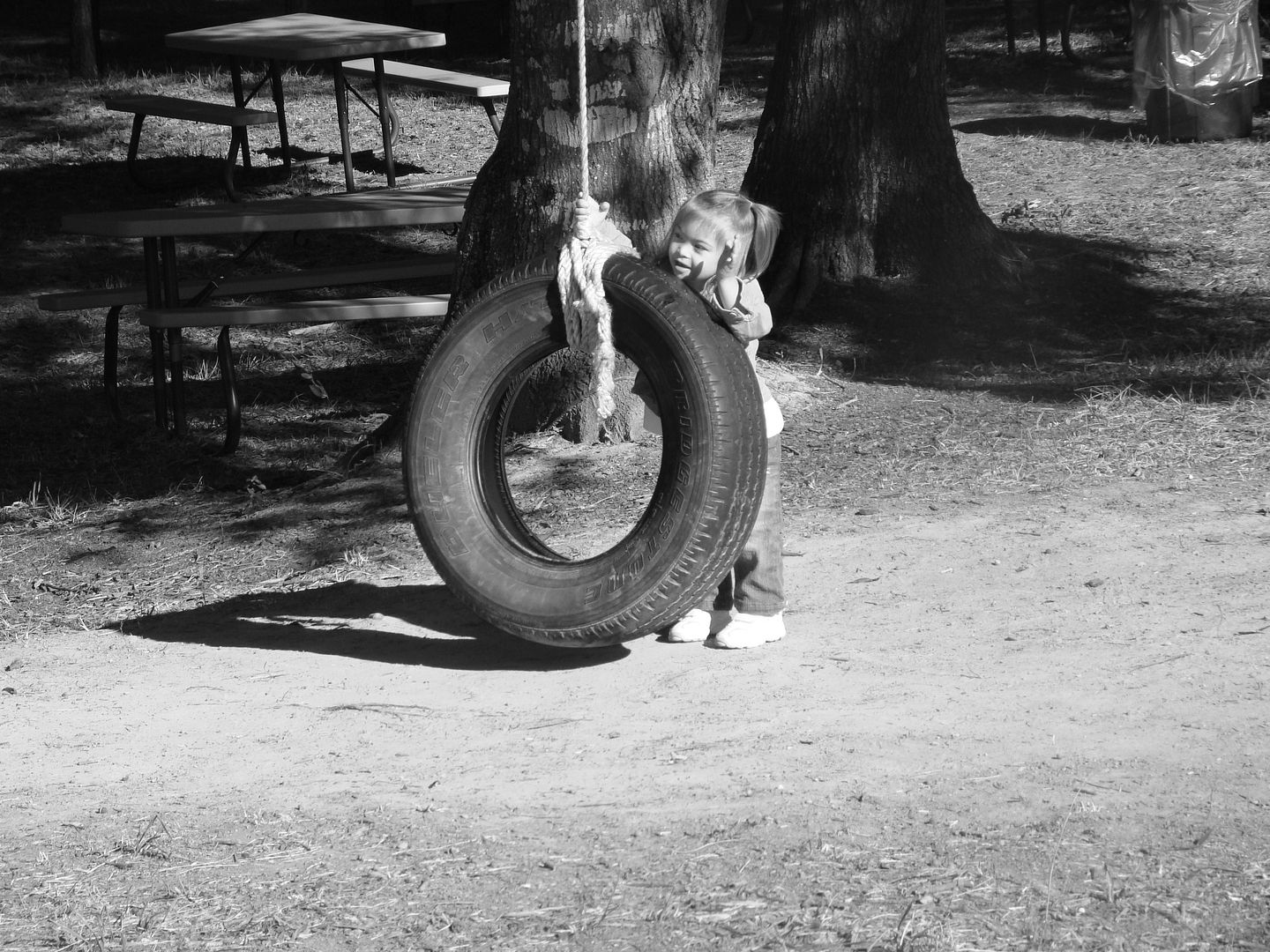 Running around and playing in the tire swing was a fun way to start our field trip.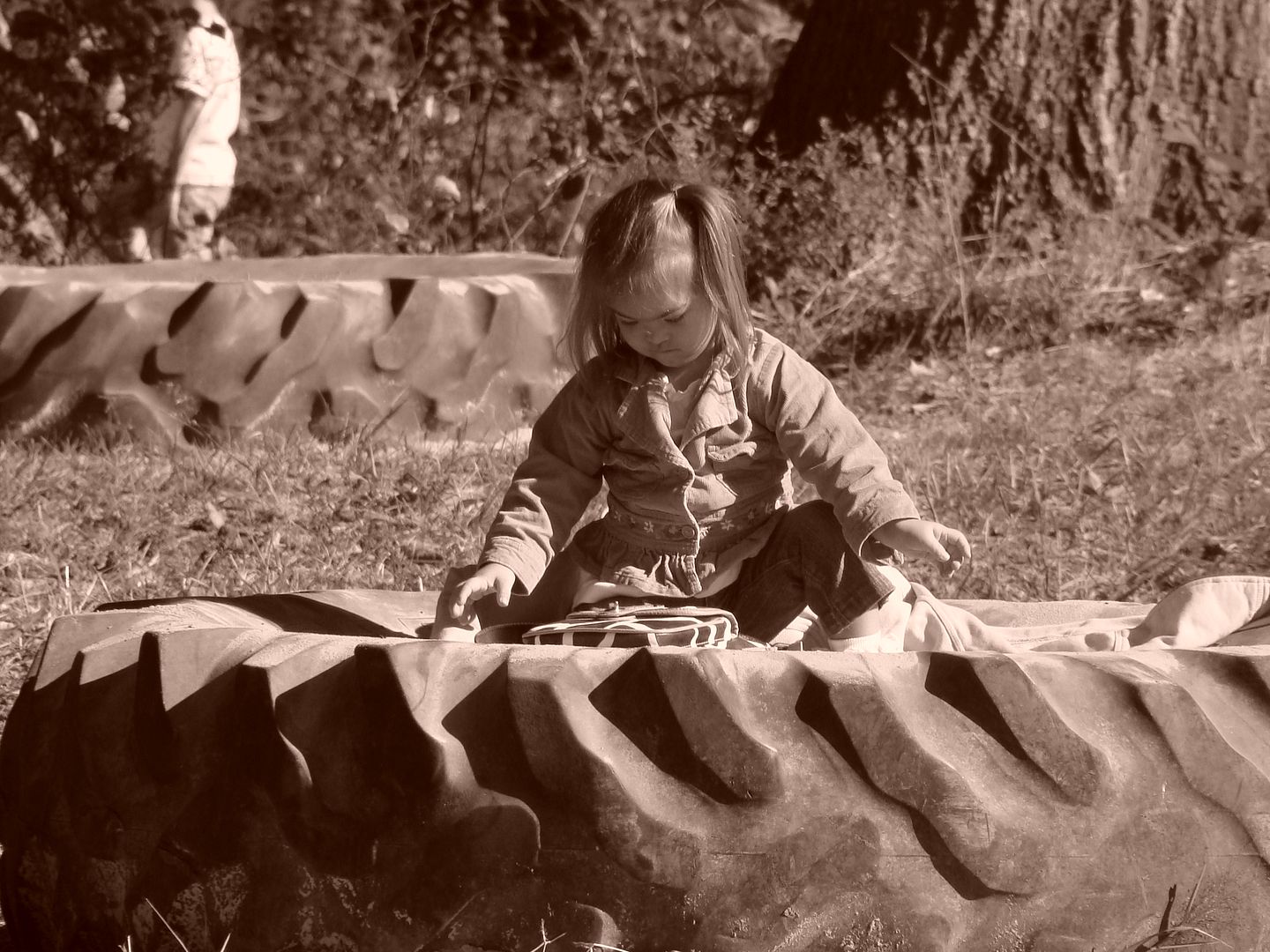 A picture of our group at the start of the morning.
Our "tour" lasted for about 1.5 hours. We started outside by learning about a few varieties of apples. We sampled 3 different types - Fuji, Granny Smith and Pink Lady. We then voted on which we liked the best. Pink Lady was the winner. (It was so delicious!)
We then moved inside to learn about the machine that they used to clean the apples.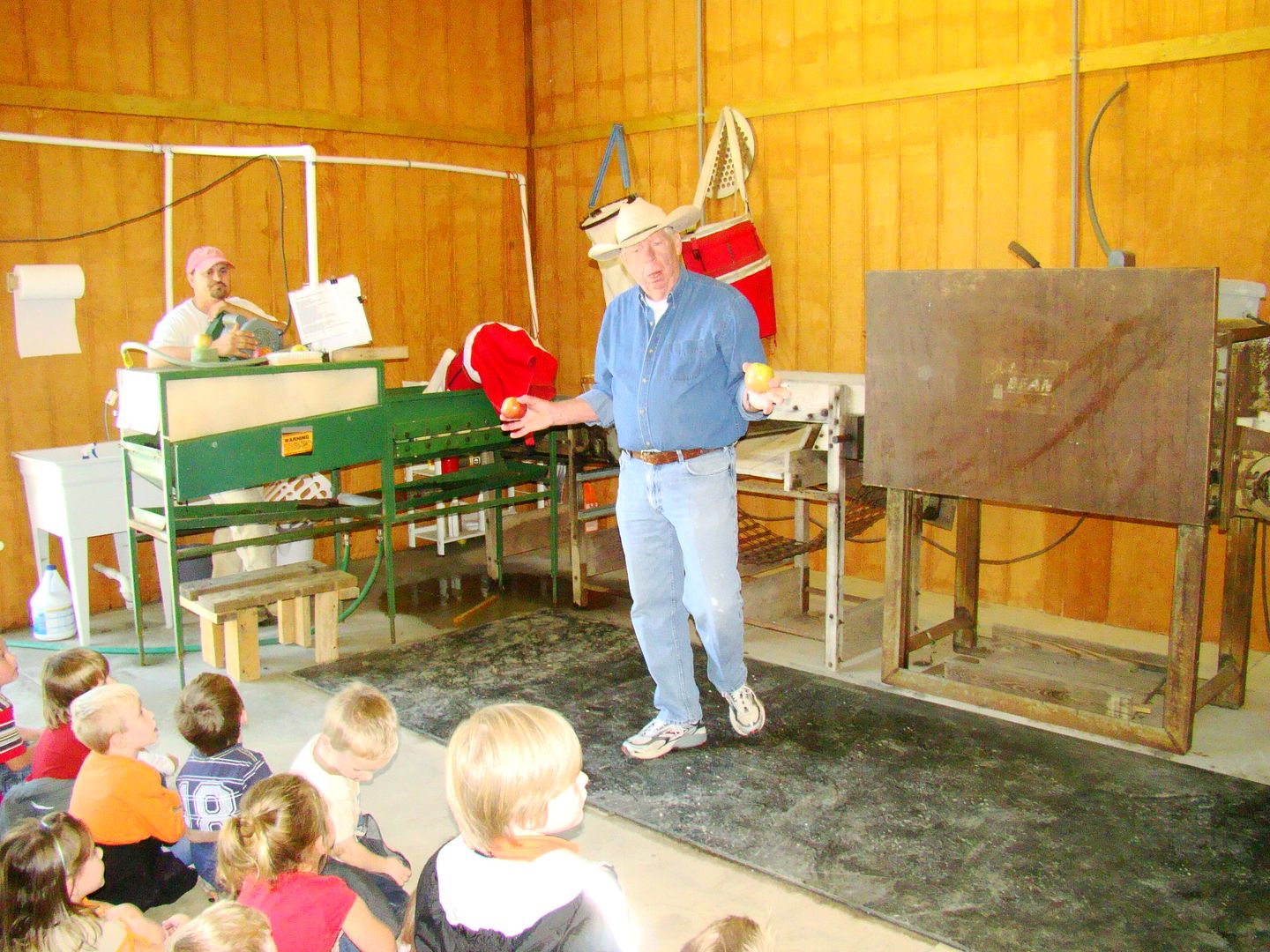 First they were washed.
Next they were sorted based on size. The smaller apples were taken out and used for cider or baking. Then they were polished using rags.
We saw the outside/starting point of the cider making machine. A conveyor belt carries the apples up to another belt which has one on top and another on the bottom. It gets tighter and tighter squeezing the juice from the apples.
We then moved outside to make some cider. We learned the difference between apple juice and cider. Apple juice uses any apples and in any mixture. It is heated and pasteurized. Cider is made using specific apples for a unique taste. The children used a machine to help chop the apples.
While they were being chopped, we could see some cider being collected in the container below - but not too much.
After everyone had a turn, they pressed the apples. Wow, what a difference. Lots of yummy cider to be shared. It was really delicious!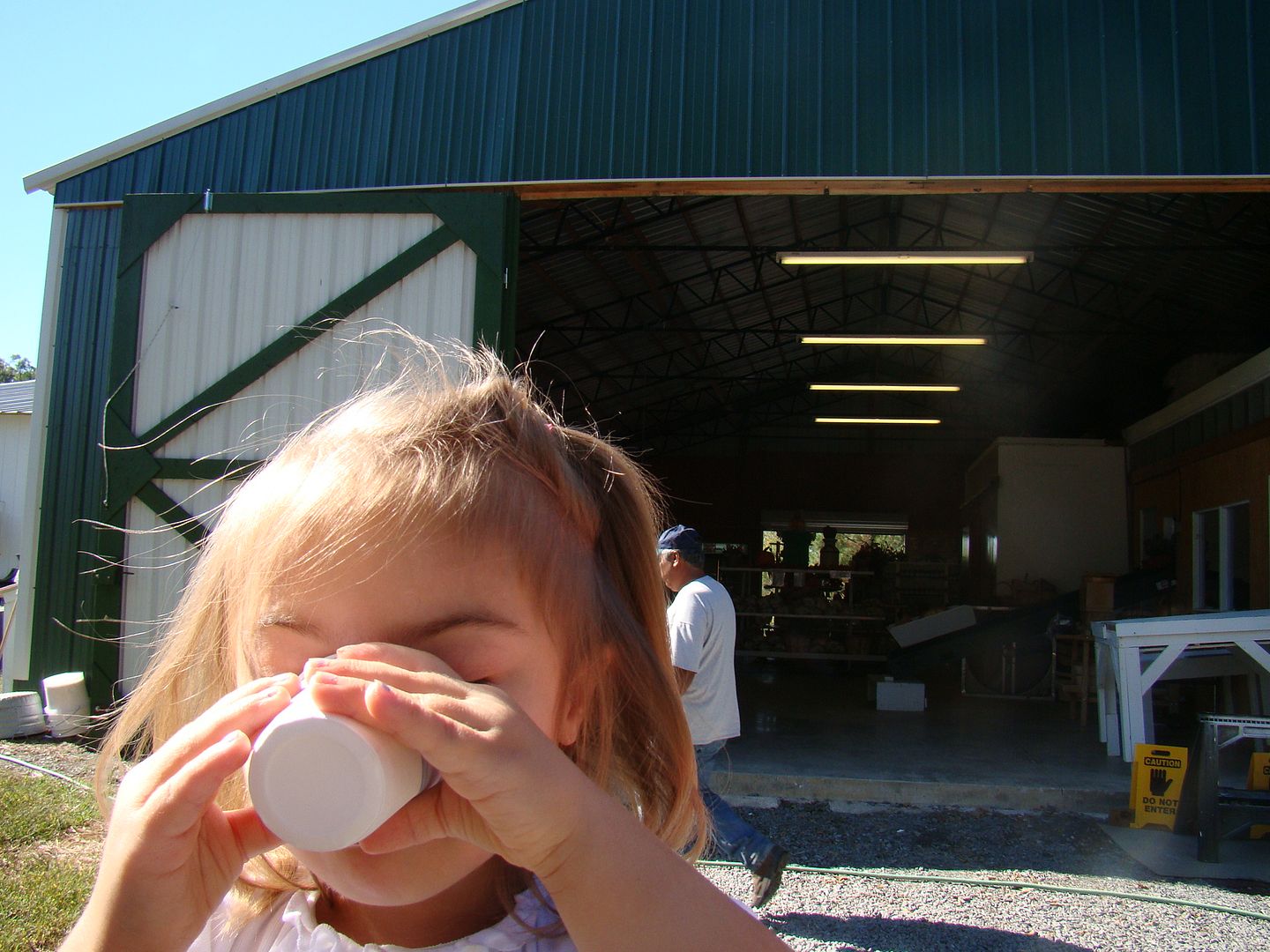 The last stop on our tour was a hayride. What fun! The wagon was just the right size for our group too!
A peek at the person usually behind the camera - me with a couple of my dear friends.
We rode through the orchard and into the woods. We finally stopped at a small field with small pumpkins. Everyone got out to choose a pumpkin. I loved watching Eliana do this!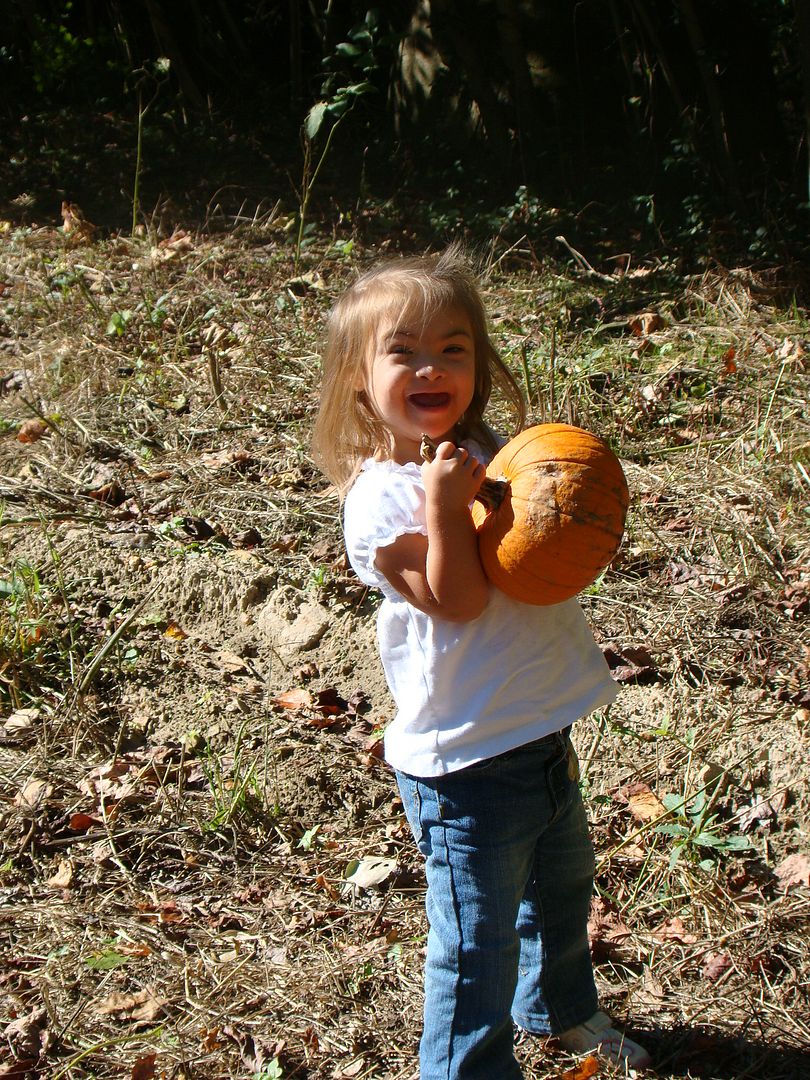 The group with their pumpkins.
When we finished, it was lunch time. There were plenty of picnic tables in the shade of the trees for us to use while we enjoyed our lunch. The final activity was to go and pick apples.
There were two types available to pick today - Fuji and Pink Lady. We went to pick the Pink Ladies first. The trees are dwarf trees which are small and easy to pick from.
We are just getting started.
This one didn't seem to get that we wanted to keep them IN the basket! She did have fun though! I have to say it - this sweet little face just makes me smile!
The Fuji trees were larger and the abundance was at the top of the trees!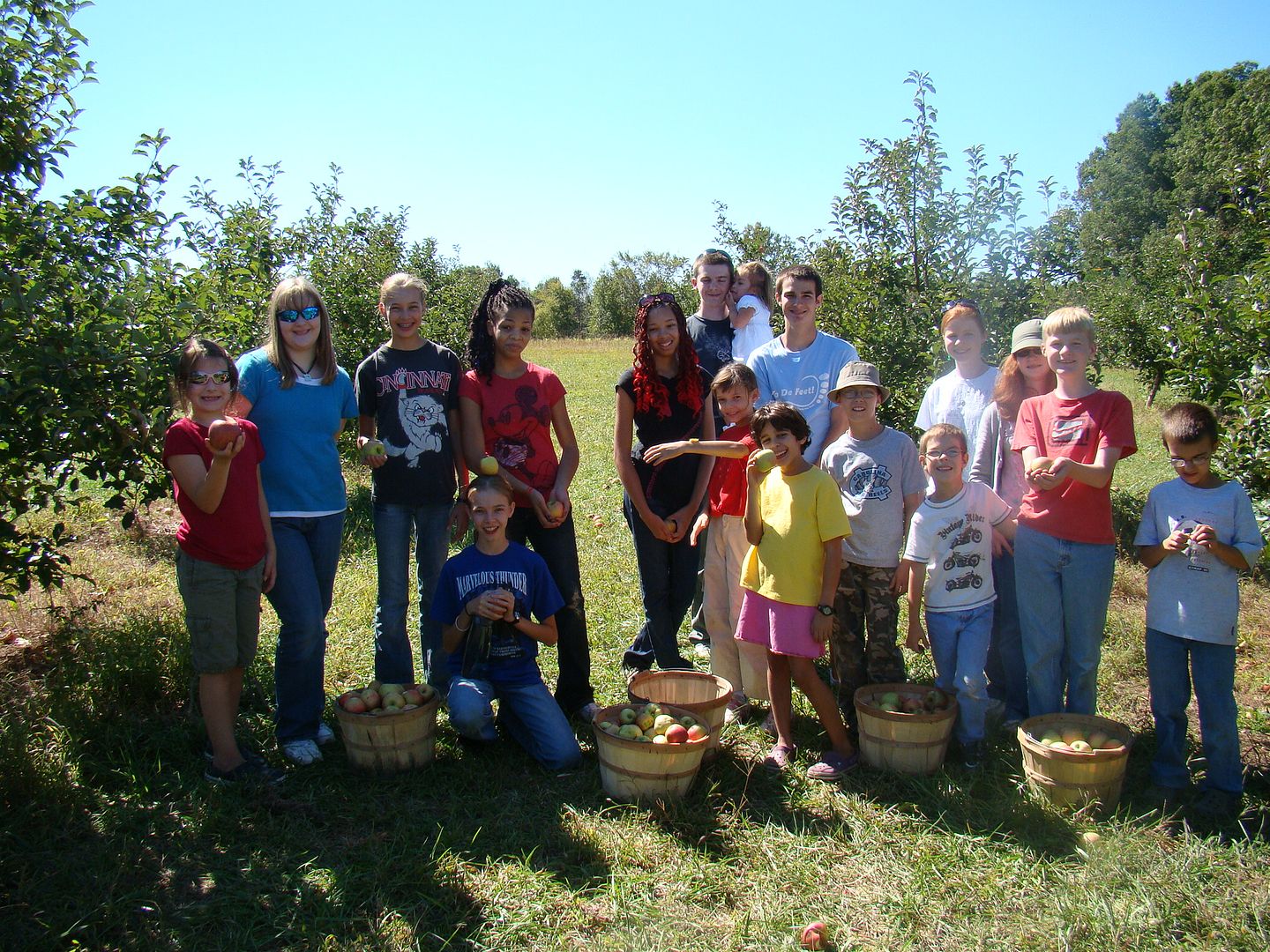 We came home with a bushel of apples! I'm not sure what I'll do with all of them. If you have ideas or suggestions for how to put them up, I'd love to hear it!
If you live in the area, this was a great outing! I know we'll be going back again. If you want apples, you can just go to pick apples and not do the tour. There is also a small store which sells cakes, pies, pottery and even cider slushies. Today was just a delightful day! It made me think that I need to have more days like this. We had a fun outing last Friday with just our family (I'll post it soon). Maybe this can be something new - Fun Fridays. It won't happen every week, but hopefully more often if I'm planful! Hope you had a fun Friday too!
Blessings
Leslie
PS No Rebecca in the photos because she wasn't with us. It was really odd not having her too! We all missed her. She was off today having a fun outing with her Daddy.