Yes, a little late - but still wanted to share.
Rebecca, Eliana and I attended a Valentines tea party with our Keepers group. (And had a neat class on flower arranging too!) Here is a photo of Eliana at the party.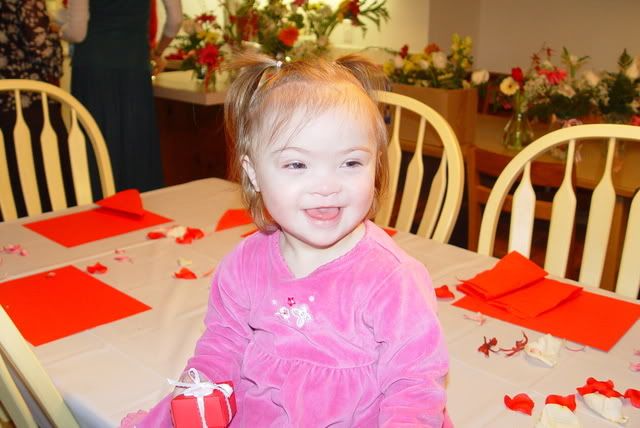 We had a fun day. Rebecca was a sweetheart in helping to do soooo many things. She loves the traditions our family had and enjoys adding to or making them even more fun. She worked on making Valentines for everyone. I hadn't taken the time to do this with the younger boys - and she did. They had a blast making homemade cards with stickers and markers and more. They were so sweet too!
One of our traditions is to make a heart-shaped pizza for dinner. We spell out "I love you" in pepperonis on the top. I jokingly commented that we may be setting up any future spouses. Some may like this low-key tradition and others wonder what is so special about pizza?! LOL It does make things easy though. The childen enjoy helping to cook too. Our dessert this year was cookies with frosting and valentines sprinkles.
Rebecca also made a treasure hunt. (These are very popular in our family!) She had bought candy for everyone (even me!) and had sweet little bags for us all at the end of the hunt. Roger had also purchased candy for all the children. (Boy was there a lot of it between them too!) I had books for the children (that I had purchased for Christmas and not given out yet). We had so many things at Christmas that I just held back this present. I had done this last year too and it worked well. Maybe it will be a new tradition. To get to the books I had the children play "Mother May I". It was funny to see who remembered to ask and how they ended up getting there. I won't embarrass anyone, but it was funny.
I received a really sweet gift in addition to those already mentioned. I had lost one of my favorite earring awhile back. It was a pair of diamond stud earrings. I loved them as they could not be tugged on by a little one and wore them all the time. Well, Roger got a few hints about this (not from me) and decided to get me earrings.
He went to the store where he bought my diamond ring. He said it had been about 5 years since he'd seen the owner who did remember him. They talked and spent time catching up. Roger shared about our family and some things that had gone on over the last year. He asked about where we lived and schooling and Roger shared that we homeschooled. They had discussed options, budgets and more at this time too. When it was time to decide, Roger said he liked what they showed him (a mate to my earring) and asked what the cost was for it. The reply was "Nothing". He was stunned and said he was prepared to pay for it. They insisted that it was a gift. Apparently this is not an altogether rare occurance from this generous jeweler. Roger was overwhelmed. He was teary-eyed just telling me the story. He was stunned that someone would do that. It is an amazing gift to give someone that you barely know. It was a sweet thing - one that touched our hearts.
I'm thankful for my sweetheart - and all of our little sweeties. I hope you all had a beautiful day as well.
With love,
Leslie