Today we visited one of North Carolina's State Historic Sites. Bentonville Battlefield. This is the site of the largest Civil War Battle in North Carolina. The site hosts a reenactment once every 5 years and this week-end was it! We were there 5 years ago and it was fun to go back again. (And hopefully we will be there again in another 5 years for the 150th anniversary of the battle.)
The site is set up with many costumed interpreters doing various things from that time period. We listened to an embalmer talk about his trade and even the specifics of how he embalmed a body (even showing the tools that he used). He shared some comparisons of what was done then compared to how things are done now. It was interesting.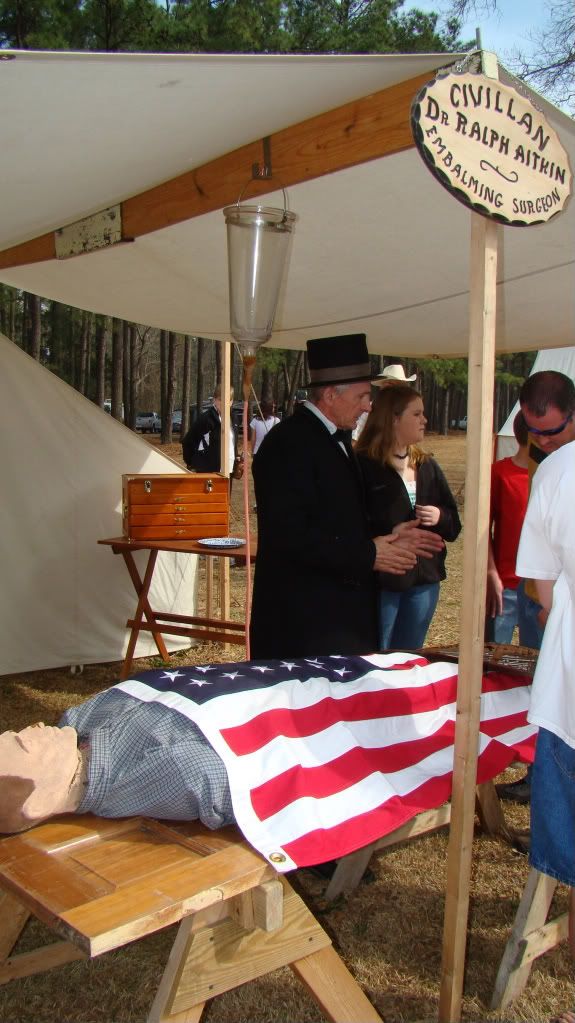 The children were interested in the herbs and medicines that were available though we missed the reenactor at this station.
So many of the reenactors are eager to talk and share what they are doing or what they have learned. If you just get them started, many will share very interesting things. This is one of my favorite parts of visiting historic sites. It just makes the time period come alive!
This man shared about how he lived, explained why his hat was pinned on one side (to keep it out of the way of his gun during battles) and even showed them his gun and how it worked.
The items on this table were the types of things that would have been sent as a care package to one of the soldiers.
This man was the engineer. He helped to plan the movements of the troops, drew maps as well as any building (bridges) or construction that might have been done. He explained that the men that were the top of their class at West Point were the ones that were chosen to be the engineers. West Point was started in part so that our country would have it's own corps of engineers.
As we stood talking with him, Daniel was very intrigued with his desk and all of the items in the cubbies. The man then started looking for something to show Daniel. He pulled out a small round metal container and handed it to Daniel asking if he knew what it was. Do you?
He answered immediately and correctly, shocking the man. The man then asked me if he had seen one before. I told him that I didn't think so. He said that in all the years he has done this that he has only seen a couple of people guess it correctly. So do you have a guess yet? He also said that most people could not figure out it by taking it apart which Daniel also started doing immediately.
It's a pair of candlesticks. The two outside pieces were the base of the candlesticks and the holder pieces were inside of it. This was a more compact way to carry them. I loved watching him figure this out.
We talked with people about their cooking. It's a lot of work to cook over a fire and haul in the water! Just being here reminded a couple of my children about their desire to be reenactors.
We had started looking into this before Eliana was born, but thought we'd wait and pursue it after she arrived. Obviously our years have been filled with some other things since then. Perhaps though now would be a good time to try again. I have 2 children that are very interested in this. Can you guess who they are?
There were also sutler's tents - people who sell a variety of wares for those who are reenactors or those who just enjoy things from this time period. Rebecca enjoyed seeing the clothing and we found one woman who made and sold beautiful bonnets!
We had a picnic lunch and shortly afterwards it was time to head toward the battleground. We watched a number of the soldiers marching into the woods to prepare for the battle. I remarked to my friend that I wasn't sure that the way that they were going was also the way we needed to go. A man heard us and said that yes, this was the way to go.
After we had walked for awhile, with soldiers all around us, I thought this was not the way we went the last time we were here. What we didn't know was if this was also an acceptable route. We asked several people and were told it was fine or that they didn't know. We walked until the field and found out it was not the way to go. Oh well. We had a behind the scenes look. We then ran to try to make it to the battle. This was not a short distance. It was good exercise. lol
We made it for the battle and watched for about an hour. The cannons were loud and earplugs helped some that were more sensitive to it. Can you see the man next to the cannon with his hand over his ear?
We saw the infantry and artillery.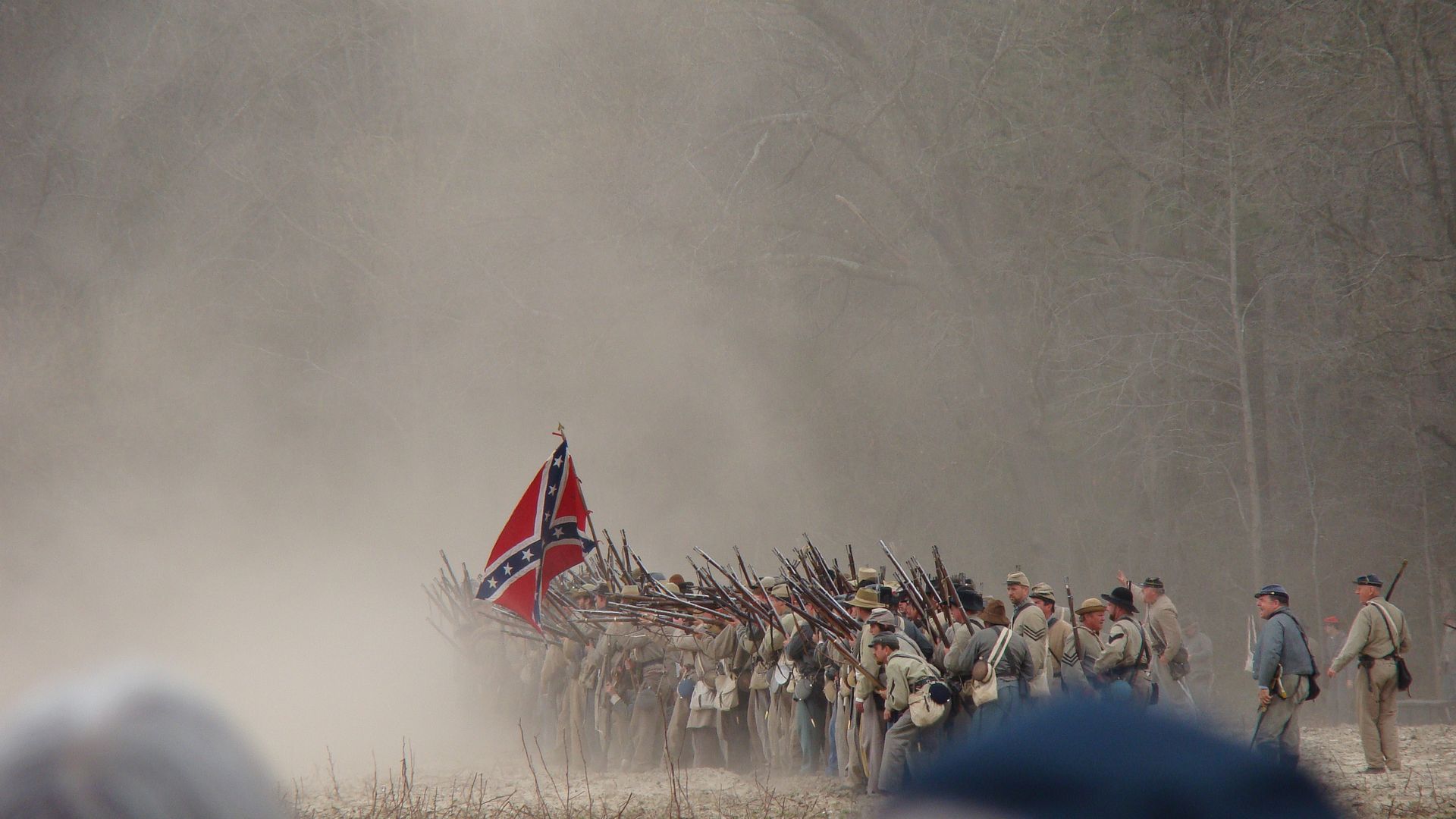 And the cavalry.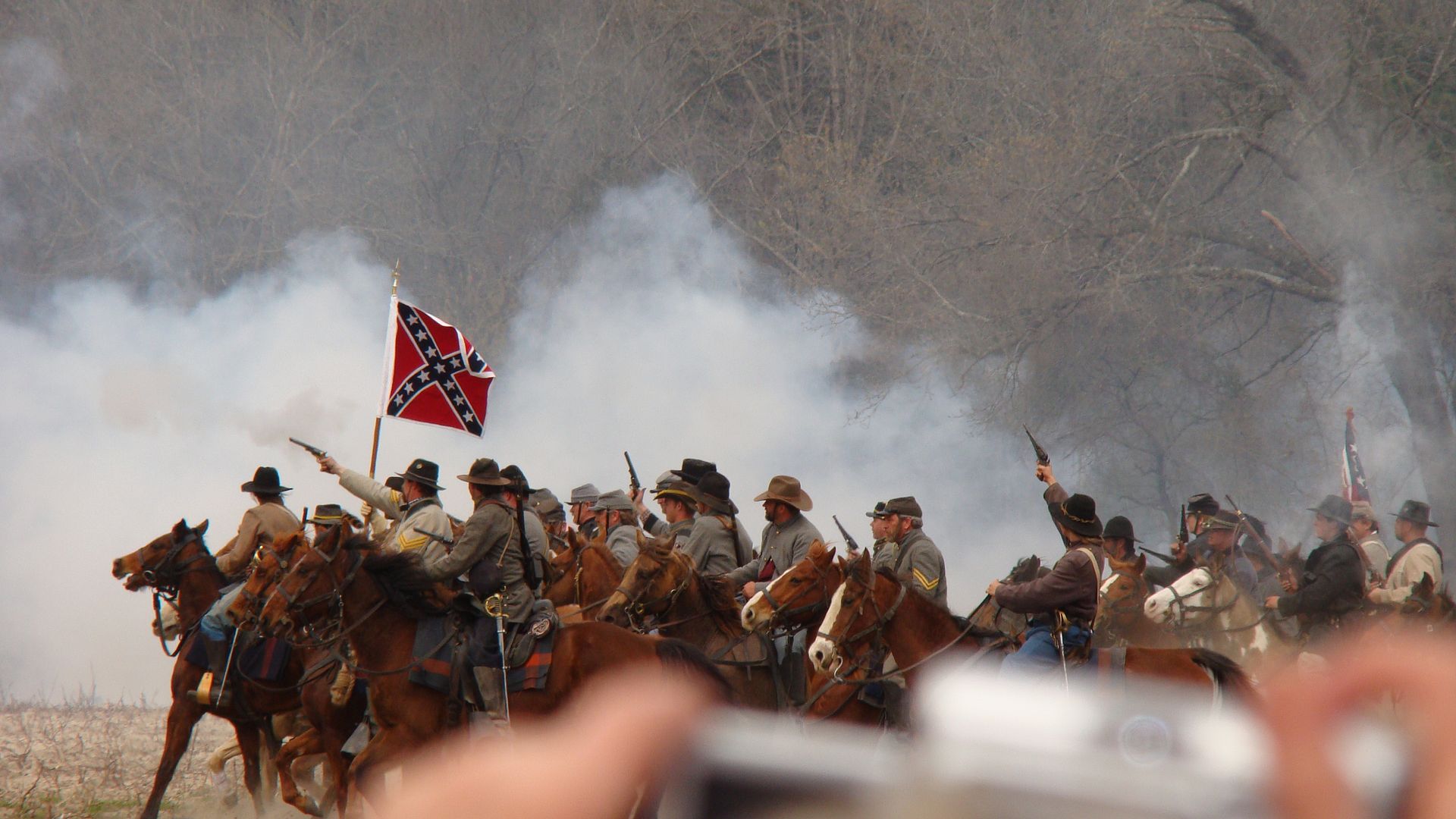 Afterwards we toured the Harper House which was used as a makeshift hospital.
They were successful in treating many of the wounded, though many later died of infection. The surgical table is a door on top of two barrels. They did the best that they could.
This is such a sad period in history in so many ways.
All in all, it was a wonderful day. I think it is important to understand history. We need to know what has happened in our past and why. We can only see the present clearly when we understand our past. I'm praying that God would open our eyes and give us wisdom to truly understand His role in our history and our role in our present.
Blessings
Leslie