I had a lovely Mother's Day. How could I not when I was surrounded by all of the wonderful little people that call me Mom/Mommy/Mama.
Roger had to go to work early (Carolina's graduation) and the kids and I hung out at the house. We decided to have our own worship at home since Daniel seemed to have a bit of a runny nose and was not interested in going to Sunday School without his Dad (he helps teach the class).
I was greeted in the morning by a chorus of sweet voices saying "Happy Mother's Day" and entering with a breakfast in bed. Some of my favorite foods - grits (YUM), eggs, bacon, biscuit and an Orange Julius. It was all delicious! Rebecca has become quite a good cook!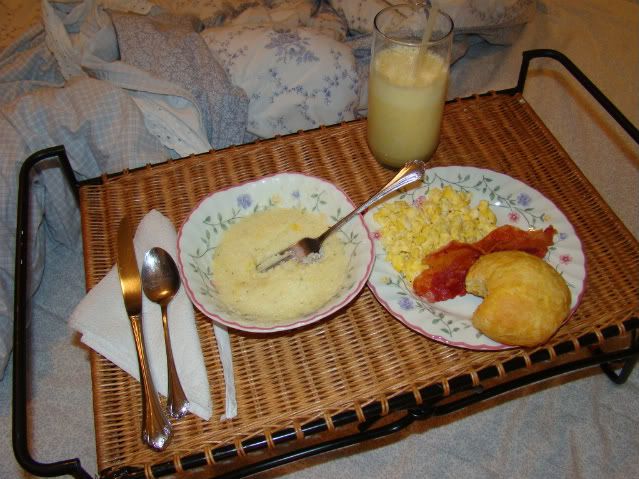 I also received some beautiful hand-made cards from Daniel, Isaiah and Eliana (with her handprint). Joshua didn't give me a card, but did do a "jig" for me (his words). LOL Christopher put a greeting on my screensaver for me - a twirling text saying Happy Mother's Day. Rebecca bought a lovely card for me.
When I came downstairs, I was greeted by a virtual florist shop of beautiful flowers! Along with gifts - chocolate in a couple of varieties, tic tacs and a new necklace that Rebecca made for me.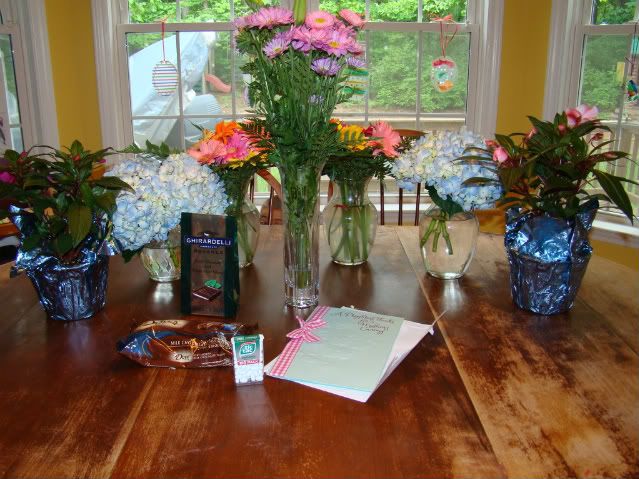 When Roger came home, he brought in some of the lovely roses from one of our bushes outside as well as another gift - a nail care set. I have such a thoughtful family! For lunch Rebecca and Christopher worked together to make this delicious club sandwich with grilled chicken. Yummy!
I spent some time doing things I wanted to do. (Tried to clean out my email box a little bit). Also read a book.
We went to Rebecca's soccer game in the afternoon. It was a fun game and she played really well. (Yes, she made a goal and several assists.)
Dinner was taco mac salad - a family favorite. I loved not having to cook or clean in the kitchen all day! Thank you to my sweet family.
Rebecca made my favorite for dessert - banana pudding. A sweet ending to a sweet day.
I thank God each day for blessing me with such an amazing family. I am truly blessed!
Blessings
Leslie