We spent Monday at the State Fair. Roger took the day off from work. (I love that not only is he able - but he is willing - to take time off to do some special things with his family.) We chose Monday as it was supposed to be one of the least crowded days. Weather-wise it was gorgeous!!! We couldn't have asked for better.
We got up earlier and started getting ready. Friends were coming over to go with us so we were working on a little bit of a time schedule. Well, Eliana wouldn't eat. I tried and tried - but you know, you can't make someone eat! (Believe me, I have been trying that for awhile and it just can't be done.) I would try and then go do something to give her a break. Finally, everyone was ready, she had taken less than half of her bottle and I told them to go on without me.
We figured it would be best to take 2 cars in case I needed to leave early. We hadn't been gone from home all day before and I wasn't sure how Eliana would do. When she started the day eating so poorly I wanted to have the option to come home in case she wouldn't eat while we were at the fair.
I debated then about what to do. Should I just use the pump - it would help us to get to the fair and not miss out on family time. I really didn't want to stop our almost 2 weeks time span of *no tube*. I also needed to have the bottle cleaned since I only have two. (She uses a special - and very expensive - bottle. We have two. I should probably order more of them, but until now it just hasn't been an issue.) I wanted to have 2 clean bottles at the fair for the next two feedings.
Well, after trying for about an hour I decided to go ahead and tube her. I hope this won't be a big setback. I really have no idea how much of a stickler they are about the length of time. I know that we'll be in the midst of sick and germ season if she does manage to go 2-3 months without the tube. I wonder if that will cause them to be more hesitant about removing it too? I guess we'll find out. We see our ped on Friday and it will be good to touch base with her.
Eliana and I arrived at the fair about 30 minutes behind everyone else. The kids were working on a fair-wide scavenger hunt. It was really neat - but unfortunately they didn't finish it. (Though they made a good effort.) We visited so many things - from a ranger station and Smokey the Bear to various gardens. Rebecca was so excited to go see the things that they had entered. I had told them not to expect any ribbons in hopes that they wouldn't be disappointed.
We headed first to the building that had handcrafts and hobbies. Rebecca wanted to run to see her items. She went ahead and then came back thrilled that she had gotten a ribbon - 4th place. She was so excited and it was fun to see the joy on her face.
We went by to see my quilt next. No ribbon - but I didn't expect one! The girls thought I'd be disappointed, but really I wasn't! I was honestly out of my league in this competition. (We did see a smocked dress and thought my Mom needs to enter one of hers next year!)
When we visited the artwork, Isaiah was excited to tell me that he and Joshua had both gotten an orange ribbon. I was stumped as to what it could be. I didn't remember an orange ribbon. He was very pleased and it turned out to be a participation ribbon. That was a nice thing to give to all of the children.
Eliana had her first feeding during our lunch break. We held off eating a little bit in hopes that it would work for her to eat while we were all seated. She did great! She took all or most of the bottle then. Later in the afternoon when it was time for her next feeding, I went back to the same somewhat quiet spot and she again ate well. She was able to sleep some during the day either in the stroller or in the sling. Such a little sweetheart!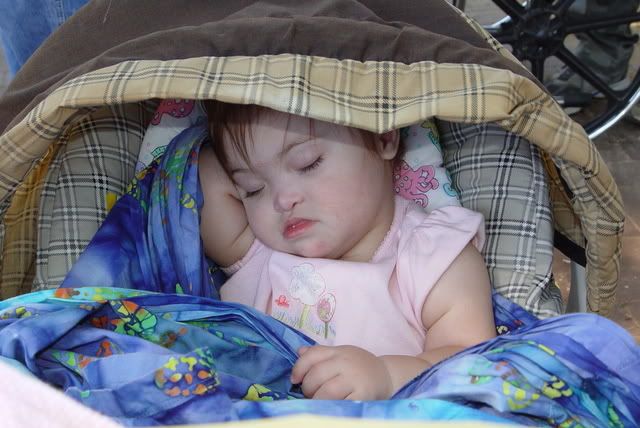 The children were working on another scavenger hunt - and the prize was a really cool t-shirt from the State Fair. I even did it and got one too! It is fun that there are so many neat hands-on educational things to do. There is definitely more than a day's worth of activities there.
Boys picking fruits and veggies for their baskets.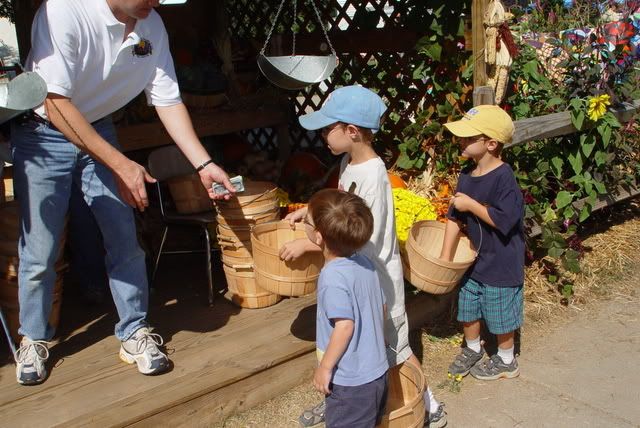 The baskets were weighed and each boy paid for his crop. The money was good in a store for a goodie bag with NC treats in it (apple, peanuts, pencil, etc.)
We ate lots of fun fair food from roasted corn to funnel cakes, chili fries to ice cream and more. I think this is by far Christopher's favorite part of the fair. Not surprising to any of you that know him. He sampled more foods than rode on rides. LOL He did like one though - the bumper cars.

We saw animals and fruits and veggies. My little boys were fascinated by a bee display. They asked lots of questions and loved looking at the real bees (behind glass). We saw the largest pumpkin EVER at the NC Fair. It weighed over 1100 pounds! It was huge!
We had one very scary time when we were separated from Isaiah for a few minutes. Oh my heart raced and I had to try to still my mind. Thankfully he stopped when he realized he wasn't with us any longer. Thank you God for protecting our little boy.
Of course, the rides were fun too. The children went on bungee cord jumping (I thought that looked like fun), roller coasters, twirling rides and fun houses. I couldn't believe that Daniel wanted to ride them!!!
He clearly loved the rides!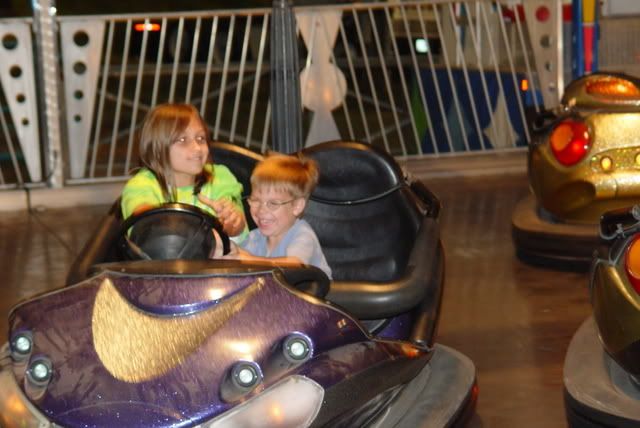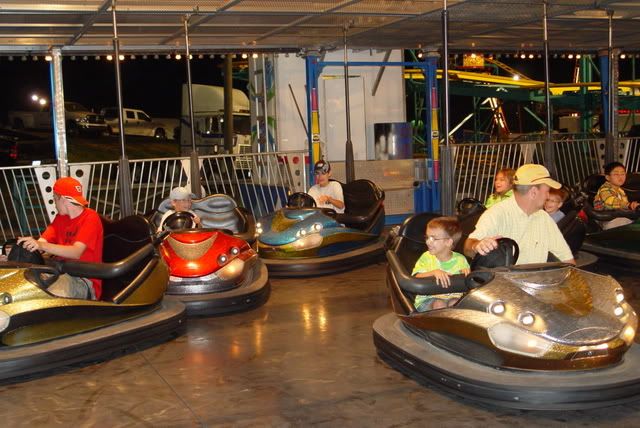 We did many more things during the day, probably more than anyone is interested in. LOL Overall it was a fun day. Eliana did really well and we stayed ALL day long! We were late enough to enjoy the fireworks display. I enjoyed being out again with my family.
Thank you God for a slice of fun with family and friends. It was a sweet day with lots of neat memories.
Blessings,
Leslie