We went to Old Salem this week for their homeschool days. We decided just about a week and a half ago to try to visit. We were blessed to have 7 other families join us for a fun day! One was a sweet friend that has just moved to NC!
Honestly, I didn't think it was going to work. The weather forecast was ... awful. Cold, snowy/rain and visiting old historic buildings. Does that sound like fun to you? I think if we'd been by ourselves, we might have considered trying to go a different day. As it is, I'm so glad it worked for us to go! We had a blast!
Our day started very early (especially since I'd been up very late checking Joshua's numbers - boy, has it been an erractic week!). We met some of our friends to caravan. Our trip was a little under and hour and a half. We had rain on the way there. Shortly after we arrived ... it turned into snow. It was so very pretty.
Also shortly after we arrived, I realized that I had not packed the test strips for Joshua's meter. *sigh* I knew we'd be gone most of the day and we just couldn't go that long without checking him. So, I made a quick trip to a local drugstore to buy some VERY expensive test strips. Of course it would be the one item that is outrageously expensive that I forgot. It's definitely the money-maker iterm. I paid $35 for a box of 25 strips. We go through at least 7 per day. Crazy, huh? Thankfully they aren't this expensive with insurance. I'm very thankful to have insurance.
On to our day. We started at the Children's Museum. Lots of neat old toys. It was a little crowded - probably a lot of people starting there. Next stop, the gunsmith.
We decided next to go to the furthest building away and make our way back. We walked in the snow - which was a very wet snow. It left most of us a little damp, but it wasn't so terribly cold. Not sure if you can tell it is snowing in this picture. It was a very wet snow!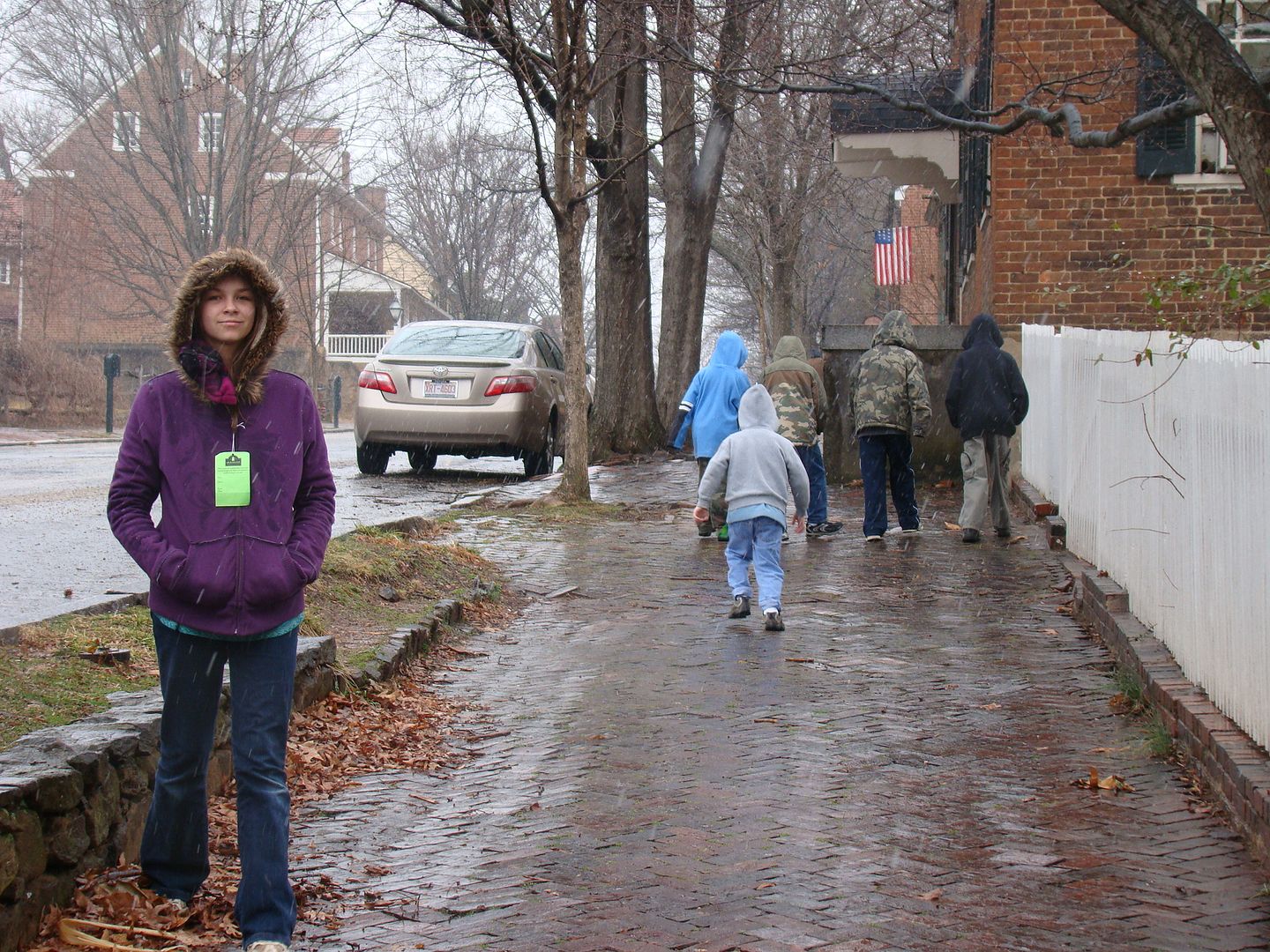 We had to stop at the pump in the town square. My children loved this the last time we were here too! Just something fun about water - and using a pump is just not something any of them get to do on a regular basis! (Yes, it really does work!)
We visited the Vierling House. Since the owner was a doctor, we learned about medicine. We visited an apothocary and learned about the herbs and medicinces that were used in the 1700s to treat people. We also viewed exhibits describing medical care at that time period. I should also mention how very glad I am that we live now and not long ago as several of my children have needed the care available today and I thank God for that!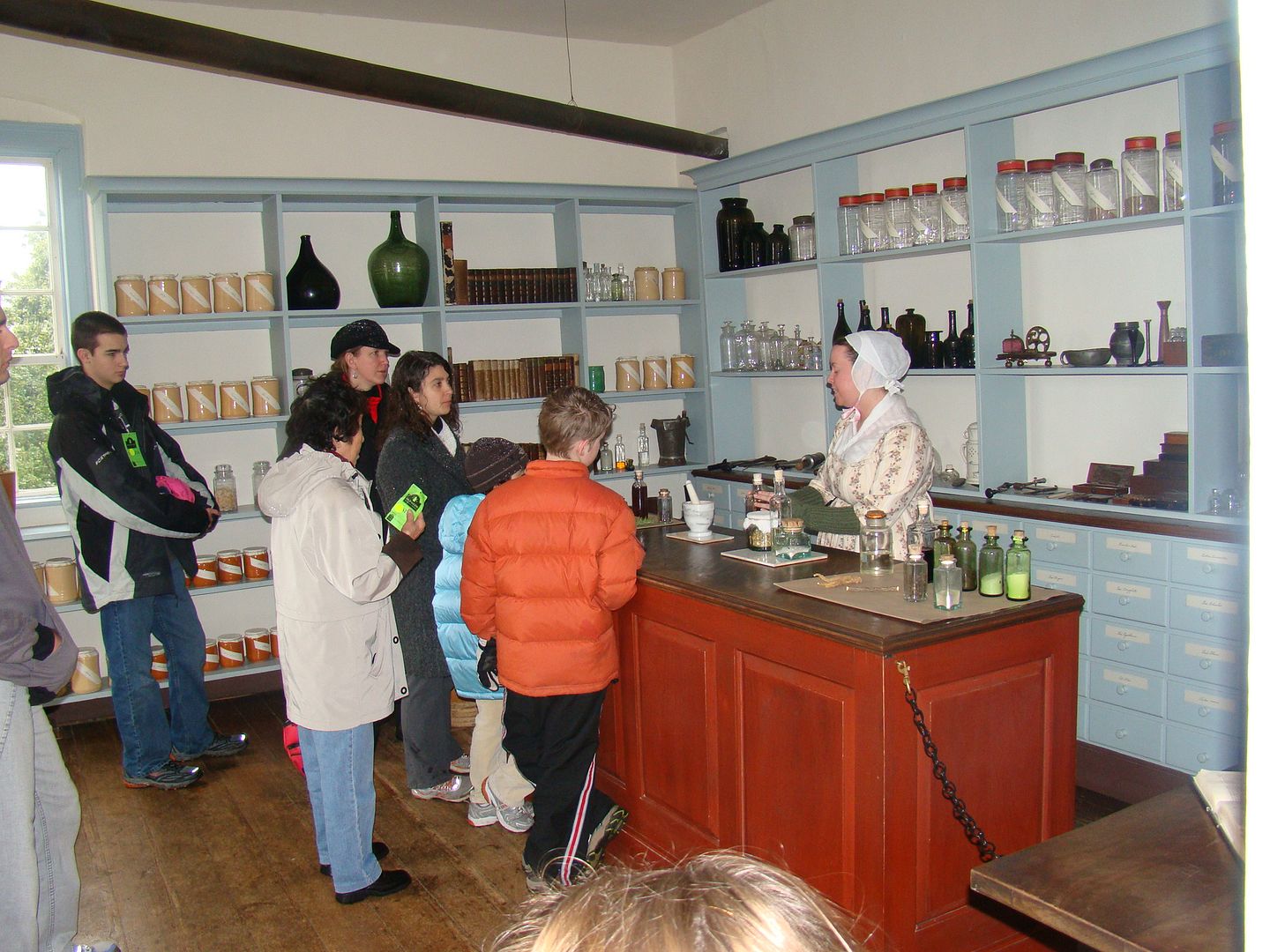 Downstairs in the kitchen, we learned about their favorite drinks - coffee and tea. We were show different types of tea leaves and how they were used. We also saw coffee beans and cocao/chocolate beans. We were given tea to try. I will say that I'm not a tea drinker and that this tea did not endear me to it either. It had a very smokey taste. There were several tea drinkers in our group though and they liked it!
In the adjacent building, the children washed up and were given marizan to use to make fruit - or other - shapes with. They had some beautiful examples to look at.
I tried to get a picture of Eliana, but by the time I had her sitting down and had moved around the table, she had eaten all of hers and was saying and signing "more". LOL It was fun seeing the children hard at work.
The children made some neat things and really enjoyed being able to be creative. Rebecca copied down the recipe in case we wanted to try this again at home.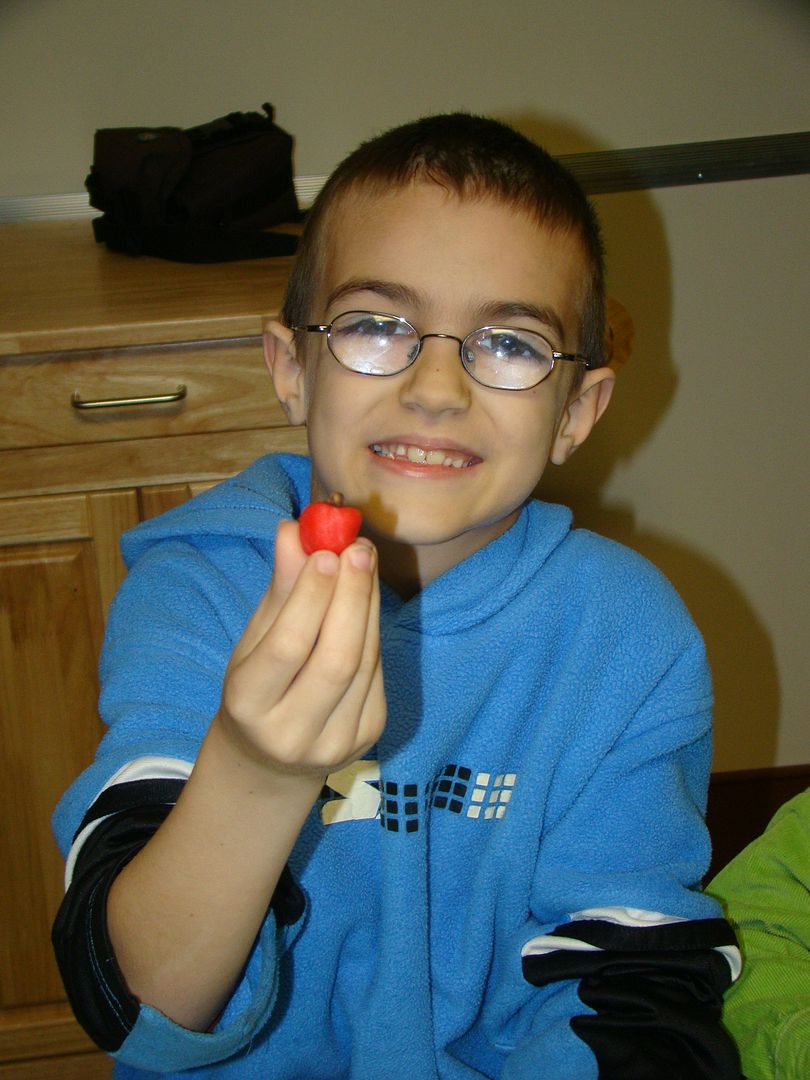 They also seemed to really enjoy eating it too. I love pictures of my oldest having fun with little people. Just warms my heart to see a teen and a tot having a good time.
It was getting closer to lunch time by now and so we thought we would wander back to the visitor center. We stopped by the bakery on the way there. If we weren't hungry before then, we certainly were now! We were given a sample of a moravian cookie. YUM! We also saw bread and sweet cakes that were rising and waiting to be baked.
We bought some buns to have for lunch that were marked down. They were sweet and delicious. We ate our lunch that we packed from home and then started back. I love this bridge that goes from the Visitor Center into Old Salem.
We headed to the Single Brothers House. There was a lot going on in here! We learned about the ribbons on the women's caps. The color had special significance. Rebecca noted that she would have gotten a new ribbon this year when she turned 14. Mine would have signified that I was married.
There were a number of "trade shop" displays set up in various rooms. We visited a man who made furniture, a potter and a tailor. It was neat to learn about the clothing and inspired some of mine to come home and make some new clothing for their stuffed animals.
We also watched gingerbread being made and were given some to eat.
One of the favorite stops of the day was in a room with period toys. Everyone loved this! Eliana liked playing with the beanbags. It reminded me that I need to get out the cute ladybug beanbag set from summer camp!
There were tops and really neat castle blocks to build with.
There were marbles. My boys had just been talking about playing marbles earlier in the week and I loved that they had a chance to do that here.
This cute little spinning toy was a lot less cute when a teenager wanted to see what would happen when it got close to your head. Ouch! It gets caught in your hair and pulls it out!
One of the stores reminded us of a Five in a Row book - The Hatmaker's Sign.
Of course, we had to go in and see the hats.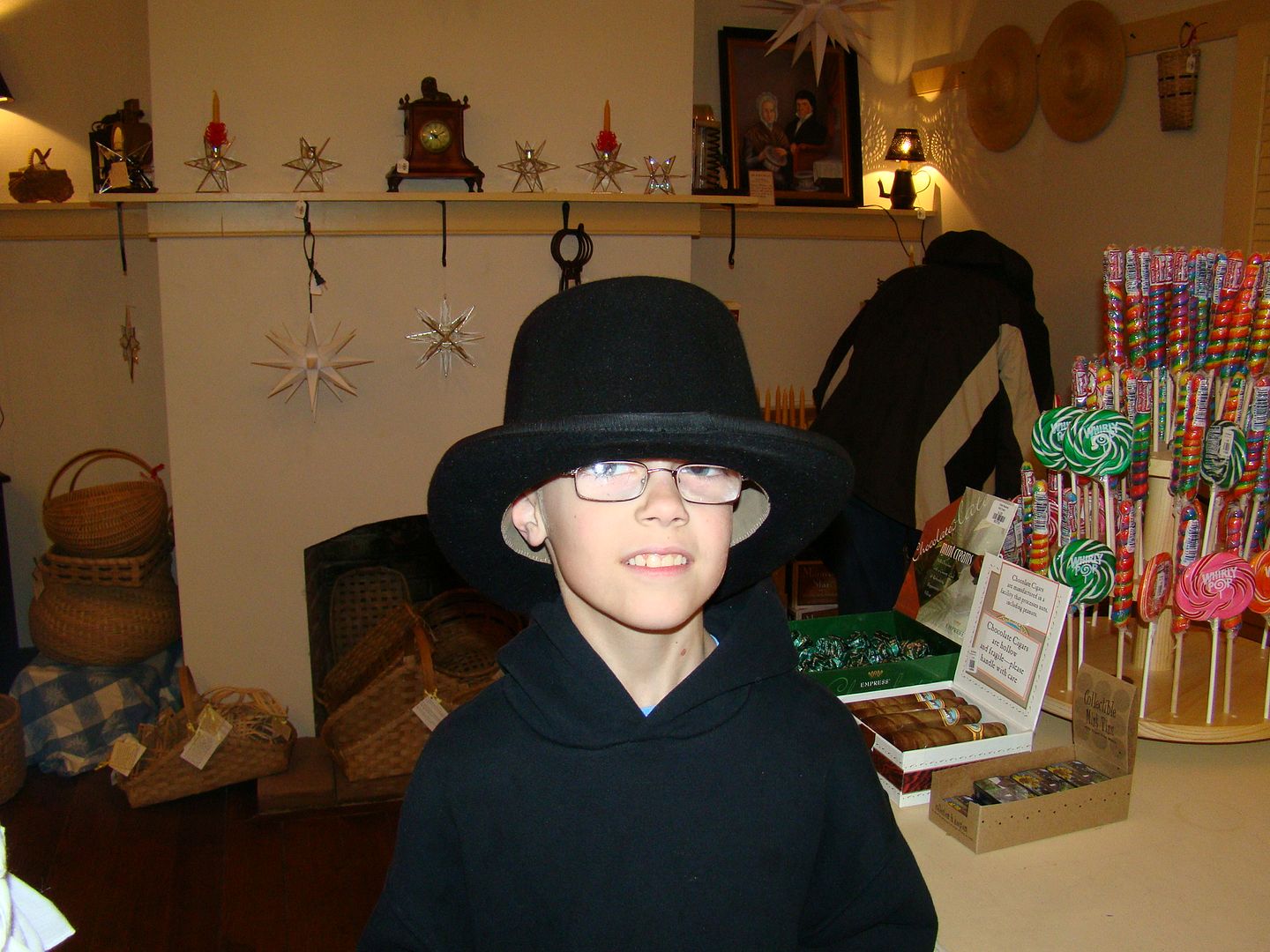 Many of the homes had a little alcove under the steps. I'm not sure what it was for, but the children loved going in them! It would hold quite a few of them too.
We had a very full, long and wonderful day! All of mine fell asleep at one point or another on the way home. I was totally exhausted when we got home. Roger had been out of town for the week and arrived home that night. It was good timing, because I crashed!
I'm glad we went. So glad to have spent this time with friends making memories and learning about the past. I love history field trips and love sharing these experiences with my family and friends.
Hope you enjoyed the pictures! There were many more and I tried to be brief in describing our day, but it is still a long post. It was a lot of fun!
Leslie