I can't believe you are 4 years old! It doesn't seem like you should be that old, but perhaps that is just because everything moves at a slower pace developmentally. It seems like a long time ago though that I was at the hospital - in a room by myself - because my baby was in the NICU. I thought of that tonight as I put my sweet girl to bed. I loved that I was able to be with her, holding her and loving her. Even though it was a tough start, Eliana has been a blessing from the beginning.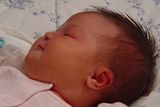 Today we awoke to snow - though a pretty light one. (Or pitiful according to Christopher) Eliana was treated to one of her favorite meals - pancakes. And look at these pancakes her Daddy made for her! (It was Rebecca's idea to spell out her name.)
As a treat, Rebecca painted Eliana's fingernails.
Next it was time to open a present. Rebecca picked this out for her.
I know I'm biased, but isn't she beautiful?!!!
Next it was time to play with play dough. Boy was she excited about doing this! She made a cupcake with a candle and even "blew" it out.
Eliana really enjoys opening gifts. She tears off the paper bit by bit. She was delighted with her gifts too! I love that she finds joy in so many things.
Rebecca made a beautiful cupcake birthday cake for Eliana. (I love that my oldest daughter loves to bake!) Didn't she do a great job!
Group photo
Time to sing - and Eliana joined in our singing to her. (Too cute!) She really did a great job blowing out her candles.
Happy Birthday Eliana!!!
We pray that this is the beginning of a wonderful year. I thank God for you as you bring joy and laughter to our lives.
I love you
Mommy