***Photos included that may be difficult for children if you have some watching/reading. ***
One year ago, our sweet Eliana's heart was repaired! We praise God for His faithfulness in walking us through this valley. We are thankful for our family and the many friends he placed in our lives that helped to ease the pain and difficulty with prayers, words of encouragment and acts of service.
One year ago, so many people were praying for our little girl. Some of my friends were fasting while they prayed. Friends on the FIAR board (my homeschool community) set up an around the clock prayer calendar for Eliana. I was humbled and blessed immensely that people cared so much for our little girl.
One year ago, we slept through our alarm! How could that happen on such an important day? We rushed to get ready and get to the hospital so very early.
One year ago, we handed our little girl over to two very kind men (the anesthesiologists). I remember watching one of them cradle her in his arms as he gently carried her down the corridor to the surgical room. The sun was coming up in the window in front of them and they looked so relaxed and calm.
One year ago, I had to hand over more than my daughter. I had wrestled with God and felt that I had to come to the point that I was truly willing to hand her over to Him. The story of Abraham and Isaac become more to me than just a story. I knew that God had given us a gift - yet she was still His child. Ours to care for and to love on for an undisclosed amount of time. "Yes God," I said, "She is yours. I do so want more time with her."
One year ago, I held onto a little bow waiting for news of her surgery. I had expected to be broken and devasted, but God met me there and gave me His peace that passes understanding.
One year ago, Roger and I, along with some dear friends sat waiting, praying, talking ... and just waiting. Anxious to hear news and yet fearful to hear it as well.
One year ago, I so wanted to hold my little girl. Waiting to hear the news was hard. What a joy to meet with her surgeon and to hear that all had gone well. When we were finally allowed to see her - I remember running to her room. I should have waited, but could think of nothing but seeing our baby.
One year ago, our baby's heart was made whole. It was hard to see Eliana with so many tubes and wires. Hard to find a place to just love on her.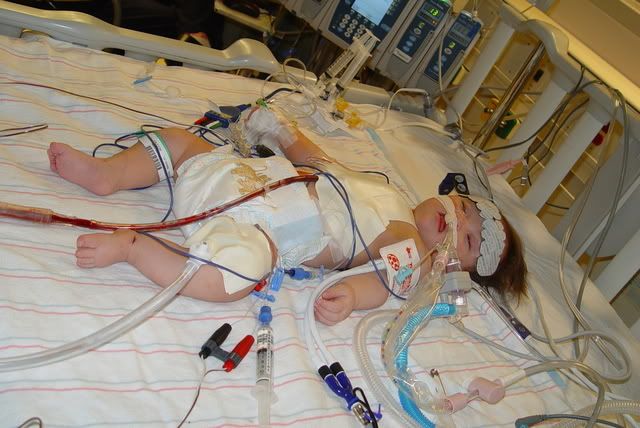 One year ago, I continued to see God answer prayers for Eliana's care. I watched her heal rapidly and was so very thankful to see her smile again.
One year ago, the end of a very difficult and dark time in our lives was marked by a healed heart. This didn't mean that things suddenly become easy or without pain or trial. Not at all. I know that those who have experienced something similar though will understand these words ... It's so much better on the other side of surgery!
Today as I reflect and remember I am overwhelmed with thankfulness. I am thankful that Eliana has had no complications from surgery. I am thankful that she is growing, learning and progressing in so many ways. I am thankful for a beautiful little girl that has taught me so much about trust, faith, love and acceptance. I am thankful for a loving God who truly does give good gifts!
With love,
Leslie
PS I may write more later, but wanted to share something on this special day.