I
wanted to share a bit more about our time at this walk. We really didn't know what to expect and only decided to go at the last minute. Joshua had been interested in this walk from the time he was in the hospital. When we found out that his last football game was at the same time as the walk, he wasn't sure he wanted to miss his game.
At his last practice, he decided he wanted to do the walk. So we got registered just a short while before the walk and I posted a note here just a day before the walk. We didn't send out letters or try to do a lot of fundraising. We were all thrilled though that some gave anyway. Thank you! You were an encouragment to us all!
The walk started at 10:30. We left early and thought we had plenty of time. We didn't factor in the traffic. LOTS of traffic. It took about 45-50 minutes to go from the exit ramp to the site. I thought we'd never get there. We arrived after the start time, but thankfully it hadn't started yet. :-)
It was a beautiful day! We checked in and got 2 shirts (based on the money we raised). Then we started walking. It was a 2.5 mile walk.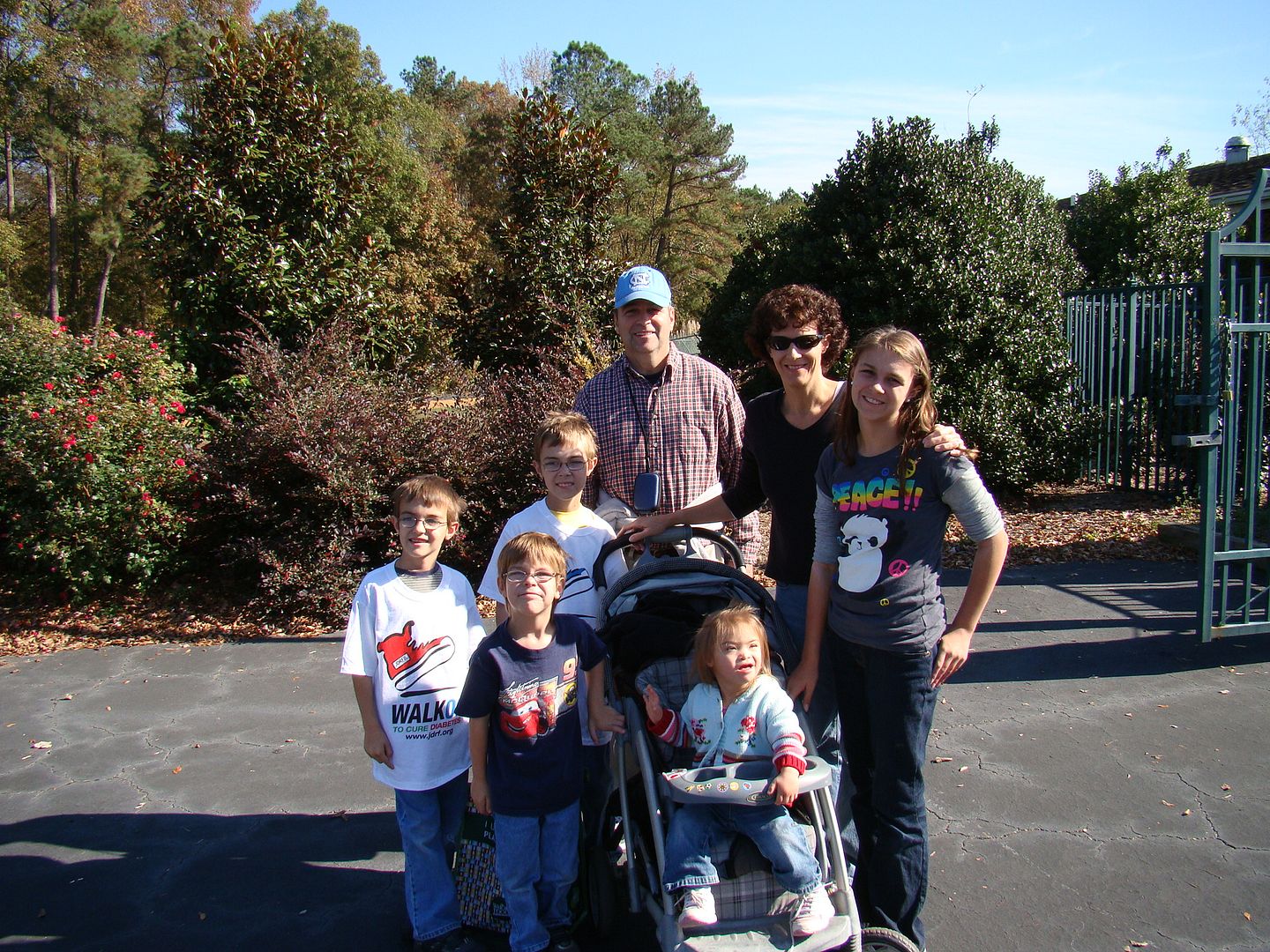 We learned this week that they estimated that there were 8500 walkers there! Lots of people had unique t-shirts for their "team". Joshua thought he'd like one for our team for next year. If any of you are interested, we'd love to have you join us there.
While we were walking, we saw just one person we knew - Joshua's doctor. His wonderful doctor from UNC hospital. I was incredibly touched that she chose to be there.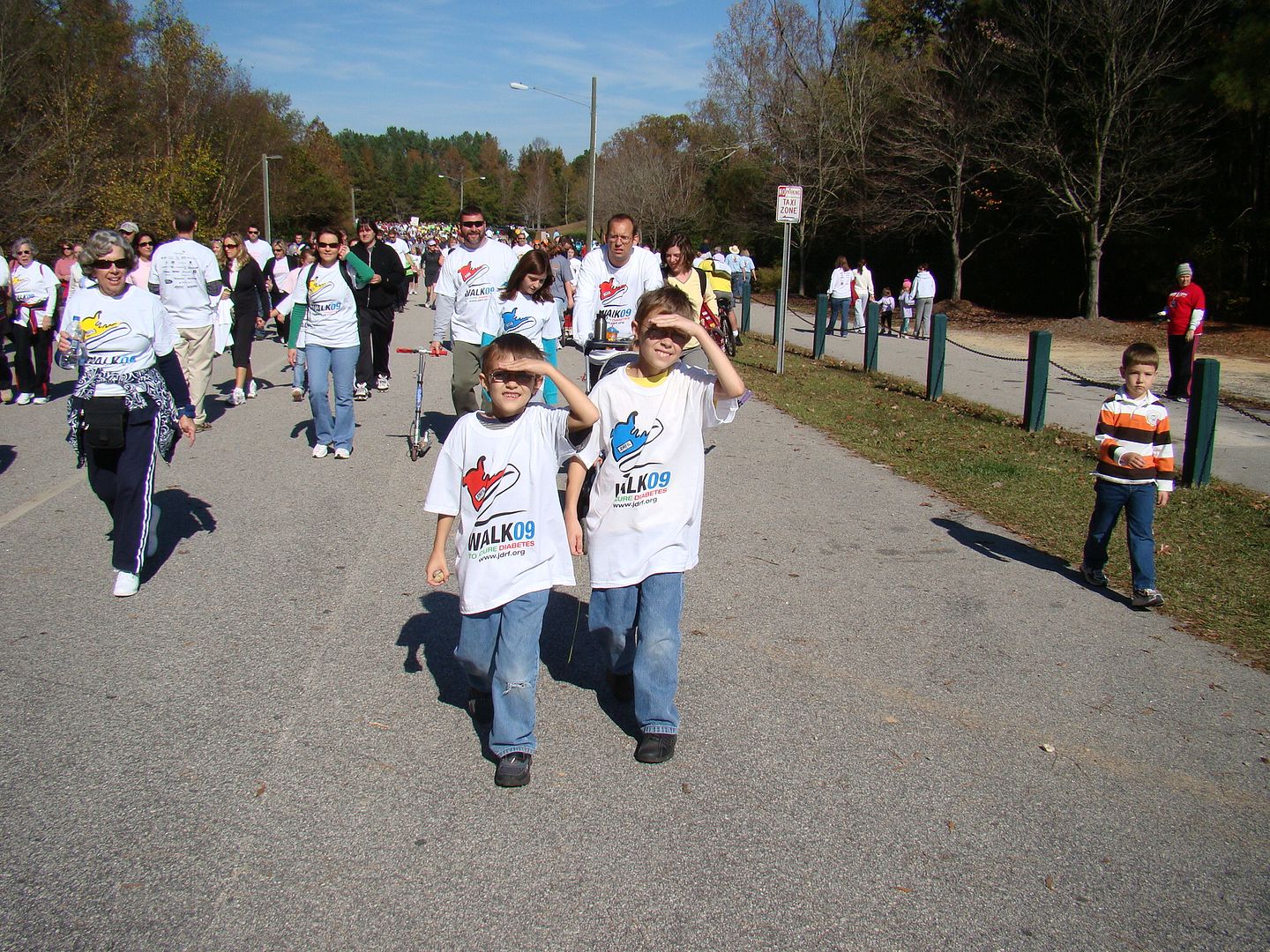 After the walk, we split up. I stayed with the younger boys at the walk and Roger took the oldest 2 to their sports games. We had lunch. While we were walking to lunch, the boys saw someone "checking blood sugar". It was a first. We've never seen someone else do that. After lunch, we did some of the fun things there like jumping in the bouncey thing.
Getting our photo made in a photo booth.
Playing foosball
There was concert and we listened for a little bit. The bonus was meeting a really nice man with a pump. I spotted it and pointed it out to Joshua. I told him that I was sure he would be willing to answer any questions he might have about it. Sure enough, he was. He was incredibly kind! He is an athlete and competes in the Bike to raise money for JDRF. He showed Joshua his pump and the pump site and told him about it. It was good to see and to learn more about it.
All in all, a fun day. We learned that next year, we need to go earlier.
I'm thankful that there is a group working to raise so much money to help find a cure. There is a saying "Insulin is not a cure, it's life support". That is so true. We hope that there will be a cure one day soon. I hear that there is hope for it in our lifetime. While I do hope this is true, we know that our true hope is in Someone Else. I'm thankful that God knows, understands and walks with us through each day - both the fun ones like this and the ones that are hard.
Thank you for your support and prayers for our family!
With love
Leslie