I think the thing that surprised me most was not the large crowd or the variety of activities or the beautiful children - instead it was the number of times I felt my eyes filling with tears. I had not anticipated that. I guess in some ways there will always be tender spots in my heart that just weren't there before. Spots that are touched in ways I don't expect but will probably grow a little more accustomed to. I'm not even sure why the tears were so close to the surface. I wasn't saddened by being there at all - in fact just the opposite. It was a wonderful day for our whole family! I remember the first thing to bring tears were the numbers of people as we were driving in. It can seem a solitary life at times - and we've been so isolated this past year. Seeing lots of cars and lots of people just seemed like a statement that we weren't in this alone. It was so encouraging to see lots of people there in support of those with Down syndrome.
We decided at the last minute to join in on the Buddy Walk. I didn't really know what to expect, but since we were free we thought it might be fun to check it out. I am so very glad that I did! What an amazing job this group of volunteers did in putting together this event. I have had only a little contact with members of this group via email and one mom's meeting - and I knew there to be a lot of generous and warm-hearted people involved. This event far surpassed any expectations I might have had. In addition, it was a gorgeous day!
We arrived around 12:45 and parked in the specified lot. There was a trolley to take us to the park (not a long walk, but it was a fun ride).
When we arrived we checked in and received t-shirts and goodie bags. We walked into the event and saw so many things including mounted police, chalk, bubbles, lollipops ... and a pirate! I was thrilled just knowing our pirate-loving son would love this! He hid behind the stroller! We tried to get our outgoing, never-meets-a-stranger son to talk with the pirate and pet the parrot - but nothing doing! His brother tried on the pirate hat and wore the parrot on his shoulder.
There were lots of games and activities from balloon making to face-painting and moon bounces. There were celebrity figures like the local sports mascots and a tv reporter. We debated on what to do first, but the children were hungry so we ate. Hotdogs, fried chicken and lots more to choose from. We definitely had our fill. The children were very excited about the sno cone machine too!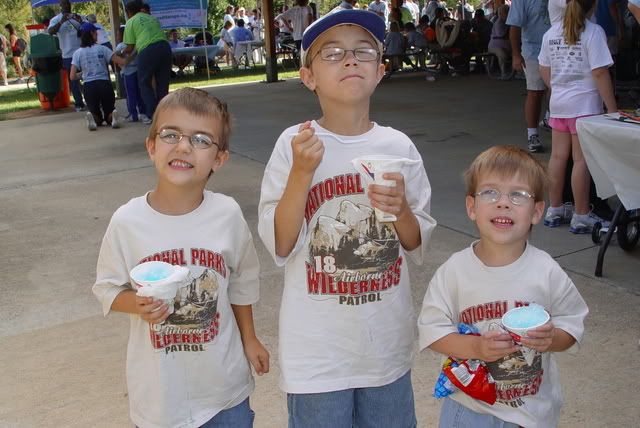 There was a silent auction. We understood this a little better and made a number of bids. Rebecca helped to keep an eye on some of our bids as it got close to closing time. We won three auctions! I think I have a couple of Christmas gifts in hand now. When I told Roger about the auction and suggested he might be interested in checking it out. He asked what I bid on. He wasn't surprised that the first item was ... books. LOL
We went on a short walk - maybe 1/2 mile. We started a little late as Eliana was eating. There was no room for Christopher to race ahead ... so he walked with us ... most of the way. It was a leisurely stroll made all the more enjoyable by many signs along the way with photos of children in the group with various sentiments on them. I found the tears again - some of the only sad ones - when I saw a few signs that were "in memory".
After the walk we went back to hear Chris Burke (actor who played "Corky" on the tv series "Life Goes On") and two brothers in concert. They sang lots of fun songs and Chris talked about the importance of focusing on "ability" and not the disability. He was funny, entertaining and encouraging. Rebecca loved his music and bought 4 of his tapes. We also had some photos taken with him.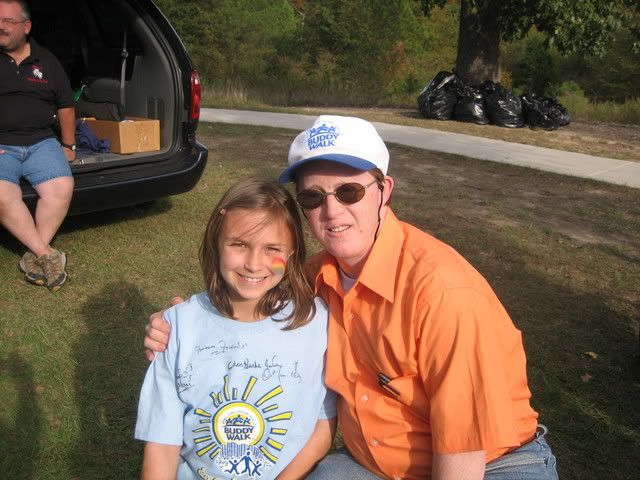 I saw some gals that I'd met at the Mom's meeting. It was so nice to see a familiar face! I also met a gal I'd talked with on the phone. She sees the same ped who had connected us. I recognized her from a photo in a booklet put out by the local DS group. Her oldest daughter also spent time talking with Rebecca and answering her questions about what it was like to have a sibling with DS. They are lovely and it was nice to finally meet them. I also ran into a gal I'd met at the homeschooling conference and was able to spend some time with her as well.
One of the things that I enjoyed about the day was seeing the children. So many beautiful faces - enjoying life and the gorgeous day. It was nice to have soooo many people comment on Eliana - how cute or beautiful she is. Nobody looked away and many just had to come up and talk. It was sweet.
When the event drew to an end, we visited the playground for a while and unfortunately missed the last trolley. It wasn't a bad walk and was a nice way to end a delightful day.
I'm thankful we had the opportunity to go and I look forward to going again in the future. If any of you reading are local and would like to go with us, we'd love to have you join us.
There are so many things to be thankful for - and I'm very glad that God has placed us right here!
With love,
Leslie
PS As I look at our photos, I realize that Roger was behind the camera most of the day and thus I don't have many photos of him. Christopher didn't want to be in any of the photos - though I did get a few. I have a lot more but some weren't the best/most flattering so they will stay in our family albums.