I've been wanting to post a little more on our Christmas traditions - but have spent time doing them instead of writing. I asked each person at the beginning of December to name one thing that they wanted to be sure that we did this month. We've done all of them, but mine. We can still do that one.
Eliana - She was really too small to make a wish for this year, though several of her siblings were willing to make one for her. *grin* I am thankful for a healthy, happy, curious little girl that we all think is just the cutest!
Daniel - Make and decorate cookies. Daniel is learning to like spreads (like frosting) and adding sprinkles. Just recently he even started to eat them (instead of just adding them). He takes great joy and pride in his work. I am thankful for his beautiful smile and happy heart.
Isaiah - Make a gingerbread house. We make the pre-packaged houses with lots of candy and frosting. The children all enjoy making their own designs and are happy to share the decorating of a house or two as well. I am thankful that Isaiah is willing to share and work with his brothers in making a beautiful house. (The 3 younger boys worked together.)
Joshua - New ornaments (photos in an earlier post). This is a tradition that is special to me as it has been passed down from my family. I love that my children treasure it too. I am thankful for Joshua's tender heart and desire to preserve traditions that are meaningful.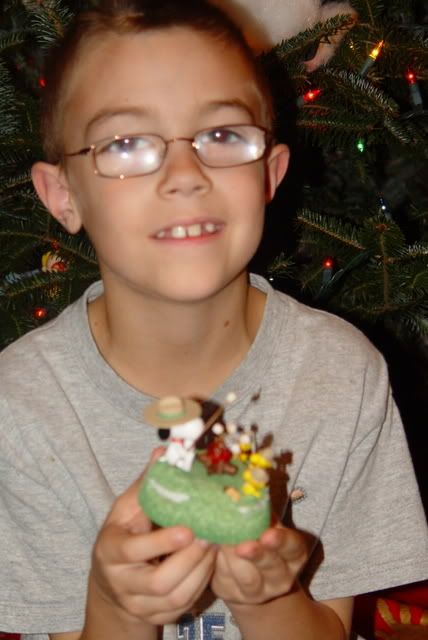 Rebecca - Give toys to the underprivileged. She held her own toy drive - making signs and distributing them door to door in our neighborhood. We delivered them to a local shelter. I am thankful for her sweet and generous heart.
Christopher - Lights on the tree (I think he didn't want to think too hard on this one!) I love how he enjoys sharing things with Eliana. It warms my heart to see him with his sister. He really enjoys playing with her. I am thankful that he enjoys spending time with her.
Me - Handprints on the tree skirt. Hopefully we will get to that soon.
Roger - Visit a "Journey to Bethlehem" (photos in an earlier post)
Here are some random Christmas photos. Enjoy!
Christmas Eve service at church. Rebecca was an angel in the play. I was home with Daniel and Eliana who were not feeling 100%.
Eliana with her new stocking - almost as big as her.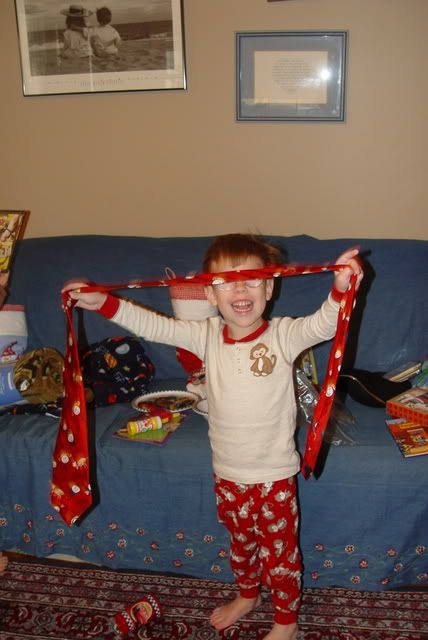 Daniel was so happy to get a new tie in his stocking. He wears one of Roger's ties every day.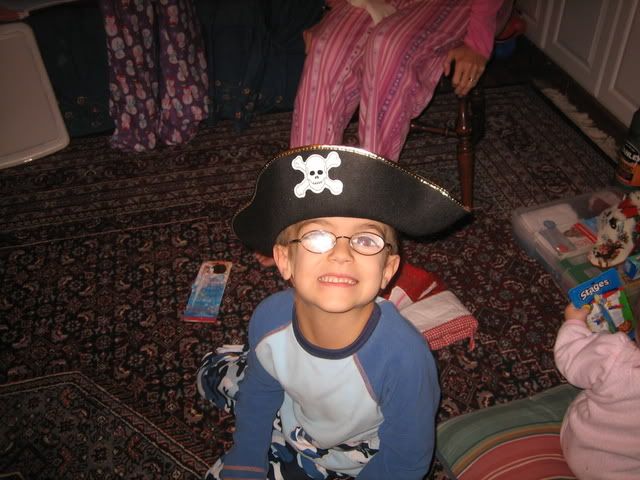 Our little pirate - happy with his new loot.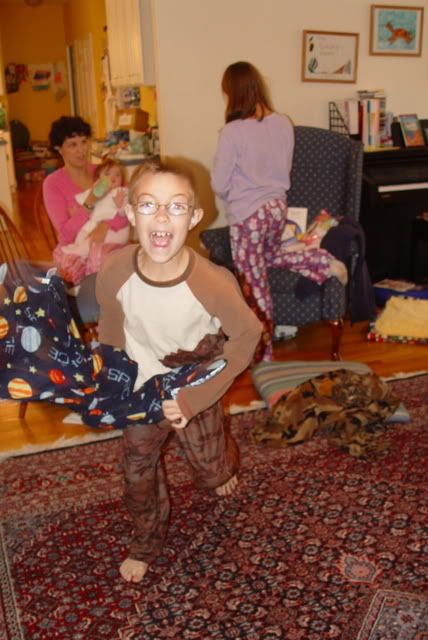 Joshua has been wanting pajamas with foot - and was thrilled to get some!
A set of face paints was a gift Rebecca was excited to receive. Unfortunately, none of her brothers were willing to be painted. So, she experimented on me, her Daddy, and herself.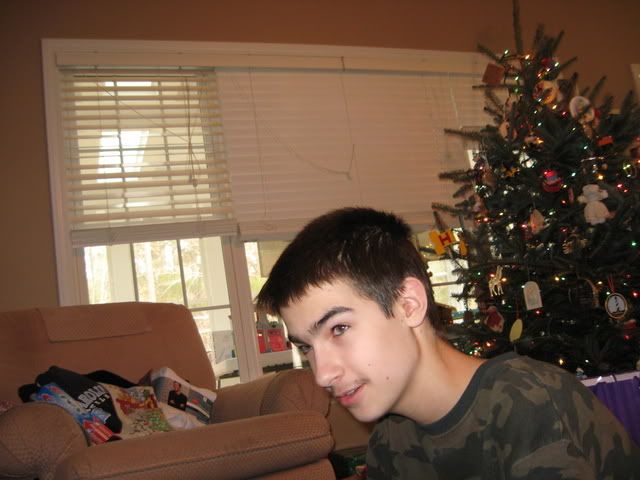 This guy is hard to get a picture of - he prefers to be behind the camera instead of in front of it. He enjoyed some of our new games and spent a lot of the day working a new puzzle of lighthouses of America.
Not my favorite picture - but one of Roger and I - holding ornaments that Rebecca made for us.
We have had a blessed Christmas season. We have enjoyed reading Bartholomew's Passage together as a family and studying the Christmas story. We are thankful for so many things - a precious Savior tops the list.
A quick health update:
*Daniel seems to be much better. He did get sick once yesterday, but we think it was a fluke as it had been more then 24 hours since his long sick spell. He is energetic, eating and just happy to be out of the "sick room".
*Eliana is improving, though still very congested in the mornings and coughing some (and it's in her chest). The more critical part though is her eating. She is still not eating well at all. We would love for you to join us in praying that her appetite would pick up and that she would be able to eat again. It is taking a long time for her to eat one bottle and she frequently does not finish it either.
*My foot is improving too. I'm able to walk around while wearing the lovely blue boot. I can't complain about pain either. I'm thankful not to be scooting and crawling. :-)
We have a fun night planned for tomorrow - New Year's Eve - and I'll share more of that later. I hope you all have a blessed one too!
Love,
Leslie