For those of you who have known me (here or IRL for at least 6 months), you are familiar with precious Tonya.  She is a beautiful little girl living in an orphanage in Eastern Europe waiting for her forever family to come get her.  I started praying for her in the Fall of 2008.  Rebecca wanted to sponsor a child for her 13th birthday in lieu of getting gifts.  We looked over the pictures and chose Tonya.  She was getting older (3+) and there wasn't a family interested in her (that we knew of). 
Rebecca donated her money and we began to pray for her daily and to support her fund all in hopes of helping her to find a family.  As we did this over many months, we fell in love with this beautiful child.  While I had hoped that she might join our family, this was not to be.  Another precious family has committed to bring her home.  I'm blessed that Nicole (Tonya's mom) and I have gotten to know each other via email.  I'm thrilled to be able to be a small part of her life - and do hope that we'll be able to meet in real life one day! 
The Niemiec family has been working to raise funds to bring Tonya home.  This is a tough and daunting job as the cost of an adoption often costs $24,000 or more.  Will you join me in helping to bring Tonya home?  I know she will thrive and grow as a part of the Niemiec family.  They hope to be travelling soon to get sweet Tonya. 
Here are the rules for the giveaway.  If you would like to donate money to their fund, you can do so in one of two ways - chip-in or check sent in the mail.   
1.  You will be entered into the drawing 1 time for each $5 donation you make.  The minimum donation using chip-in is $10.  If you want to make a donation smaller than $10, please mail a check to the following address:
Reece's Rainbow
PO Box 4024
Gaithersburg, MD 20885
The reason for this is that the paypal fees for donations under $10 is 30 percent!  We want as much money as possible going to help Tonya and not paid as fees!  If you do mail a check, would you let me know so that I can enter your name in the drawing?  Also please note that it is for Tonya for the Niemiec family
2.  If you share this giveaway on your blog or facebook page, you will get an entry for that too.  Just post a comment here letting me know what you have done that so I can enter your name.
3.  The giveaway will be open until
June 30
at midnight! 
Any donation you make is tax deductible!
Now for the giveaway.  I'm going to be giving away TWO handmade scrapbook albums.  All donations will be entered into the drawing for both albums.
FIRST ALBUM - This is a three ring binder with 5 chipboard pages measuring 5.5 x 8.5.  The paper is a great outdoorsy collection with navy, greens and reds.  It is designed as a "counting" book.  You can count anything - birthdays, favorite somethings, Top 10 things you love about someone, the ideas are endless.  If you have others ideas and would like me to post them - please share. 
Here is the cover.  I would be happy to personalize it with whatever words you would like.
The first page in the album.  All of the pages have room for a photo and space for journaling (writing something down).
Following are pictures of the rest of the pages in the album.  If anyone has questions, please post them.  I haven't done anything like this before and could be easily overlooking a lot of details!
These would make great gifts!  I love giving small albums to people (filled with pictures) as a gift from my heart.
SECOND ALBUM - This is an accordian-style album with a front and back cover and six inside pages.  The paper is a cheerful collection of prints in red, garden green and buttercup yellow.
Here is the cover.
This is a view from the top.
Inside pages.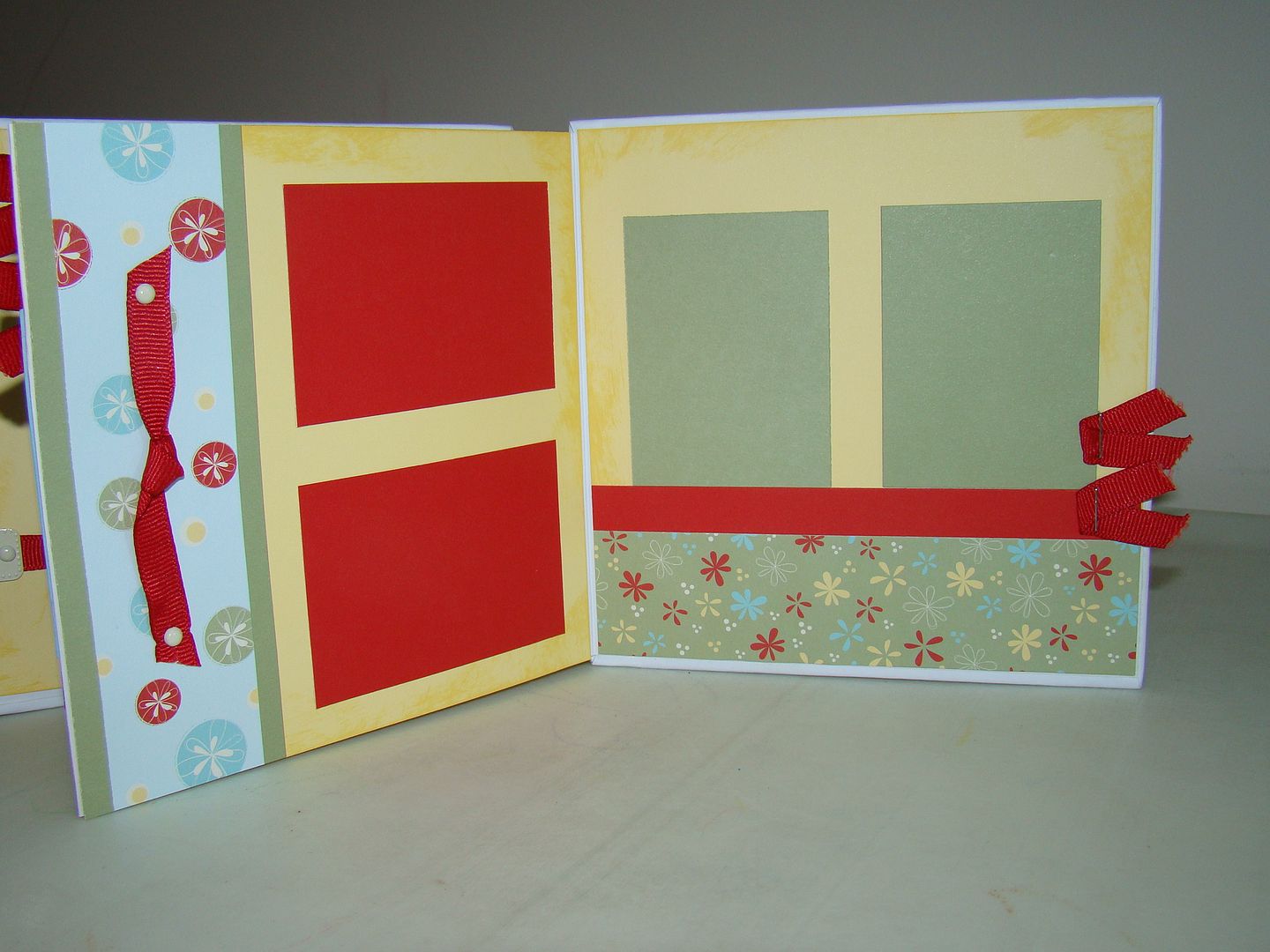 This is the back cover and the two pages on the back side of the album.  Not a great photo, but hopefully you can see a little bit.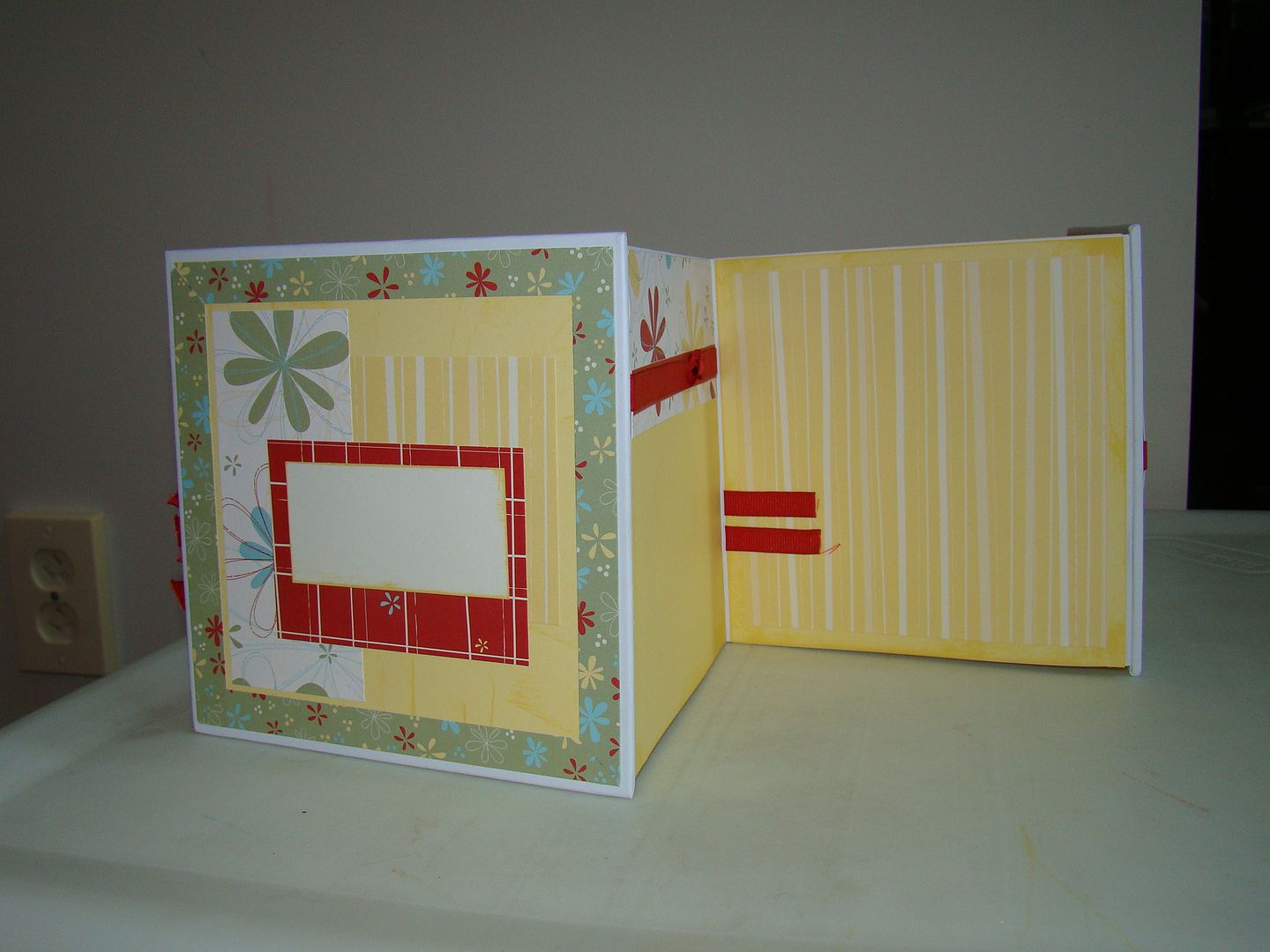 jkljkl