This week has been busy - and I'll post on the project that has kept us occupied and not on the computer so much this week (hopefully tomorrow). In the morning, the children and I are going on a field trip to the Nasher Art Museum. Afterwards, we are planning to picnic at Duke Gardens if the weather permits. This is our last outing of the year with our homeschool group and we are looking forward to the time together.
My sweet family did a wonderful job in making me feel special on Mother's Day.
Starting off the day was breakfast in bed. Rebecca made breakfast and brought it to me. The little boys wanted to eat up in my room with me. LOL Guess we all like a little something special. (I do have a photo of Rebecca and I with the breakfast - but really don't want to post that one!)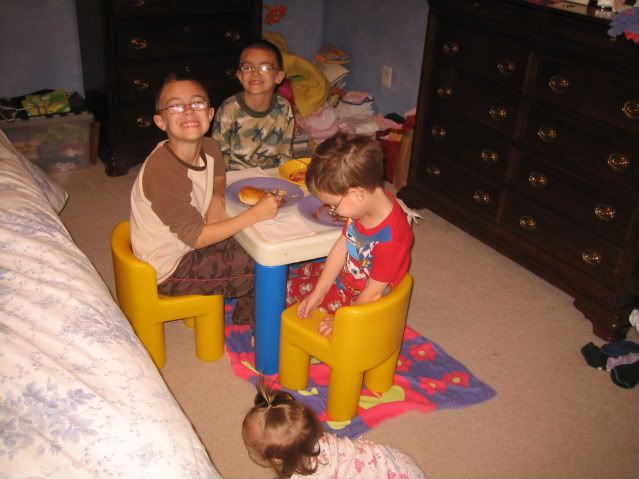 When I came downstairs, I walked on a "carpeted" stair to a special chair. There was a chalk board with Happy Mother's Day written in beautiful font. The table was decorated with a variety of flowers, cards and LOTS of chocolate.
Each of the children took turns giving me a card that they had made and a gift. Daniel gave me gummy worms. (Despite Rebecca urging him to get something else at the store. This is one of his favorites and what he wanted to give.) Isaiah gave me Dove bars - a chocolate he remembered seeing me eat when I was scrapbooking with friends. He also gave me a tex mex snack mix. Yum! Joshua gave me mint chocolate m&ms - he knows I like mint. Rebecca gave me Ghiradelli squares - the size is just right (not to mention the taste. Roger gave me several large chocolate bars. Did I mention that there was a LOT of chocolate?! Oh, and balloons too!
I love the cards they made! So sweet to see their handwriting and artistic efforts. :-) Rebecca also made me jewelry. I'll try to find a pic to post. It's a set of matching black earrings, a bracelet and a necklace. All are really beautiful! Christopher made a new screen saver for me with pictures of some of my favorite people. He did forget to put himself in there though!
The day was pretty low-key. Rebecca made me a lunch and Roger cooked kabobs for dinner. It was wonderful not having to spend any time cooking. (It's not my favorite activity at all!)
I am blessed beyond measure and most thankful for the gifts God has given me!
With love,
Leslie