I love field trip days. I love going on field trips. I've been planning group field trips since Christopher was two. I started with a little playgroup that wanted to meet at different parks and also explore some fun things in our area. I loved planning them and have enjoyed doing it now for 15 years. I'm thankful to have other moms come alongside and help with planning these trips as it would be too much for just one person to take on! Plus you get the added benefit of new ideas.
This was a field trip we did last year and was a huge hit so we thought it would be great to do again. I know we'll add this to the list for next year as well. I highly recommend going to Camp Chestnut Ridge if you are local! We don't typically repeat our field trips from year to year, but this site has a lot of variety in what they offer and the ropes course is something really special for the older kdis.
We divided into three groups. The two oldest groups went on a ropes course. This is a team building exercise where they have to work together to solve various problems. In one of the activities, they were each given an animal name. They then stood on a log. They were to arrange themselves in alphabetical order without talking. If they fell off the log, they had to go back to their starting place.
I have no pictures of these two groups because I was with the younger kids. I hate missing out on this part of the field trips, but I'm thankful that my kids get this experience with their friends!
The younger kids had three classes. First, they learned about seeds. They went on a short walk to look for seeds.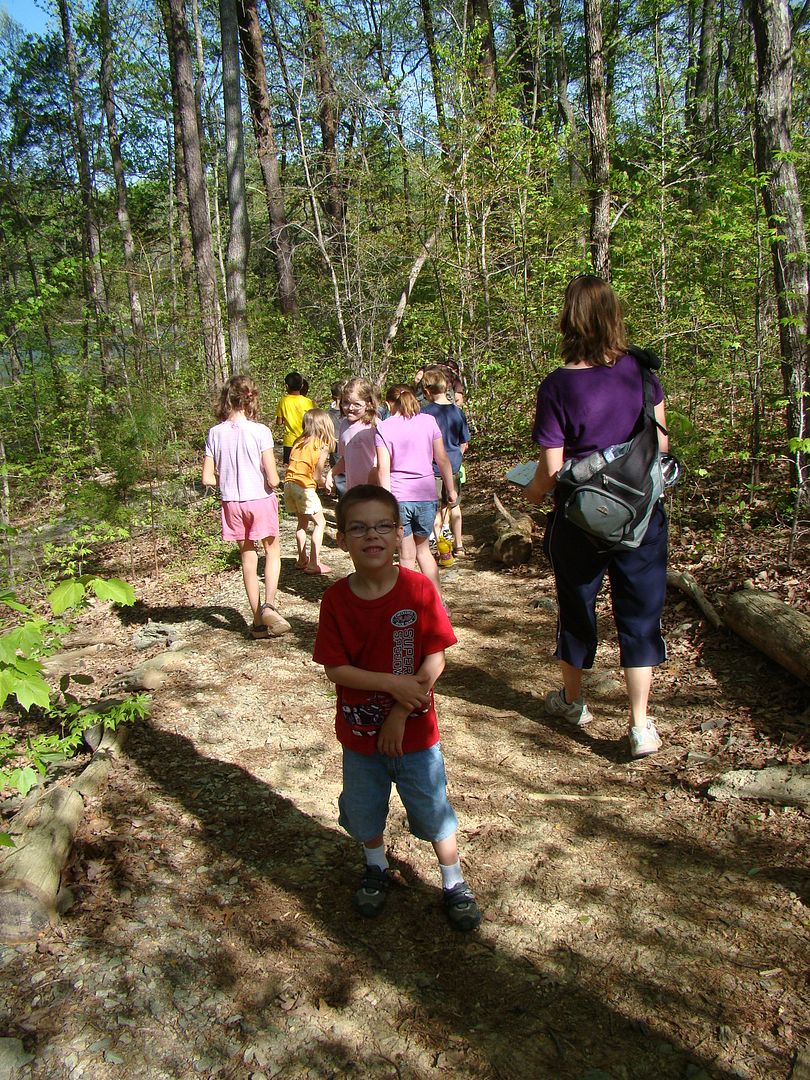 They brought back their findings and were given knives (butter) to dissect what they had found.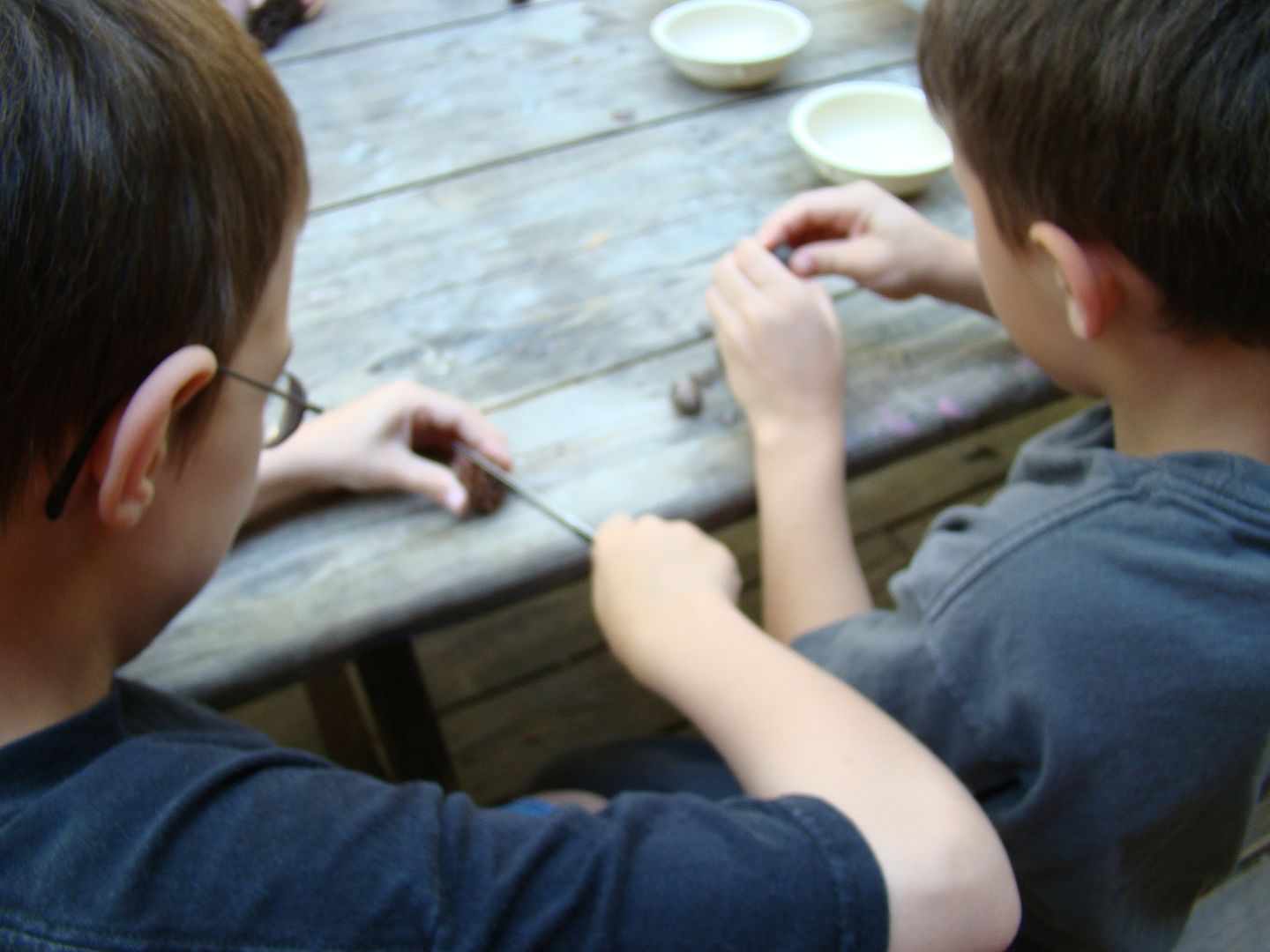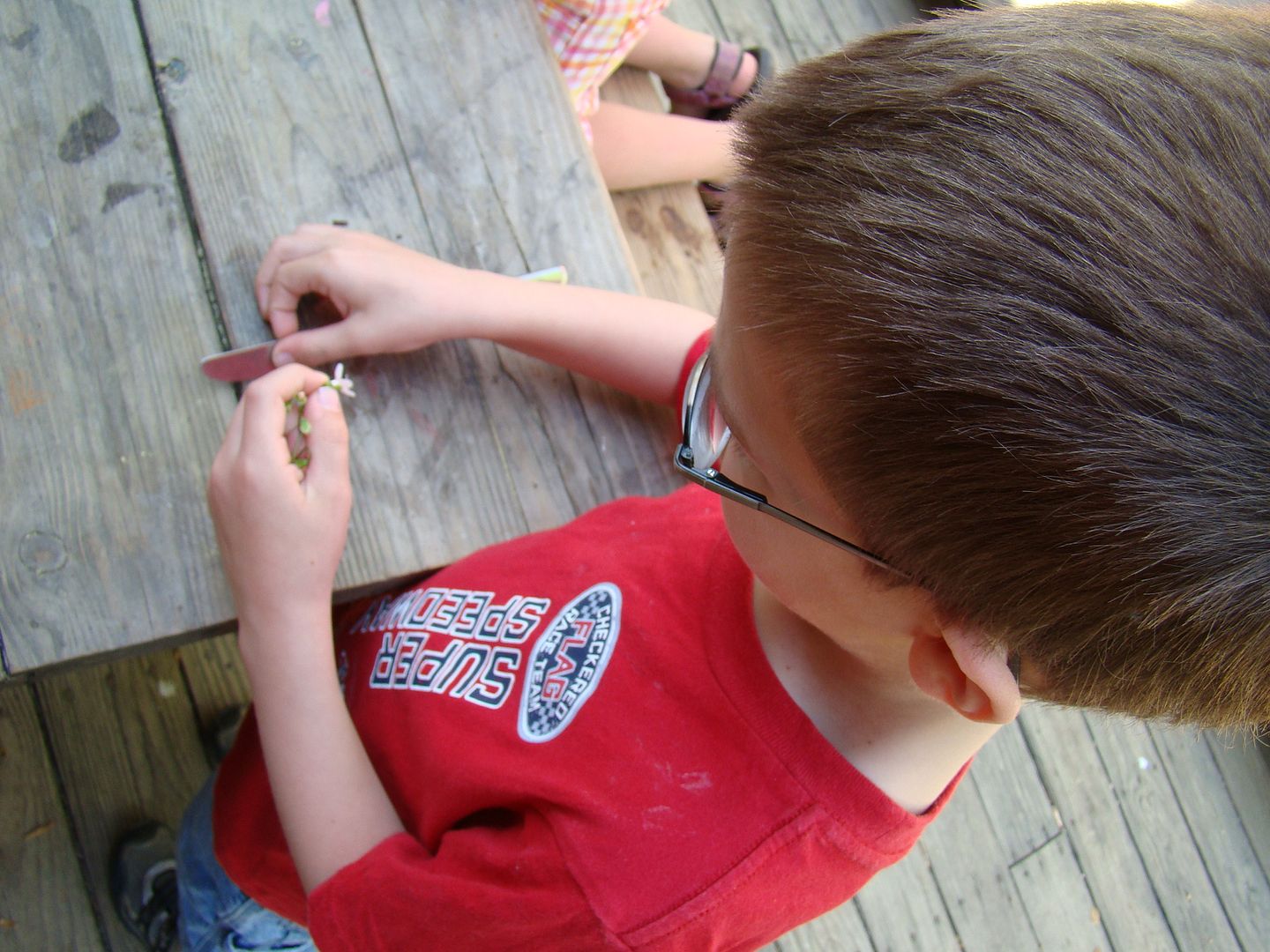 They were also given large butter beans which had been soaked to cut open to see the beginnings of the sprout.
There were bowls of others seeds which they were able to examine and then to sort into smaller bowls.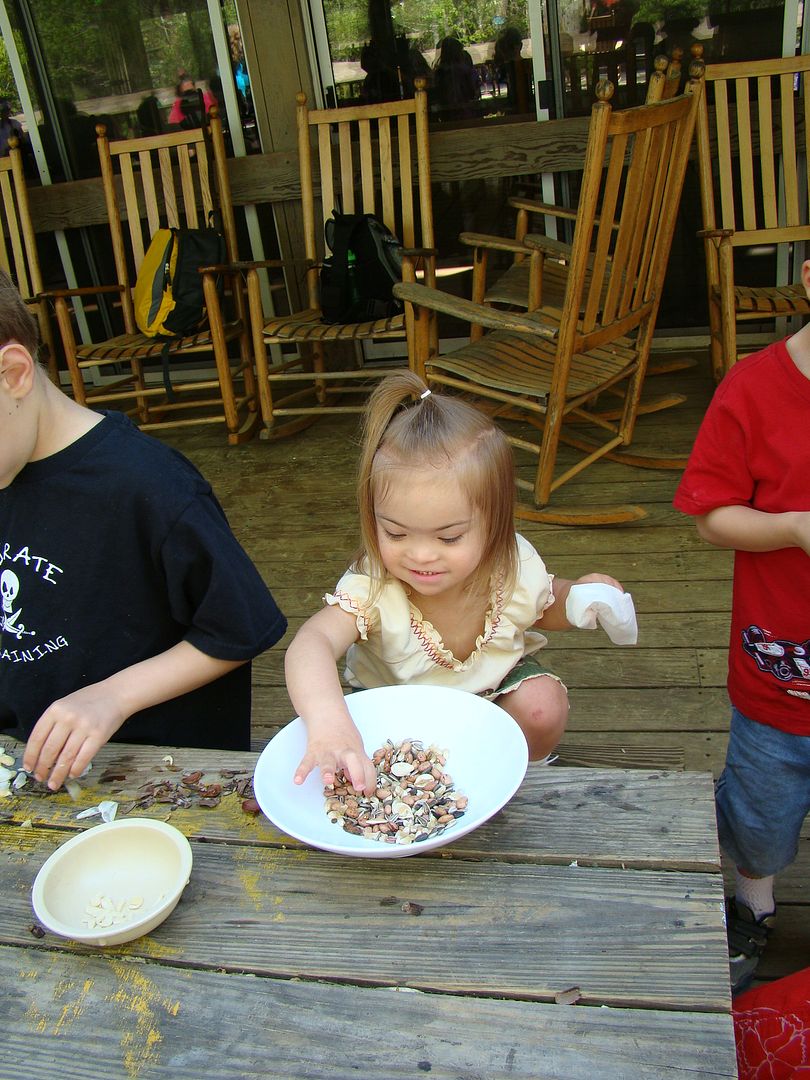 Next we talked some about animal tracks. They had a project to make a track. They were given a small cup of plaster of paris to which water was added. They stirred this with a stick (with their name on it).
In the sand, they pressed an animal track and then poured the plaster into the track.
This activity was a little difficult. Much of the plaster dried too quickly. (We should have waited to add water until they were ready to pout it into the "mold".) Unfortunately, not many of the tracks made it - though I did see one that looked great. Daniel's didn't harden and Isaiah's got broken. Oh well, it was a fun idea and something I'd like to try to do again. This would be a really great thing to do at the beach. Maybe we'll try it there.
We then rode a bus to the "farm" area. This is the bus we rode.
The children were so excited to ride a bus! You have to remember that because they are homeschooled, many have not been able to ride a bus before. They loved this!
At the farm, we saw horses, cows, chickens, a pig and goats.
The children were able to touch and pet some of them.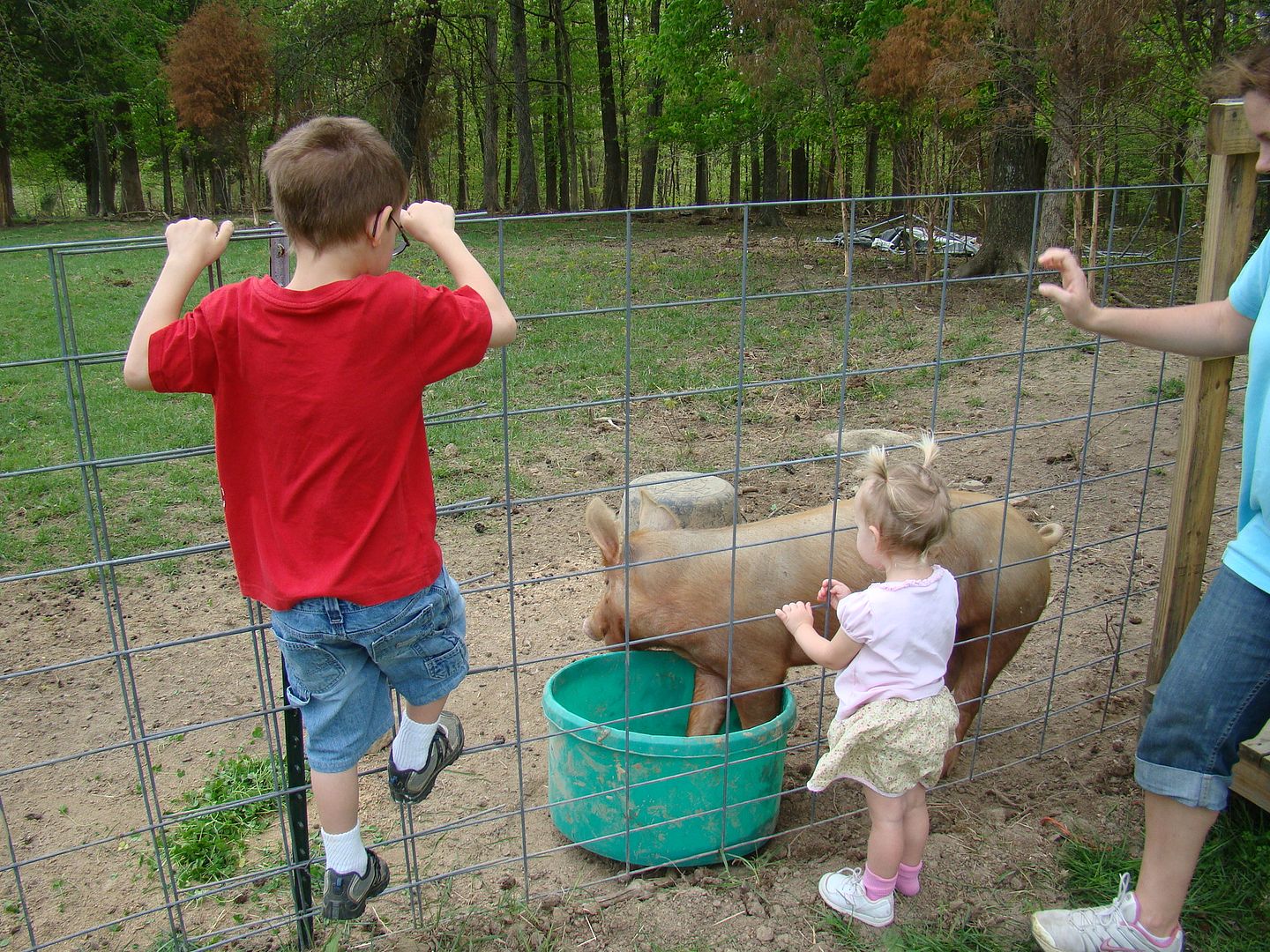 Eliana was fascinated with the chicken's food. lol
Next we learned about plants and the children talked about the 4 things that are needed for plants - sun, water, air and soil. On the farm, they compost to give a richer soil for the plants. The children helped add "brown" and "green" things to make the compost.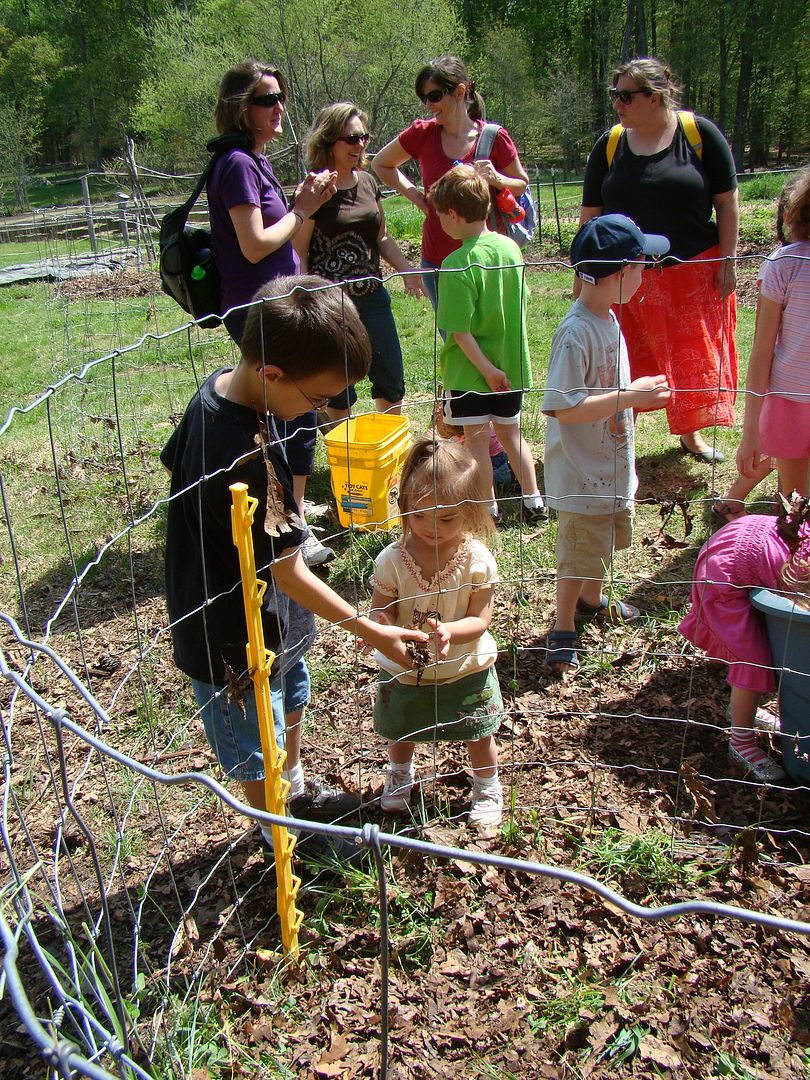 After looking at some of the fruit trees and learning about the bees, we did another project that we could take home. They made seed strips. A paste was made from flour and water and then put on a long strip of paper towel. You could dot the strip or make a line with the flour paste. You then added your seeds about every 3 inches. We added a second strip (or folded a long strip in half) on top of the seeds and then rolled it to bring home.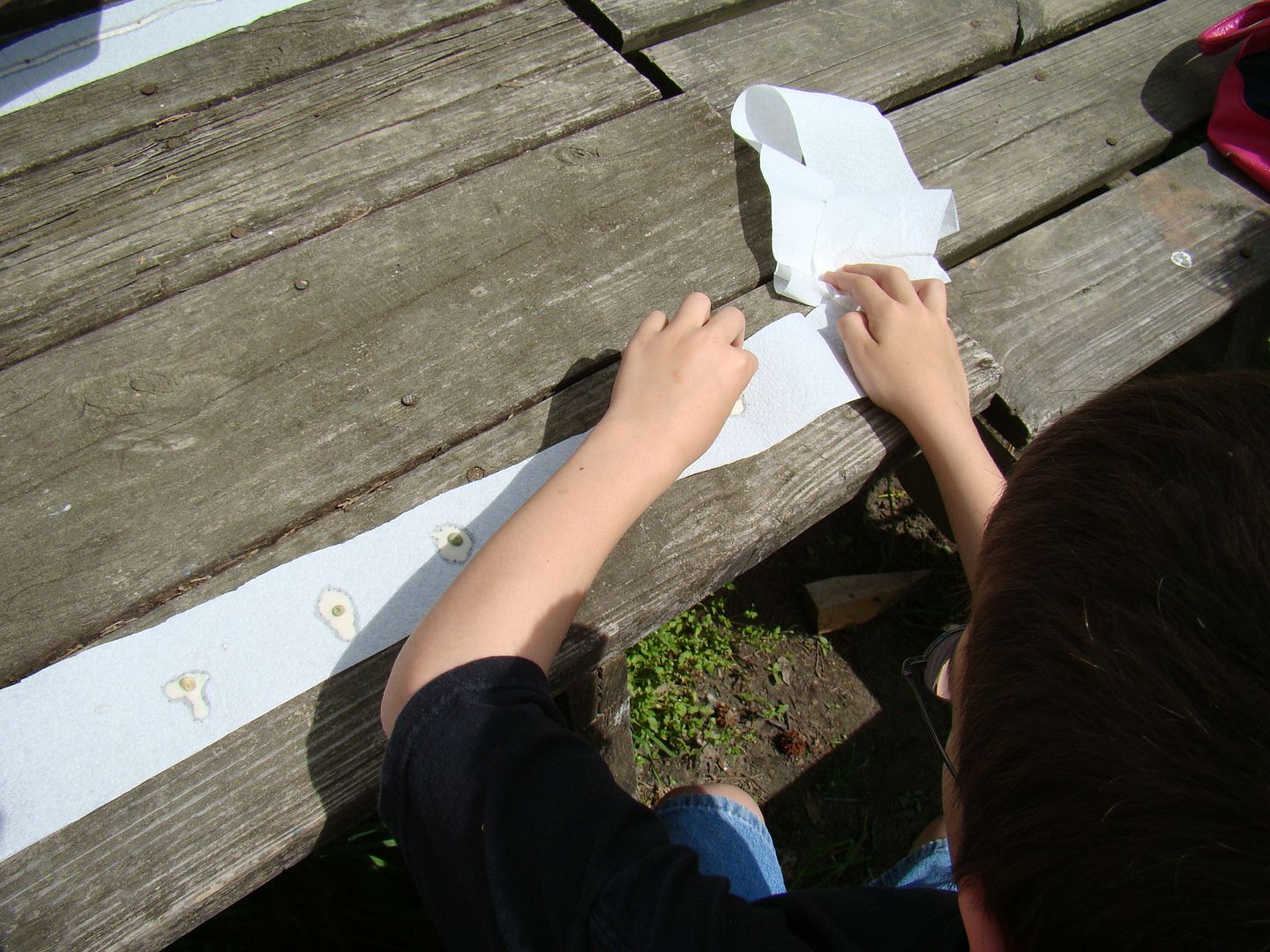 Isaiah was excited about doing this. We really have very little luck with gardening in our yard (not enough sun), so I'm not too hopeful that this will grow. We'll try it though.
When we finished, we headed back to meet the others - another trip on the bus! W
e had a picnic lunch and then just enjoyed talking and hanging out while the children played. I took a short walk with two of my boys by the lake.
It was a lovely day. I was so thankful for the beautiful weather as we had a threat of rain earlier in the week. It was a delightful day and I loved spending it with my children learning about some of the magnificent things that God has made. Adding friends to the experience made it all the more fun! I have much to be thankful for!
Blessings
Leslie