This week has not been such a great one when I look at what we accomplished in school. However, when I look at it with a different set of lenses, I can see that it was a wonderful week with something accomplished that is far greater than marking things off of my to-do list. We made memories. We spent time with people we love. I can't find anything on my list of things to do that is more important than that. I'll gladly give up school time for something that will matter for much longer than a math problem or history lesson.
We spent the week-end with good friends (see last post). We got home late Sunday and were delighted to get a call while we were on the road that we had company coming! We spent Monday morning cleaning like crazy in anticipation of a visit from my parents! Everyone was thrilled to see them! It's been too long - since Christmas and it's always fun to have them here.
I love watching my children with my parents. It's fun to see my parents appreciate them and their unique traits. Eliana was particularly delighted to hang out with both of them. At one point, Roger came up to take a picture of my Mom and Eliana. When Eliana saw the camera, she placed her hands on my Mom's face to turn it toward the camera so she could say cheese. I think Eliana may have even prompted her by saying "cheese" too. Well, this cracked my mom up. I could hear the laughter from the next room. Can't you just see how much fun they are having?
My Dad is not immune to her charms either. Honestly, we are all taken by this little cutie pie!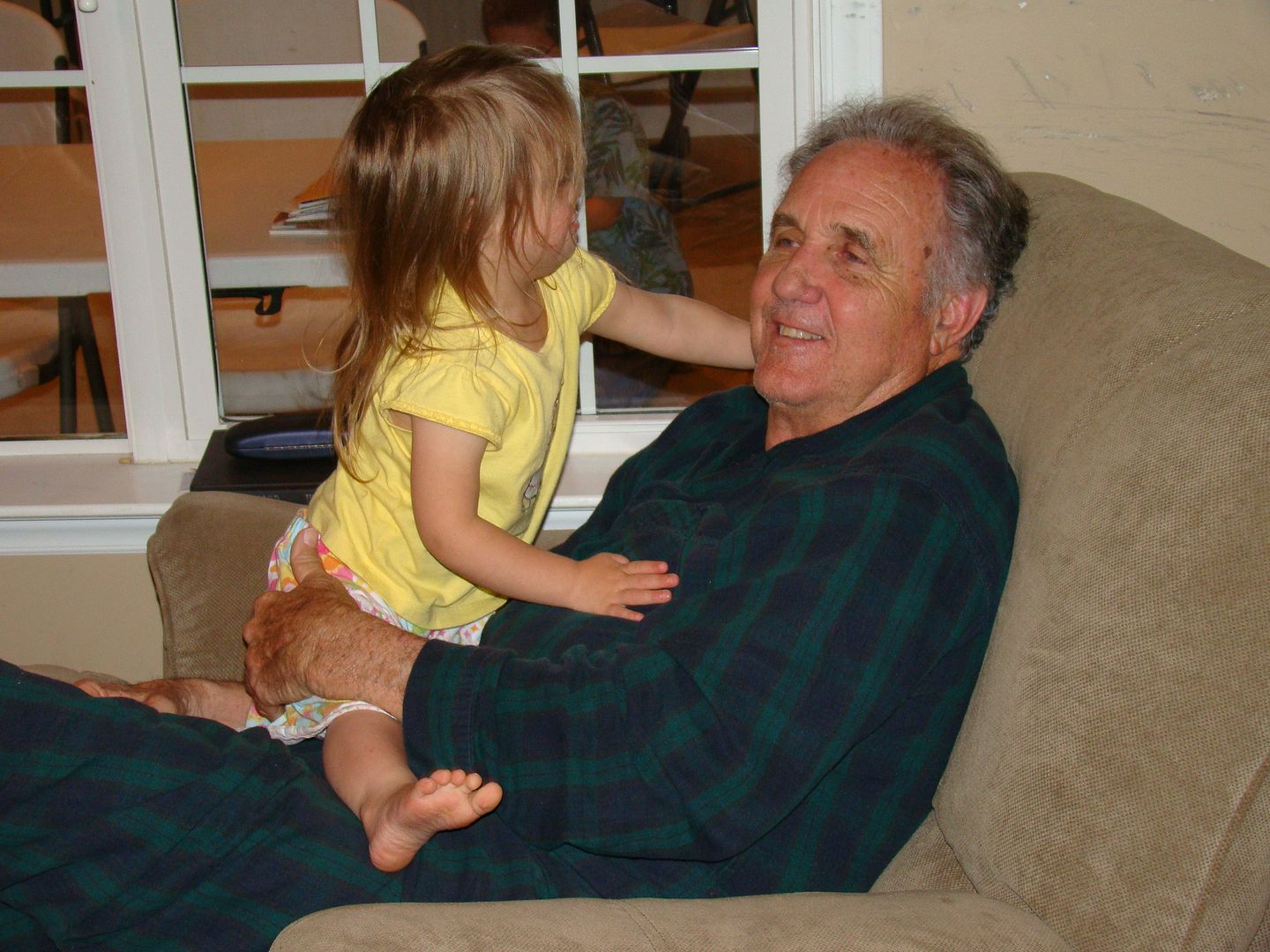 This was just a sweet photo.
I didn't get many photos - the visit was just too quick! (Hint, hint, please stay longer next time! We love having you here!) The boys were busy creating a meeting place for their "League of Boys". Here they are sharing some of this with my Mom.
Rebecca made an adorable little bunny finger puppet for Eliana. Isn't it cute? The pattern was found at The Crafty Crow.
You can see that Eliana enjoyed the bunny!
Also this week, Rebecca and Eliana had a little cafe for the rest of the family. I love the sweet ideas that Rebecca has for making memories. I know that her siblings appreciate it too. Earlier this week, Isaiah was talking about Eliana and how he thought she was the cutest sister!. I asked "What about Rebecca?". His answer "She's perfect".
The owners of "Eliana's Cafe".
The patrons choosing from a delightful menu offering main dishes, sides and desserts to choose from!
Thanks Rebecca!
We also had a wonderful field trip yesterday (more pictures coming) with incredible weather. It could not have been a more beautiful day! I had some time out last night with a friend. We had dinner tonight with friends. It's been a good week.
Thank you God for the gift of family and friends. Help me not to take either for granted. Help me to make time for the important things and to worry less about all of the things on my list that I want to get done. Give me eyes to see and know what is truly important and the ability to let go of the other things.
Blessings
Leslie