Our week-ends are filled with sports. We typically attend games as a family as we enjoy watching and supporting each other. I know this doesn't work for everyone, but it works for us. I love watching my kids play sports. It's especially fun when they are having success as they did this week-end.
On Sat mornings, both Joshua and Christopher have football practice and games. It's flag football with a homeschool football league. We drive 2 vehicles (as we still don't have one that we all fit in) and I arrived a little late with the non-football players. I was so bummed to learn that just minutes prior to my arrival - Joshua scored a touchdown!
There is an hour to an hour and a half gap between my two boys games. I'm thankful that a sweet friend that I haven't gotten to spend much time with in the last couple of years has a son playing at that time. It's been fun to spend time talking and catching up with her.
Last week-end, one of the moms brought a tea set for her daughter to enjoy. As Eliana watched 2 little girls playing tea, she walked up and sat down too. I started to take her away and the other mom said she was welcome to join in. She even gave her some water in her tea cup to pretend with. I thought it was sweet for her to include Eliana and she was thrilled to be playing with the other girls.
Christopher's game this week was also a fun one to watch.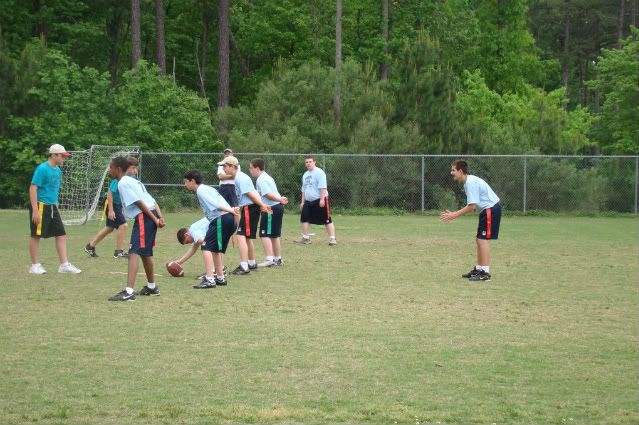 Towards the end of the game, he intercepted the ball and ran down the field to about 10 yards from the endzone. After several attempts, it was 4th down and Christopher ran the ball for a touchdown! It was so exciting. I was standing there, trying to get a photo. Here's what I got when I was too close and things were happening too fast.
After the games, the coaches have a time of devotions with the boys. I appreciate the character building that goes on in this league!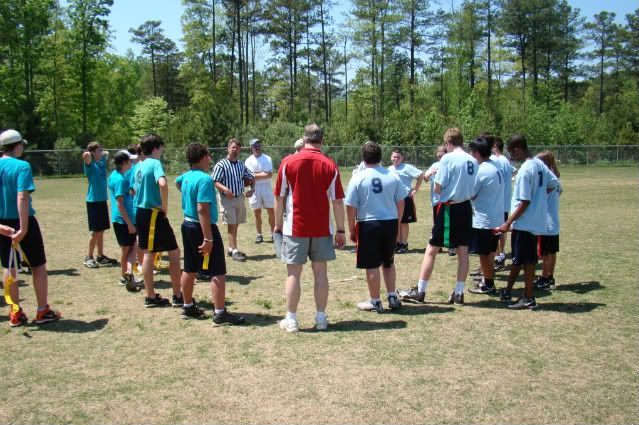 We left Christopher's game to head to Rebecca's soccer game. She also had a second game today. I teased her that she needed to score so that each person playing would score. She didn't score on Saturday, but made up for it on Sunday. She scored two goals today! (Sorry for all this shameless bragging on my kids!)
Rebecca is the only girl on her team. I'm proud of her ability to play well and to have fun on this team. (It is a really great team.) She played the first half of today's game for the other team because there were short a few players. The second half she played defense, goalie and offense.
She didn't score while playing for the other team and the coach (a friend of ours) asked afterwards why she didn't score for his team. Roger told him it was because he had Rebecca playing defense. The coach said he thought she liked defense. Roger assured him that the position she likes best is offense!
This is her scoring her first goal. A little hard to tell, but you can see the reaction of her teamate to the left.
This is a shot of her keeping the other team from scoring.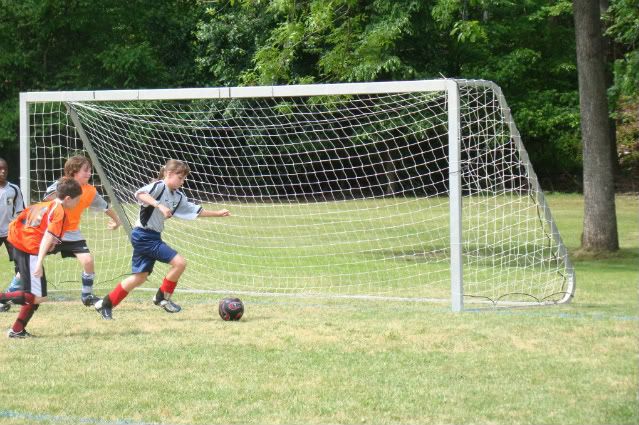 Eliana and the boys found the sand volleyball court and had a blast playing there. Truly, fun can be had just about anywhere.
That's all for our sports week-end.
Blessings,
Leslie