Still trying to catch up so I'll just post some of the highlights of our month. Sounds easy enough, huh?
We are starting everything up with school again. I hosted our first Mom's meeting for our Five in a Row homeschool group. Our topic was on organizers and planners. It was fun to hear what others are doing and have done. I enjoy gleaning ideas and making them work for our family. Last year, I had a massive planner - everything that I thought I might need for the year. LOL
This year, I'm trying to keep a little more simple. Of course, even with being simple, it still isn't finished. I have started making the pages though and hope to have it done soon! I'm ready for a bound book instead of loose pages everywhere!
I had a second meeting on that same Sunday for a swap. I organized a Preschool Activity Bag Swap using the ideas from this book. It was a wonderful way to run the swap. We ended up with 28 bags to swap!!! What a lot of bags. I pondered the easiest way to get this done and thankfully with the help of many, it worked out beautifully. Daniel is thrilled to have a huge lot of new "activities". I know that one day they will be fun for Eliana too!
We continued our 3 week study of the Olympics. We have been using lapbook resources that we purchased from Live and Learn Press It's been a great resource. We have supplemented a LOT of time watching the games which has been interesting and fun. Eliana very much gets into the spirit of the games as she loves to clap (one of her favorite things to do).
We ended our study with another round of "Family Olympics". Christopher had missed out on the birthday party with games and was interested in doing it. We invited friends over for round 2 and had a blast. We began with a torch relay. The games were a little more physical this time around. We had hurdles, long jump and javelin as our "triatholon". We also had gymnastics (balance beam) and discus.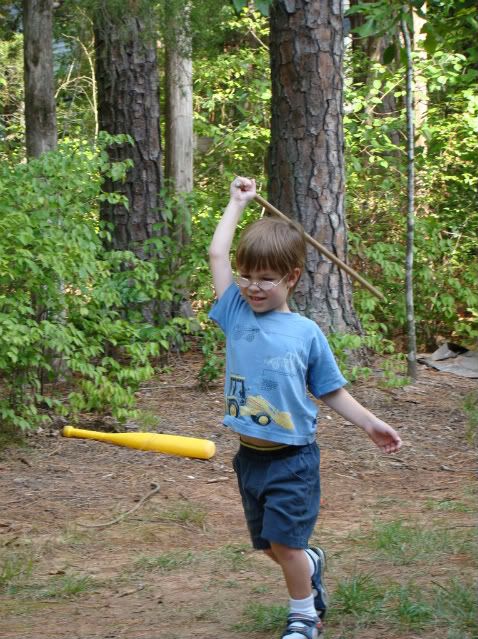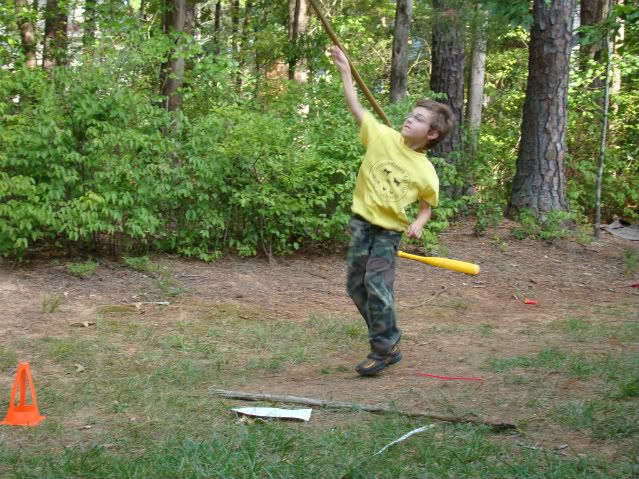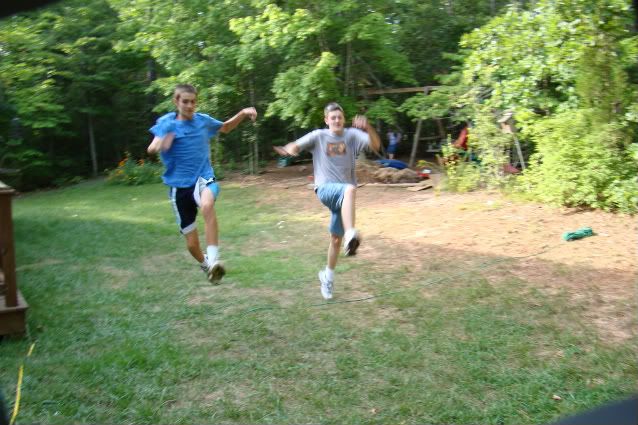 And a new event - synchronized balance beam.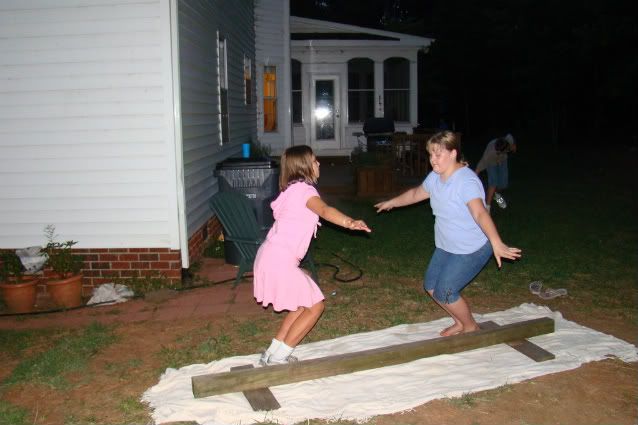 We finished the evening with a really yummy meal! I'll share it with you as you may want to try it at home. You can find the recipes here.
Shish Kebabs over Yellow Rice
Asian Salad
Fresh fruit
I love this site (menus4moms) as it has menu plans and recipes for each week. There are years worth of archives and it is FREE! Did I mention that I love this site?! If you haven't been over there - go try it out!
One of our back to school traditions is getting new school supplies. This is typically a part of our first day of school. Well, this year, we came back from the beach late Sun night and started on Mon morning. Not enough time for me to pull it together. So it got postponed for weeks. Rebecca very sweetly reminded me of it - and finally I gathered all the things I'd bought and surprised them with some goodies.
They received things like their new math books. LOL Isaiah was excited to be moving up to a new level. They also got some new art supplies, handwriting books, a calculator and new books. I put in a few silly little things that were a huge hit - wikki stix and a white board. I received several sweet notes on that white board that night. I should have bought one for each of them instead of one to share.
(Excuse the shadow - still learning with my camera. LOL) Daniel was so excited about his new handwriting "dough" and letter cards that he wanted to start handwriting right away. No problem!
Blessings,
Leslie