This was field trip week. One of my favorite things is to go on field trips. We ended up with a beautiful day though it began a bit cool and overcast. (The first pic below is from the end of the day.) We went to Cedarock Historical Farm. What a great place to visit and our tour guide, Harry, was wonderful!
We had a large group so we were split into 3 groups. I enjoyed that on this outing we were able to split by family so I was able to enjoy being with all of my children. :-) Often we split by age and I can't be in several groups at once. I understand the need and benefit for this, but for this outing, I enjoyed being together.
Our group started by visiting a blacksmith. He told of his work as he demonstrated it. He had a good sense of humor and shared a lot of interesting things with us. My boys especially enjoyed watching him work.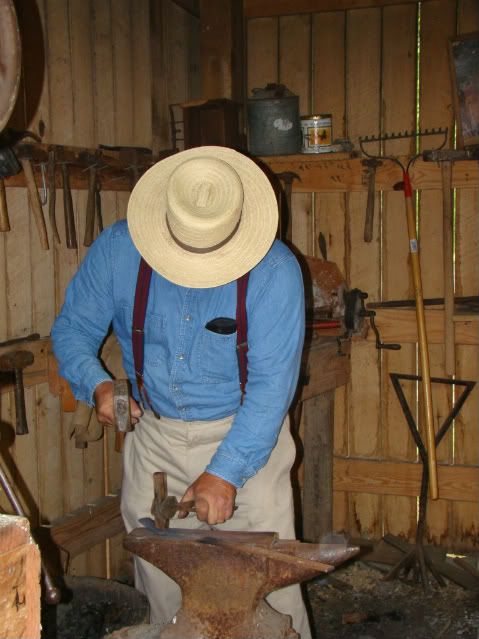 Next we went on a tour of the site. We first visited the original homesite built in 1830.
Some of the original pieces were still in the house.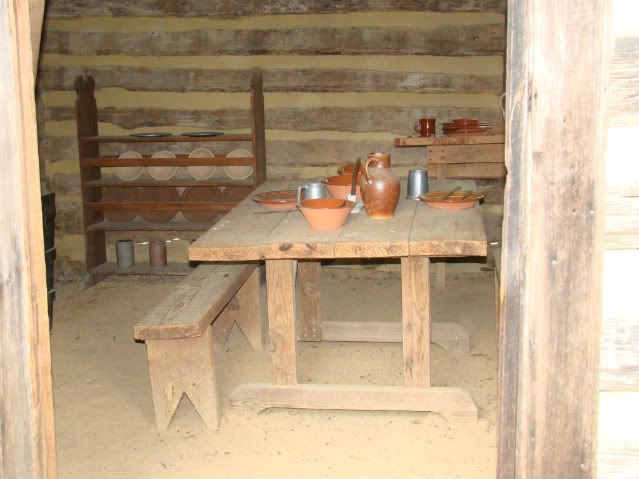 Next was the newer big house built in 1835. We learned that the Polly, the mother/wife was never comfortable cooking in this house due to the wooden floors and continued to use the first house for cooking in for the rest of her life.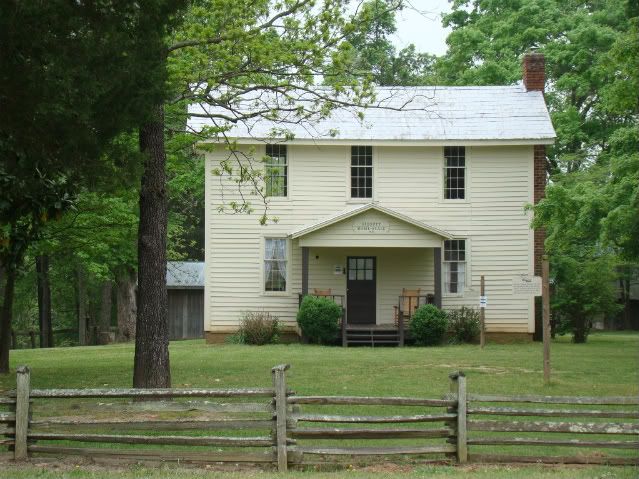 While we were touring, our guide Harry told us how impressed he was with homeschoolers. He went on to tell of a competition on their site that had been won by homeschoolers for the last 7 years. He praised our work and told the kids what a great benefit they were receiving. It was really nice to hear that affirmation of what we are doing. Did I mention that we really enjoyed him?!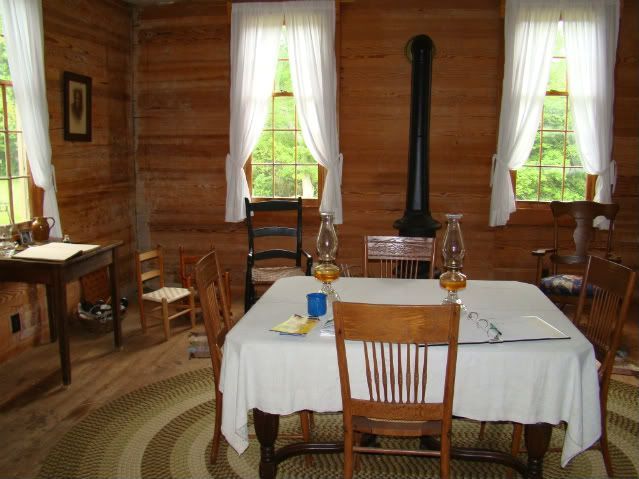 Also on the site were a smoke house, post office (run by one of the sons), grain shed, barn with old farm implements and some animals. Lots to see!
Our next stop was a hayride. This was no ordinary hay ride! We rode for 30 minutes and not in a circle on flat roads either. We went off-road and up and down steep hills, through the forest and close to a river. It was so much fun!
All of the children enjoyed it and Eliana was delighted with the ride.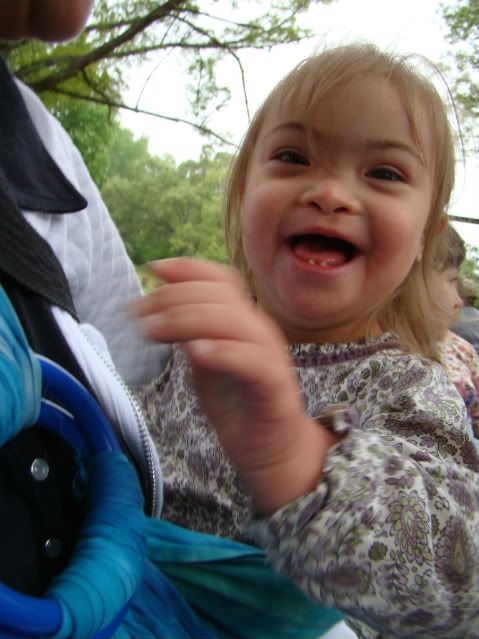 The site is in a park that is about 400 acres of beautiful land. There is a river, disc golf, canoe/kayak, playground and lots of beautiful undeveloped land.
After our tour/hayride, we went down the park for a lunch. The kids played some on the playground and then a few of us decided to hike to see the Old Mill Dam. It was a lovely view and a short, easy hike to get to.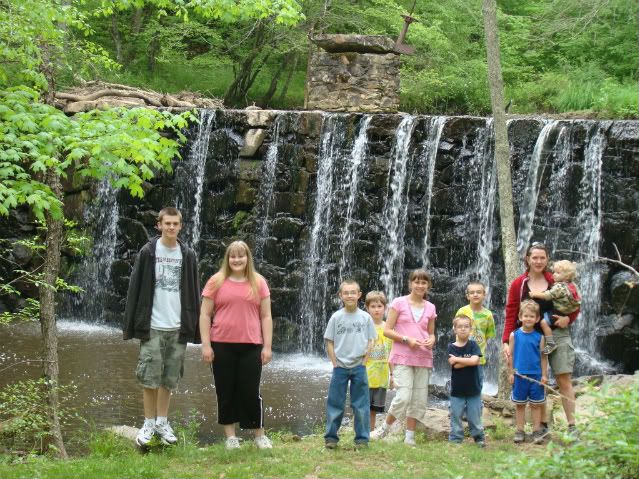 The children liked exploring, though we were trying to limit it a little bit due to an abundance of poison ivy.
The sometimes elusive photo of me with my children - and one additional friend. :-)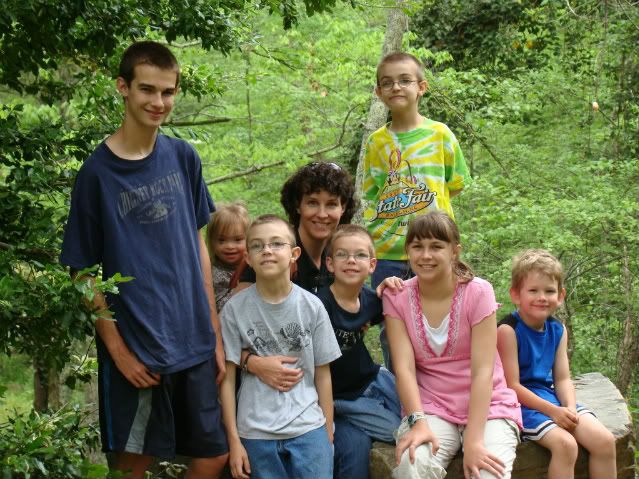 There were so many things I enjoyed about this day. The chance to learn about history. I've loved learning about the history of our state in a hands-on way with my children. I enjoyed spending time with my children and learning with them. I had fun being with friends. It is a nice break to hang out with other moms during the week too.
Our day didn't end here though. A friend shared about a warehouse sale. Since we were about halfway there, we decided to drive over. It was the semi-annual Carson Dellosa warehouse sale. It was amazing. I was stunned. (I should have taken a picture.)
There were boxes and boxes of workbooks, posters, stickers, etc all over the floor of the warehouse. Oh, and lots and lots of people. We arrived about 1.5 hours after it had opened and I could tell that we missed getting some of the things there. Even still, I bought a lot of neat activity books for my children for very cheap prices. Many of the books were $1 and some were 4 for $1. Unbelievable prices. I had a coupon to save $10 too.
The children watched napped some (Eliana napped the entire time!), read and watched a movie. They also had fun rolling down a hill just before we left. Rebecca wrapped our little boy with sensory issues in a blanket. They all liked this idea and all began doing it this way too. I have pics of all of them -but this was the best of the bunch.
On our way home we made a pit stop at McD's. Eliana had her first try of french fries! I couldn't believe she would eat them! We also visited Sonic. YUM! Love a cranberry limeade slush. We hit some traffic and ended up at home after 8pm! It was a fun and long day.
I used to do long field trip outings like this before Eliana was born. It was nice to be able to do one again and have her enjoy it. It just felt good. In some ways it felt like a little slice of "normal" again.
Just wanted to share some of our fun with you.
Blessings
Leslie