We've been vacationing and I thought I'd be able to post some things while we were gone. We didn't have internet though - so I'm playing catch up again. :-) More on our vacation once the pics are uploaded.
We are doing a two week study of Mailing May and trains . So far, it is a lot of fun! As the mom, it's wonderful for me as I have 4 students studying similar or overlapping subjects. That doesn't happen often and I'm enjoying it!
We started the week last Monday. I made a small display - books on trains and related topics, a train whistle, train videos, train drawing lesson, conductor's cap and toy trains. I did this to excite them and also to gather resources. They loved it. (This is not something that I typically do - it was just easier to pull off since I was more focused on one direction this week instead of many).
Here are some of the things we've enjoyed so far. Mailing May is based on a true story set in the early 1900s so we've learned some about that time period as well as Daniel Boone (mentioned in the story). Rebecca has been doing some research and writing above and beyond what the boys are doing.
Daniel liked painting shapes and then making them into a train. He has also loved watching Thomas the Tank Engine.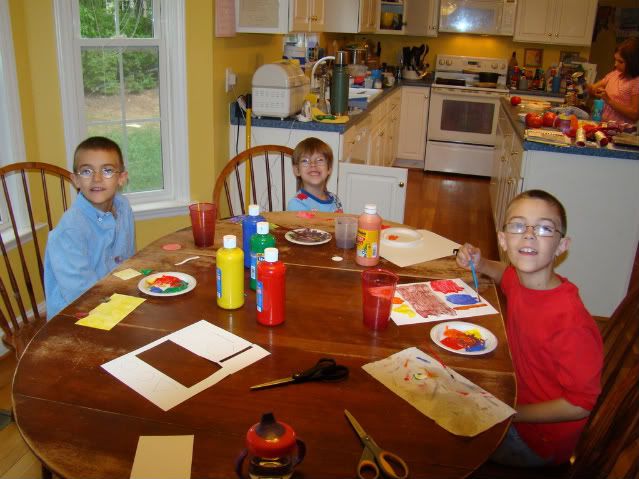 We learned about quilts and patterns, the post office, Idaho, Daniel Boone and more.
Another highlight was making a train out of boxes and furniture and then just pretending. Sometimes it really is the simple things that bring great pleasure.
We've been using the lapbook templates at Homeschoolshare to add a visual dimension to our lessons. At the end of study we had 2 field trips planned! I love field trips!
The first field trip was to the Post Office with our FIAR group. We learned some of the history of the post office and the younger children wrote and then hand cancelled their letter. Afterwards, we went to a local park to play. It was fun to see friends - both new ones and old ones as well as learning more about the Post Office.
Our second field trip was to the North Carolina Transportation Museum. This is one of our state's Historic Sites. These are wonderful! We visited ALL of them with our NC history group. I was excited to be returning. We did hands-on activities in addition to riding a train and a turntable and seeing an actual mail car (like in the story).
This was the part I was hoping to do before our vacation - upload pics from the field trips. Well, we are having computer problems (I'm on a laptop and can't get to our photos). I'm also having cell phone problems and am wondering what is going on with me and electronics! lol I'll post pics when Roger is home and able to fix the computer - he is great with them and I know very little beyond just using it.
In the midst of all of this, Eliana has learned to "sign" train. It's not the official sign - but the pulling of the whistle that most of us recognize. Can you see it in the last picture? Isn't she a cutie?!
That's all for now.
Blessings,
Leslie