Do you have days when you think you'll never catch up? Sometimes I have dreams that if I can just get projects A, B and C done, that I'd be able to be organized. Everything always works out so neatly in my dreams - but I always wake up. lol
I wanted to share a little of our 4th of July. Tomorrow I'll try to post about our busy week-end. Then some of our plans for the week. I'll try probably being the key words here.
We spent the 4th of July in Blowing Rock, NC (the mountains) with my parents. We do this most years. It's a wonderful place to be - cooler and lots of fun things to do! We missed seeing my sister and her family as they headed to the beach that week-end.
We spent a lot of time playing games, reading books and just having fun. We had planned to go on a picnic on Fri (4th) with some dear family friends. The site though was so very crowded that there was nowhere to park. Also it started to rain and then we decided to stay home and cook out. Well, the rain was a short one and we enjoyed being outside anyway. It was fun to catch up with our friends - the parents of my best friend from high school. They are so wonderful and I do miss seeing all of them!
The big festivities were on Saturday. I remember that morning telling my daughter that she would not need her sweatshirt - after all, it is July! Well, I was wrong. The day was overcast and cool. There were a lot of people there in long sleeves! There were lots of games and activities going on in the park in the center of town. Our children had a blast! Here are some photos of the fun!
There were some large climbing/play structures including a rock wall and this one in which you could climb and then slide.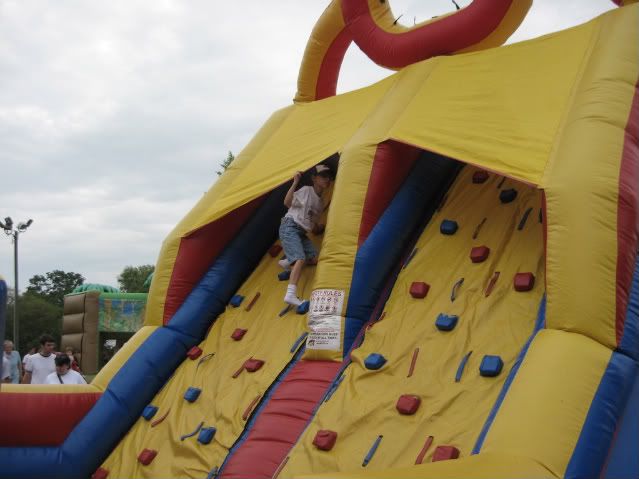 There were also lots of games, including the sack race, water balloon toss, egg race, limbo and more. Even though Rebecca is giving great instructions, Daniel doesn't take off hopping in his bag. I thought he did good just to get in the bag!
The limbo started off easy - really easy if you were short.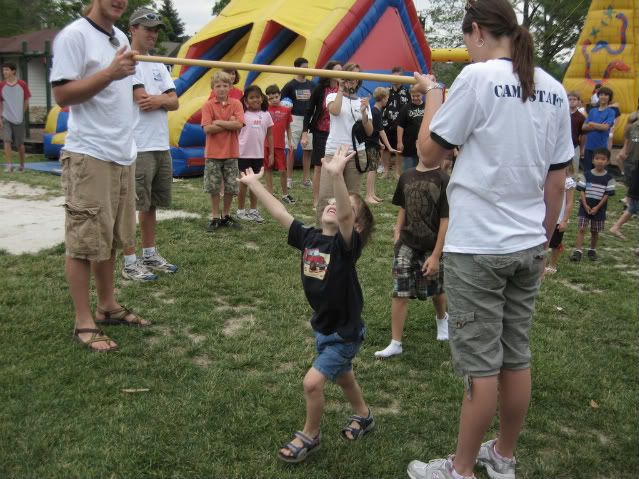 The casual look with hands in the pockets made us laugh.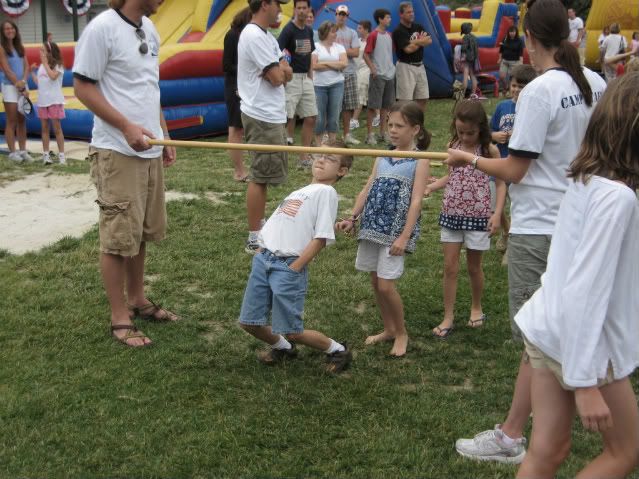 Isaiah and his partner came in second in the egg race. The prize was a gift card to a local ice cream shop!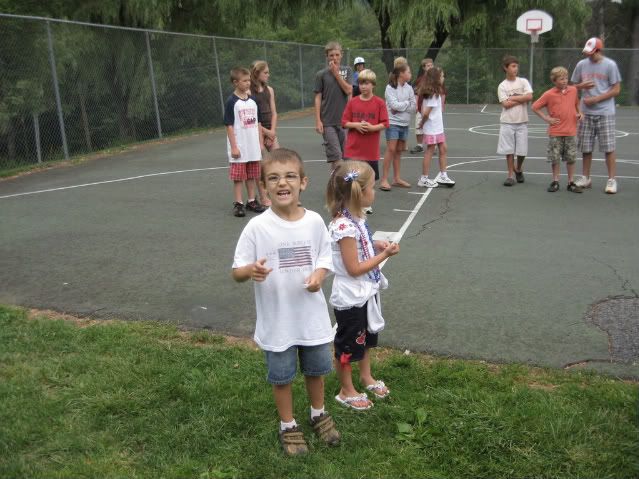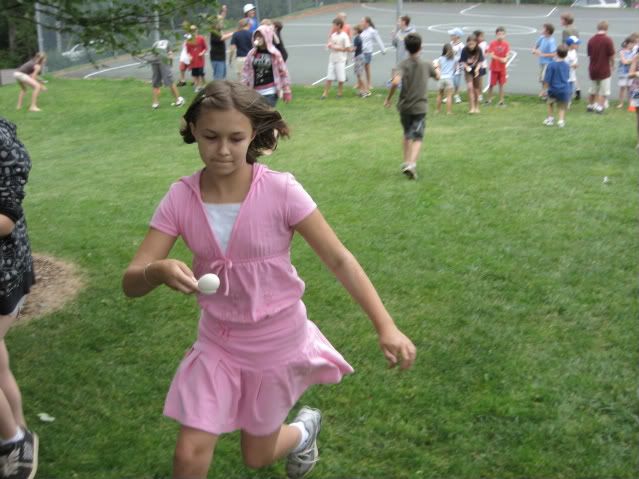 Our oldest 4 also participated in the watermelon eating contest. I wasn't sure they'd appreciate those pics being shared. It was fun to watch however.
Little cutie pie enjoying the day.
We enjoyed a free lunch provided by a local realty company - hotdogs, chips and lemonade. Really a nice thing to do for a very large crowd.
The last event of the day - well, besides the fireworks - is the parade. My children love this as some of the people toss out candy. Here is a shot at the beginning.
Soon though, it looked like this.
I decided to leave and take Eliana home. As Christopher, Eliana and I left, we tried running inbetween some of the store fronts to get a little bit of cover. It was raining hard though and we had no umbrella. We were getting soaked rather quickly. At first, when the rain started to fall, Eliana touched her head wondering what was going on. As we ran and she got wetter and wetter, her response surprised me. She started laughing - and laughing - and laughing. Well, this made Christopher and I laugh too.
Christopher commented that she probably had the best attitude of anyone about getting soaked. I agreed and reflected that our attitudes were probably much better as a result of her laughter as well. What a small thing ... laughter ... with power to turn something soggy into a sweet memory.
Thankfully, the rain cleared off enough in the evening for fireworks. We were able to stand on my parent's driveway and get a great view! All of the children (and adults) enjoyed the show.
Just a few more pictures. This is one of Rebecca with my mom. Rebecca made a flower arrangement as part of our Keepers of the Faith club this year and wanted to give it to her grandmother.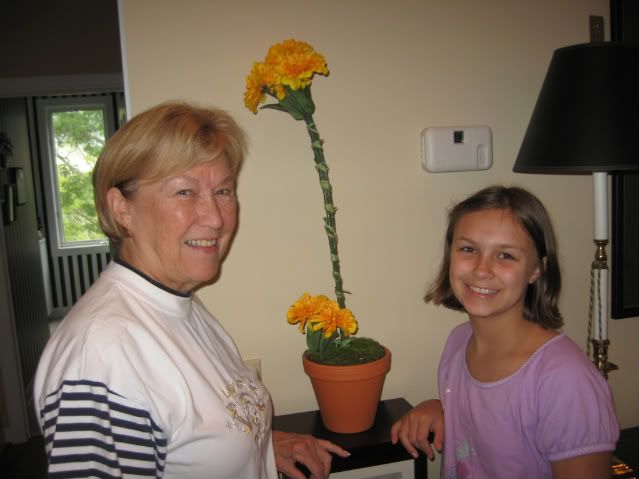 Daniel bought me a small chocolate car and was very pleased with the gift.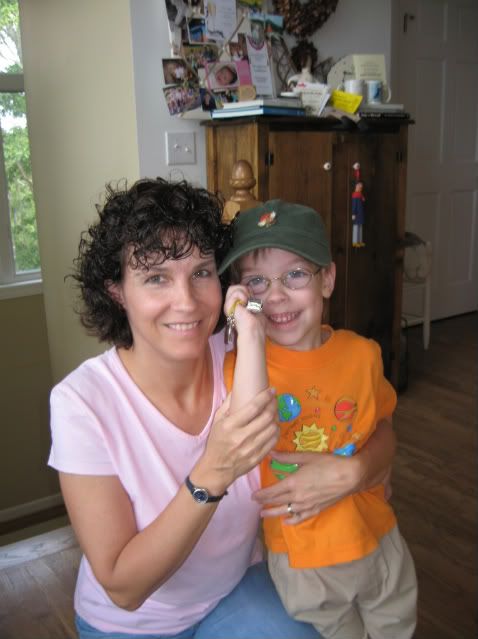 Last of all - a family photo. It's hard to get everyone looking, much less smilng. Overall, not bad though. ;-)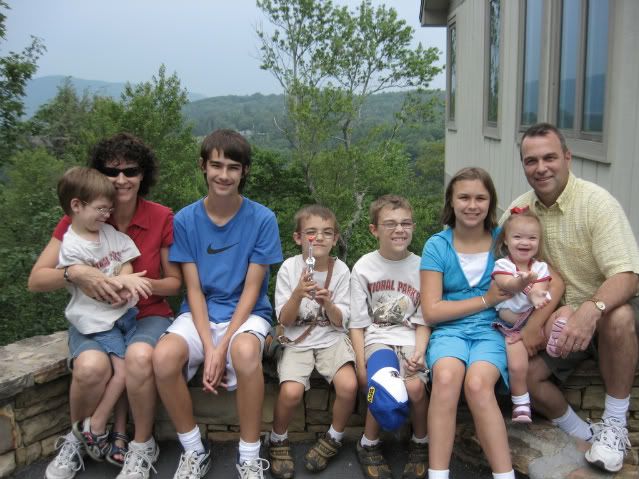 We have much to be thankful for as we celebrate the 4th! I'm grateful to be living in the United States. I'm grateful to the many who have sacrificed that we may enjoy the freedoms that we do. God bless America.
Blessings,
Leslie