Well, we have our first week under our belts. It was a little crazy - and not as complete as I would have liked, but it is a start! We have some traditions that our family has enjoyed for our first day. We typically go out to breakfast and talk about our goals for the year and pray. Roger joins us and it's a fun family time.
In our new style of just doing the best we can, we opted for a casual breakfast - much to the chagrin of my hungry 15yo. We picked up homemade biscuits at a great little restaurant and went to a local park. I thought it would be fun to play for a bit. Roger met us there and we prayed over our school - short and sweet. We didn't really talk about goals, but that can come later.
We had to hurry back for Eliana's therapy. Typically I have a surprise for the children in the form of new school supplies and goodies. Well, I didn't get to it this year. I have things for them - just didn't get around to putting them out. *sigh* LOL I will say that starting school the day after you return from the beach is probably a poor idea. ;-)
Here are some photos of my students. One of them did not want HIS picture taken. lol
A silly boy who dressed himself.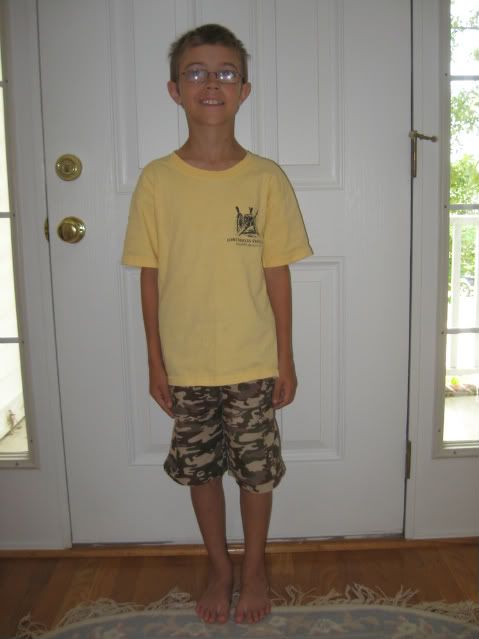 Here's some of what we did this week. We worked on some All About Me pages. I love doing this each year and recording information about them. I think that they will enjoy looking back and having this. We used some pages that I have made with basic information from height and weight to family members, interests and more. I also have them draw a picture of themselves and trace their hands. We also used some of the lapbook components from Live and Learn Press in our notebooks. This unit is a free one so check it out if you'd like to do one too! Just click on All About Me once you are on their site to download it.
This photo cracked me up. I didn't think our day was long, but somebody was all tuckered out! lol
We also completed our ice cream study. This too is a free resource found at homeschool share (see the link in my sidebar). We learned about the history of ice cream, how ice cream is made as well as making it ourselves. (We had to practice this several times!)
We ended the week with a tour of Coldstone Creamery. Yum! The tour was free and I encourage you to call if you want to tour one near you. We visited with friends and were told they could take a group of up to 15. I thought the 10 of us filled a lot of space in the small back rooms.
Some of us waiting for the tour to begin.
We toured the back area seeing the large refrigerator, freezer and place where they make ice cream. The ice cream comes in premeasured bags to which they add flavors to make the basic ice creams.
They also make cakes and let the children try their hand at icing the cake. We saw how they make waffle cones and cups using a waffle griddle.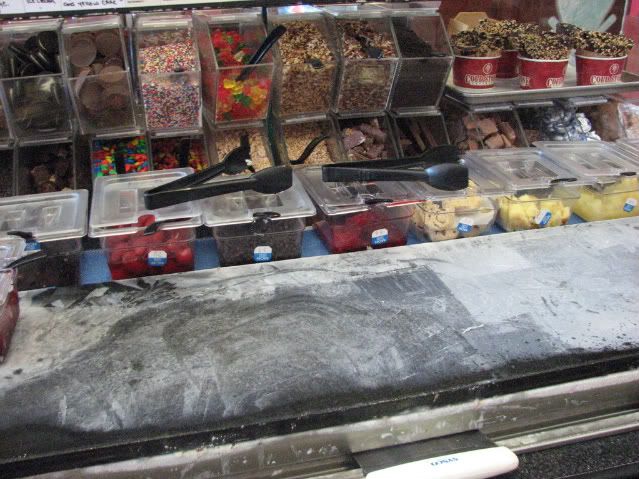 This is the frozen slab that the use to mix ingredients into the ice cream.
We had great hosts and it was a lot of fun. Of course we ended the tour with eating ice cream.
Christopher is working on some high school level things - writing an essay, finishing algebra, beginning chemistry and more. I'll post another time on all that we are using for his 10th grade year. He helps take some of the photos - and doesn't really like being in them.
There is always so much to write and never enough time to do it. I feel that way about so many things though and I'm sure it isn't going to change. More later on our upcoming week as we begin a study on the Olympics and Christopher begins Driver's Ed!
Blessings,
Leslie