I'm not sure if I've mentioned before, but I really enjoy holidays and creating traditions around them. I've begun to enjoy things being simpler though so as not to be stressed out during the holidays so that I don't enjoy them. Well, this year some friends on the Five in a Row board were talking about these "New Year's Eve bags". It sounded like fun and I thought while I was sitting around with my foot propped up that I could plan something fun with these.
Well, I didn't get to it until the night before and it still turned out wonderfully. I was helped in large part by many of my friends. They posted their activities and rhymes. I copied some, changed some and did a little (very little) of my own to make the night our own.
We invited friends to come over about 5pm and then the fun started. There was a little prep work in advance and some last minute shopping, but all in all it was pretty simple. Did I mention that I'm really liking simple?! Just wanted to share that part because I'm not a super mom by any stretch and this is something fun that anyone could do.
I downloaded a picture of a clock face from the internet and drew the hands on to represent the time that the bag could be opened. Inside each bag was a small rhyme and items to go along with the "hourly" activity. (Mine didn't always end up being on the hour - just adjusted so it worked for us!).
Here are the bags:
*5:00 – In the bag: paper plates, beans, stapler, markers
It's time to get loud, it's time to celebrate,
The party has just begun!
With markers and beans a noisemaker we will shape,
And have some FUN, FUN, FUN!
My younger boys especially loved making these - and then making lots of noise with them. Eliana also likes to shake things so she had a shaker of her own.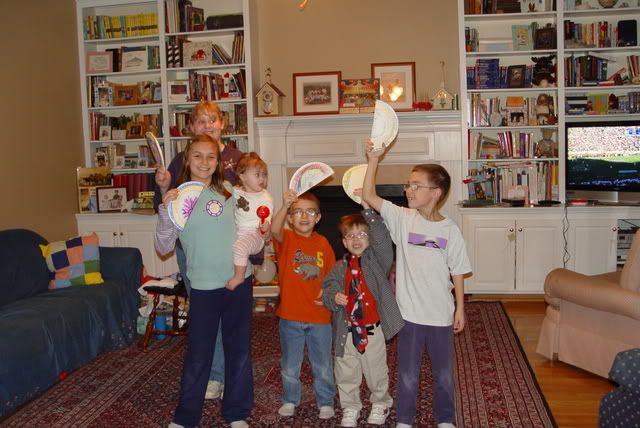 *5:30 – In the bag: cardstock with questions, pens, lollipops
We'll also think ahead - 2008 is almost here.
This surprise comes on a stick,
You'll enjoy it with a lick!
It's fun to reflect and think back on the year
We took some time to answer the following questions and share our answers. I'll put mine in after the questions. I think it will be fun to save these and look back on them next year or in the years to come. A fun item for my scrapbook - whenever I might get around to doing it. LOL
*Favorite book you've read this year So You Don't Want to Go To Church Anymore. It's not what it sounds like, but rather is a fictionalized story about a man and his walk with Christ. One of the main characters asks a lot of questions to get the other main character to really examine his relationship with God. It has given me a lot of food for thought too. I borrowed the book and liked it enough that I'm planning on buying it so I can reread it and share it with friends.
*Favorite trip you've taken this year The beach with my family. It was our first trip with Eliana and she was 9 months old. It was fun and relaxing and just nice to be together as a family.
*Name something you are most thankful for - Eliana's repaired heart. There are many other things I could list, but this was the first thing that popped into my mind. It was also what Roger listed.
*Something you have learned - This has been a process for me and I've shared it before. I have learned that God is good - even when my circumstances aren't. He loves me and it isn't shown by how things are going in my life. It's all about my relationship with Him.
*Something you hope to do next year - Travel with my family. I miss our trips around North Carolina. I miss long field trips. I think I'm feeling like this is something we can do again sometime soon.
*6:00 - In the bag: pizza crusts, olives, mushrooms
Is your tummy getting rumbly?
Are you ready for some food?
Pepperoni, olives, & cheese,
Sauce and dough ~ Make dinner please!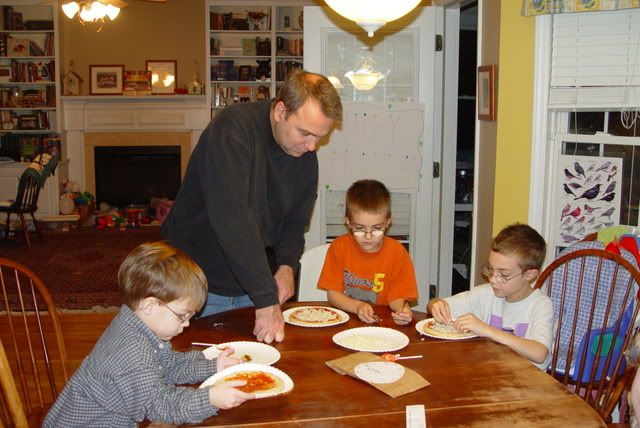 *7:00 – In the bag: Spoons game, colored cardstock, markers to make a "Goodbye 2007, Hello 2008" sign.
If your tummys are full and you are ready to race
You'll be grabbing a spoon to stay in the chase
Then let's make a sign to say goodbye
And welcome the new year with a loud cry!
Yes, I'm in the background on the computer. I'd been on my feet and was taking a break to prop up my foot. Spoons is a fun game that can be played with a group.
*8:00 – In the Bag: Makings for cookies – cutters, sprinkles
A better snack there never will be,
You can use your skill and creativity
You can add frosting, sprinkles too
As we wait for the year that is new.
*9:00 – In the Bag: Pictionary Jr, Bible Outburst, Cranberry limeade

Let's get out a game ... and test your skills
Drawing and knowledge ... this isn't a drill!
Let's play a board game for a minute or so,
Only 3 more hours to go!

This has been a fun game for our whole family. It works well with a wide spread of ages - and is short (can play as many times as you want) and interesting.
*10:00 – In the Bag: Movie – Ratatoille, popcorn
By now it's time for some laughs and a movie.
Has this been fun? Has this been groovy?
Let's all grab a spot and start the show,
Let's eat popcorn…. 1, 2, 3 … GO!

We hung a sheet up over the fireplace and used a borrowed projector to make a great big screen for our movie showing. During the evening, Eliana hung out, crawled around and played with lots of people.
*11:45 – In the bag: A scripture for each person to read. shake noise makers, take pictures, cups for bubbly drinks
It's time to say good-bye to '07,
A hug, a prayer, a sweet drink for the toast,
Happy New Year, it's 2008
Watching the ball drop will be great!
I think this was one of my favorite New Year's Eves. I look forward to doing this again!
With love,
Leslie

May the God of hope fill you with all joy and peace as you trust in him, so that you may overflow with hope by the power of the Holy Spirit
Romans 15:13


The steadfast love of the Lord never ceases; His mercies never come to an end; they are new every morning; great is your faithfulness.
Lamentations 3:22-23