We held a joint birthday party for Joshua and Isaiah and a few of their friends.  We did something different this year.  Or maybe I should say that *I* did something different this year.  To back up a bit for those that don't know me IRL.  I love making a big deal out of birthdays and birthday parties.  We tend to go all out in terms of a theme and decorations (all homemade but still fun). 
This year while at a local homeschool fair, I won a prize.  It was a free birthday party from a gal who does science experiments.  Sounded like fun.  I have to confess though that I wrestled with whether or not to do this for their birthday.  I even felt guilt about doing it.  I considered just having her come for a fun day and for their birthday.  Joshua wasn't all that excited about the theme (adding to my guilt).  He was content though with playing airsoft on his birthday.  Isaiah however was very excited about the theme.  So in the end (and yes, I kind of waited until the last minute to plan it all out), we had a science birthday.  And it was a lot of fun!
We set up in the garage so we'd have space for messes and to get out of the heat a bit.  (It is has been a really hot month!)  Lynn was a scientist working with Nasa and gave the kids a lot of space information. 
She asked for volunteers for a variety of questions.
Here are some of the experiments.  We saw George Washington "shiver".  When you place a quarter into dry ice (don't touch the dry ice if you want to do this at home unless you have on good gloves!), the quarter will rock quickly back and forth until it reaches the same temperature as the ice.  At that point, the quarter is still.  Interestingly enough, she said it happened (the coin freezing) much quicker in the heat. 
She made astronaut shampoo.  I think this was the hit of the party.  I think it was dry ice, soap, water and some food coloring.  Remember this picture too! 
They each scooped up some of the shampoo (several times).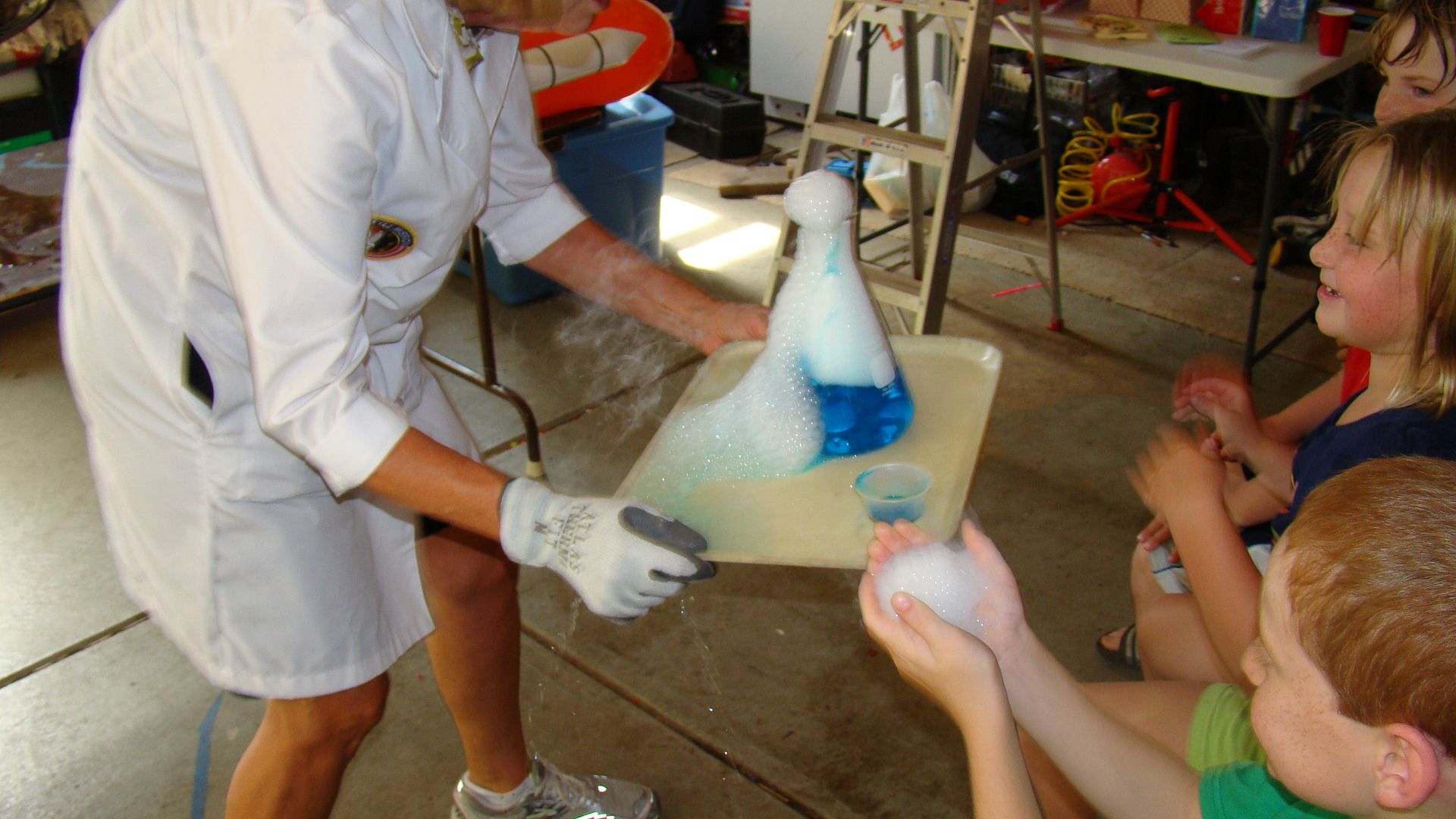 And, yes, in case you were wondering, they did put it in their hair.
She made a portable  "air conditioner" with more dry ice (and water).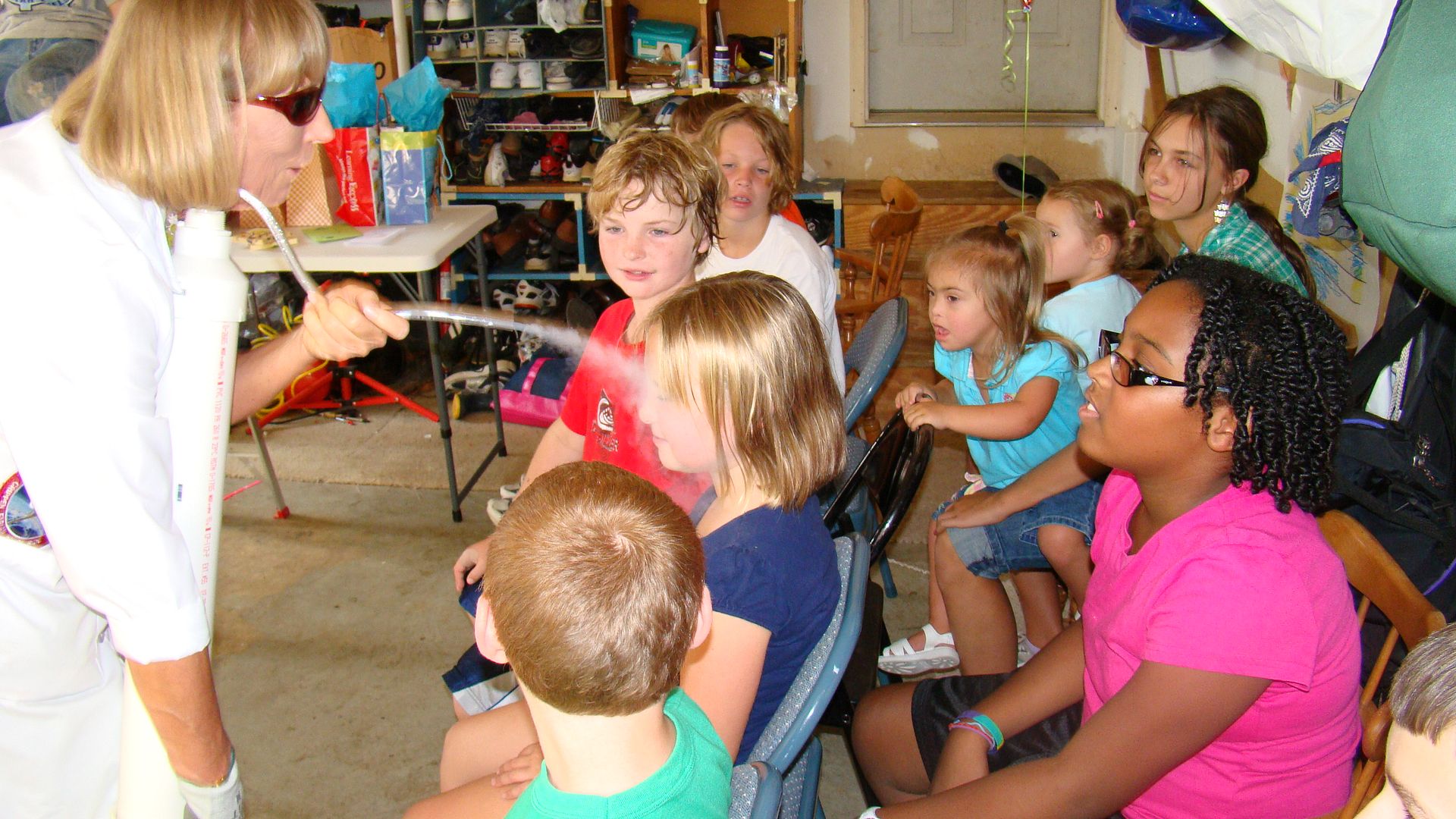 When you dipped this into bubble solution, you got "bouncing bubbles".  They didn't bounce so well on the garage floor.  She said it worked better on carpet. 
Making clouds.
Levitating a ping pong ball.
Using an "air zooka" to blow out a candle. 
Remember the astronaut shampoo?  Well I didn't know about it ahead of time.  I wanted to make a "science cake" and Rebecca found a picture and directions for me on the internet.  Check out the birthday cakes!  (One is vanilla and the other angel food - lower carbs.)
They each had their own cake so that they could blow out candles (and so that we had a lower carb option).  We had some teens drop by too and were able to get rid of all of both cakes too!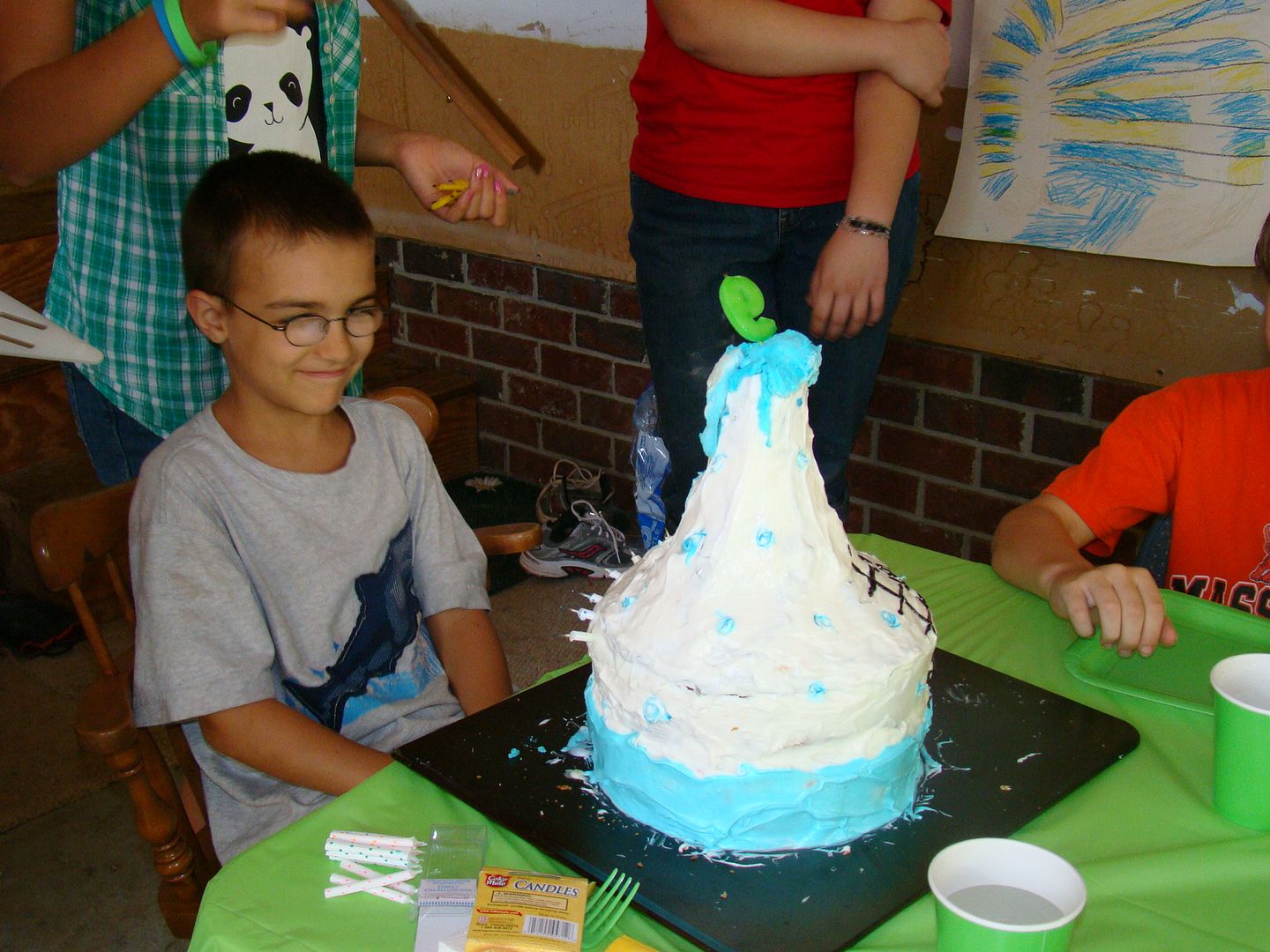 When the cakes were eaten, Isaiah took the top of the "test tube" part of the cake.  It was a paper towel roll covered with tin foil and then icing.  And well, he got Christopher with it.  Christopher was a good sport about it all - fortunately for Isaiah.    (Not e the icing on his shirt and arm.)
The boys received some nice gifts.  I had to show you this one though.
All in all, it was a really fun party.  The verdict for me?  Much less stressful way to have a party.  My friend Catherine and I had talked about having a party planning business years ago when our oldest kids were young - as a something to do someday.  I can certainly understand the beauty of having someone else responsible for the main part of the event.  It probably won't happy around here though due to cost and it is just fun to plan sometimes.  We'll see.
If anyone local wants a referall, I'm happy to provide it!
Blessings
Leslie
PIC
PIC