We spent a simple day with our girl. We were scheduled to have physical therapy, but it was cancelled due to her therapist not feeling well. That was probably a nice thing for Eliana as this is the hardest of her therapies. It also allowed us to get in a nap before the party started.
We had some friends join us for food and fun. Eliana was wearing a cute little apron that her Nana made with a birthday cake on it (with 2 candles). We took this off once the eating began so that it wouldn't get ruined. (Not the best pic of Eliana, but you can see her cute outfit.)
We decorated simply - a princess theme for the table and pink and white balloons. We had a dinner of one of her favorite foods - really one of the only "real meals" that she eats - spaghetti!
I made a yellow cake with chocolate frosting for our birthday girl. After I looked at pictures, I realized that it was almost identical to last year's cake!!! I didn't write on it which may be why the lettering looks different on them.
Eliana tried blowing out the candle. I'm not sure if she actually did. We thought she did until one of her brothers confessed that he had been blowing. lol
Eliana ate a little bit of cake - but mainly she was thrilled to have a fork. I haven't given her a fork much as she mainly feeds herself with a spoon (with help). So, she was intrigued with this fork. She did stick it in the cake and sometimes got it close to her mouth. I'm not sure if she actually ate any cake, though she did have some of the frosting.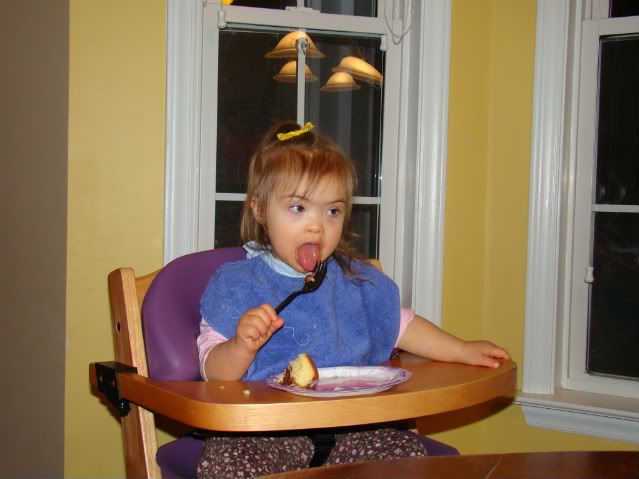 What she did enjoy was ice cream! Eliana loves ice cream and does really well eating it. I think that the cold of it helps her to close her mouth better. She ate a big bowl of it.
We opened gifts. She received some new toys, a new Baby Signing Time DVD and a rainstick (with mirrors on each end). She also received a musical card from her aunt which delighted her. She would open it, listen and laugh. It was playing the song "Who Let the Dogs Out". I was delighted to see Eliana signing "dog" after she listened to it.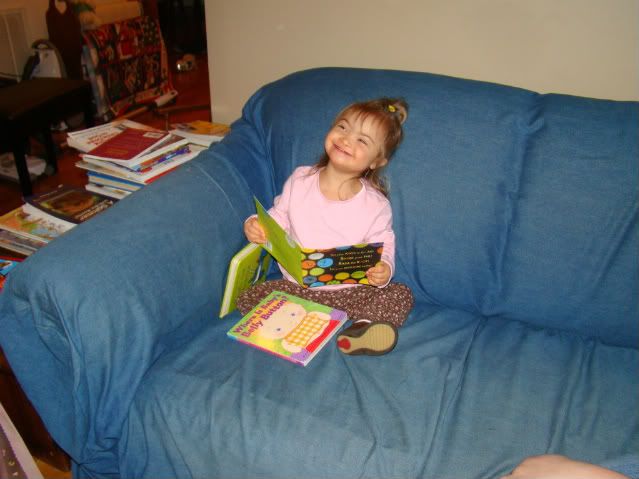 She received another musical birthday card from a dear friend which also delighted her - it was Rachel from Signing Time singing Happy Birthday. You can view it here if you want.
It was fun celebrating our sweet girl. I can't believe that she is 2!
Blessings,
Leslie