Like so many things in my life these days ... I'm behind. LOL My sweet Isaiah turned 6 a couple of weeks ago. He is a funny and delightful. I can't wait to share some of my thoughts on memories on this special little boy.
When he was born I thought he was one of the most beautiful babies I'd ever seen. (Well, one of the top 4 at that point. *grin* ) He has the most gorgeous eyes - big brown soulful eyes with long dark lashes. You could get lost in his eyes.
My precious baby became a little more difficult as he hit the toddler/preschool years. He was defiant in ways my other children had not been. Some days he was just not fun to be around. As I prayed about how to deal with my child, God convicted me that there were times that I treated him like he was difficult. Ouch! He was just living up to my expectations. The gentle suggestion was to change my expectations in addition to the way that I viewed this precious gift. As I did that, I was amazed at how he responded.
He has become much more affectionate and loving. Oh, he is still strong-willed. He gets mad easily and if he is hurt or embarrassed he doesn't want anyone around. I sometimes want to throw my arms around him and make things alright, but have had to learn to let him work things out in his own way.
Isaiah is confident, imaginative, dramatic, interesting and outgoing. For Christmas this year, he proclaimed loudly that this was the "best Christmas ever". I felt guilt as I had thought that it was anything but. I had dreamed of the peaceful time of having a new baby in the house at Christmas, but the chaos of a stay in NICU and a medically fragile child with a variety of health issues and struggles with feeding sure didn't make things seem great to me. I was thankful for his fresh perspective on everything! On Christmas morning, he announced loudly to everyone that he had a story to tell. (I wish that I'd thought to film this.) For those that don't know him, Isaiah has an incredibly deep voice - and has since he was a toddler. I wasn't sure what he was going to share. With the incredible imagination in this small boy's body - there was really no telling. Once all eyes were on him, he proceeded to share the most beautiful version of the Christmas story. It was the highlight of the day for me.
Isaiah is one of those people that never meets a stranger. Even solicitors that show up at our door can get an earful. I remember going one of our history trips and watching Isaiah chat with one of the reenactors for a good 15 or 20 minutes - asking all sorts of questions. He is quite curious and loves to talk with others. Given his imagination sometimes the conversations are really good!
Just before his birthday we had a conversation about gifts. I'm fairly certain this (gifts) is his love language. He loves his little sister and wanted her to be included in the birthday planning - and he presented his idea to me.
Isaiah: Mom, Eliana wants to buy me a birthday present and I know how she can do it.
Me: Is that right? Tell me more.
Isaiah: You can take Eliana to the store and whatever she points at is what she wants to give me.
Me: (Thinking hard here to see if I can stump him) OK. What if she points to a pink and white polka-dotted umbrella? (It's the best girl thing I could come up with off the cuff.)
Isaiah: That would be fine.
Me: What if she picks a doll?
Isaiah: Well, that would probably be her idea for Rebecca and she could point to something else for me.
I had to laugh. Isaiah has a very quick wit and his timing is quite good for one so young.
For our children's birthdays we let them choose the foods and some activities. Rebecca planned a wonderful scavenger hunt with a pirate theme for our pirate-loving boy. (Like Isaiah she also has gifts as one of her love languages and loves to go all out on planning something special.) The hunt ended in our treehouse/swing set which Christopher, Joshua and Rebecca had turned into a pirate ship complete with mast and sail. Rebecca's present to him was there as well - a pirate outfit with hat, boots, sword and even a parrot to sit on his shoulder. It was all really sweet - and he loved it!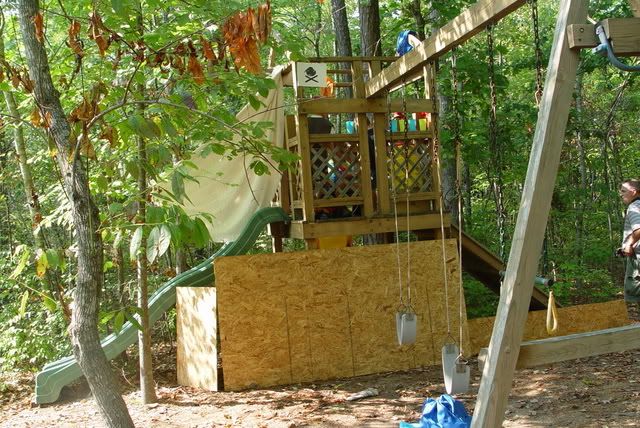 The pirate ship in our backyard.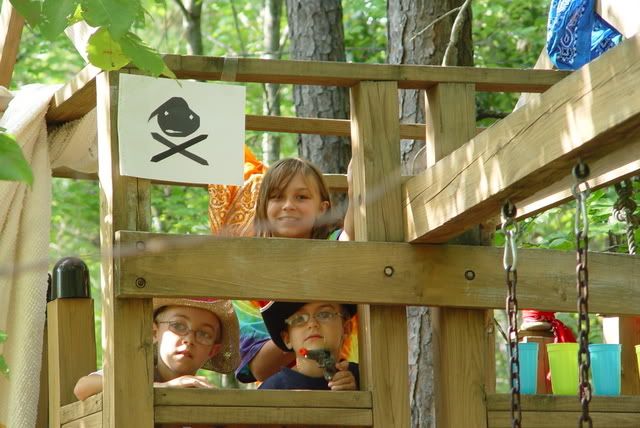 A close-up of the pirates.
In the late afternoon, we picked up McDonalds (Isaiah's choice) and took it to a local park for a picnic. After playing we headed to Coldstone for ice cream (free on your birthday if you join their birthday club - we had 2 boys getting it free!). Friends met us and it was a sweet ending to the day.
My precious Isaiah, I am so thankful for you - for the joy and laughter that you bring to my days, for the questions you ask that cause me to seek and for the ways you have pointed me to God. I am thankful for the ways that you stretch me and teach me and love me. I am so very glad that I am your Mom. I love you!
Mommy