We've been having fun this week - with school and also in adding in some Easter things. Part of the fun was going shopping on Sunday with two of my dear friends. We were all looking for craft supplies for our workboxes. We hit the jackpot at the dollar store and also at the dollar bins at Michaels. Go check it out if you haven't already.
I put this in my 13yos box.
This was to make fabric covered eggs. You can find the directions at the V and Co. (Thanks Vickie for sharing this with me!) They were very cute - but it was a little trickier than it looks to get those smooth ends. Still a pretty centerpiece for our table.
We also found inspiration at the Crafty Crow for Easter Egg Suncatchers. All you need is contact paper and a variety of craft supplies. We used paper, feathers and sequins. It was easy and fun.
We used an egg shaped pattern and taped it to the table. Next I taped a square of contact paper on top of the egg - sticky side up! The egg is just a guide for the child to use for decorating. The child can then decorate the egg using sequins, ribbon, paper, feathers, etc. When finished, lay another piece of contact paper on top and then cut out in an egg shape. We hung ours in the window in the kitchen.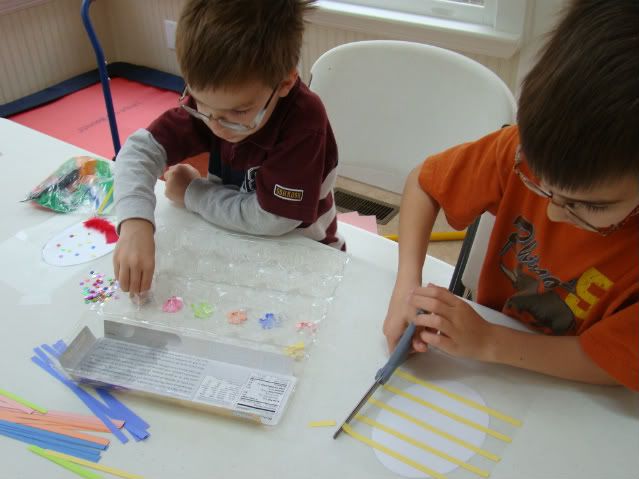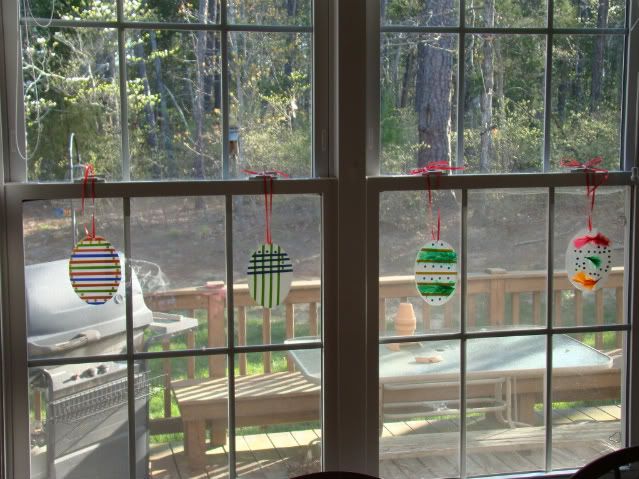 My friend Jen LINK shared an auditory discrimination activity that we enjoyed doing.
Get 12 (or however many you want!) plastic Easter eggs. Fill 2 with some beans, 2 with rice, 2 with a rock, 2 with something else, etc.
The child shakes the eggs and tries to find 2 that sound the same. It's basically an auditory discrimination activity...good for pre-reading (they are being trained to hear differences in sounds) and fun because you have little instruments and Easter eggs. :)
Tomorrow we are doing the Resurrection Eggs. I split up the pieces into the younger boys boxes and think they'll enjoy that. We are also doing some watercolor egg paintings using this pattern. I have some sweetart candies (chicks, bunnies and ducks) to give out as motivators. (It worked really well here today. lol )
Next week we'll be working on these finger puppets. Aren't they cute?
We are also reading the Easter story in a 40 day devotional called Journey to the Cross. This book is wonderful! It gives lots of background information that helps to give the story so much depth. It has also helped me to understand and appreciate the Easter story with new eyes each year we have read it. I know it is too late for this year, but maybe you can look for it now and have it on hand for next year.
That's all for now. It's late and morning always come so early. lol
Blessings,
Leslie