For the last six years our homeschool group has put together a wonderful day that we call our "Family Event". We hold the event on a Saturday so that the Dads can join in the fun. It is a time of games, food and always lots of fun. We plan the event around a book or books used in our curriculum - Five in a Row. It's been a very hands-on, creative and effective way to learn about a country, place or time period.
This year we chose the book Follow the Drinking Gourd. It is a story about a group of runaway slaves during the Civil War and their flight to freedom. For our location this year, we met at Bennett Place. This is one of our state's historic sites - a Civil War site where one of the major surrunders of the war took place. Being able to have our event here added authenticity in a way that homemade props couldn't. The staff were wonderfully accomodating and made this a much easier event to plan and carry off than some we have done in the past.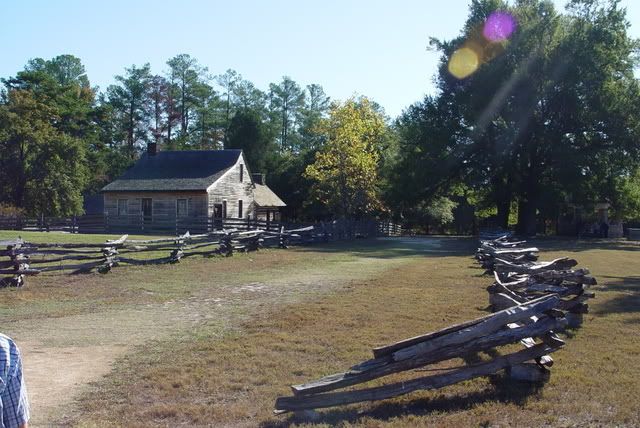 This is our wonderful group!
In order to pull off a large event, each mom in the group takes on a job so that the work is distributed and doesn't fall on just a couple of people. This has worked so very well and I know it's because we have such a delightful group of moms/families in our group!
As we walked up to the event, we were greeted by signs telling of our day.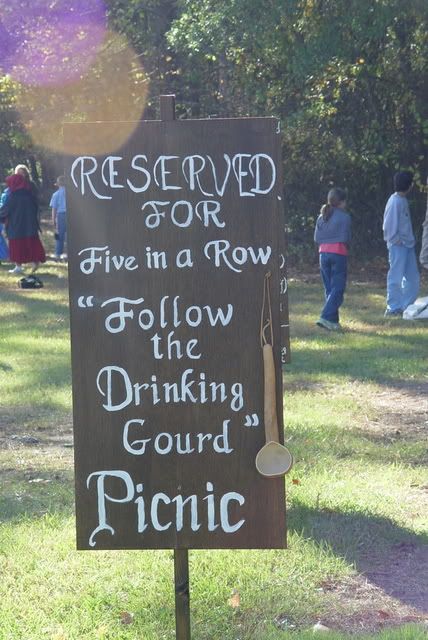 We started our morning with a couple of activities. The folks at the historic site gave our group tours of the buildings and told of events that had happened at this site in addition to sharing stories of the time period. This is the first year we've had someone outside of our group participating in a large teaching portion (though we did have square dance callers during our "prairie" event). This worked well to take some of the load off of the moms and provide for a more relaxing day for all of us!
We also had areas where the children could play games - checkers, playing pretend with a stretcher, playdoh shapes or just making up their own fun.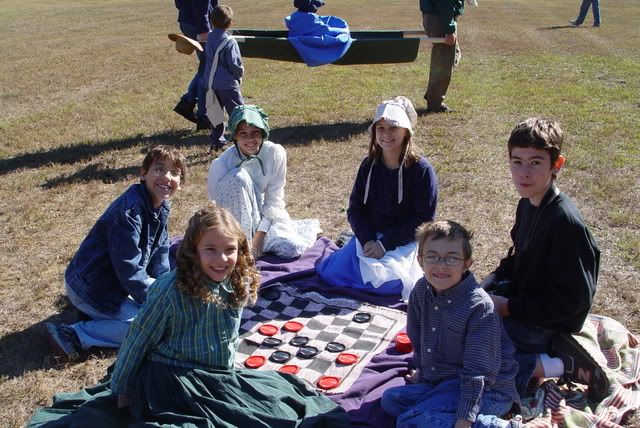 We had a potluck lunch. We divide up the type of dishes and there is always plenty to try. We select recipes or food items from the country or time period and use this to set a beautiful table. The food is always fun, interesting and bountiful!
While we ate lunch picnic style, we enjoyed music from the brother-in-law of one of the Moms. He did a great job and even learned the song from our book to play for us!
The highlight of the day came after lunch. The children went on a "scavenger hunt" type of trail - reenacting the flight to freedom from the book. The trail led through the woods and their were signs on the trail (just like in the book) as well as reward posters for the catching of a fugitive. The children were to find their way along the trail in order to end in freedom. We had 9 stops along the trail. Five of them were manned by a character. We split into small groups so that the experience could be better enjoyed by all.
To start the journey, the gal that designed the trail set the stage telling of possible dangers and the need to be swift and brave. She was very descriptive in her dramatization and then asked our 6yo if he would lead the way. After thinking for just a moment, he replied ... "Ladies first". (What a funny moment!)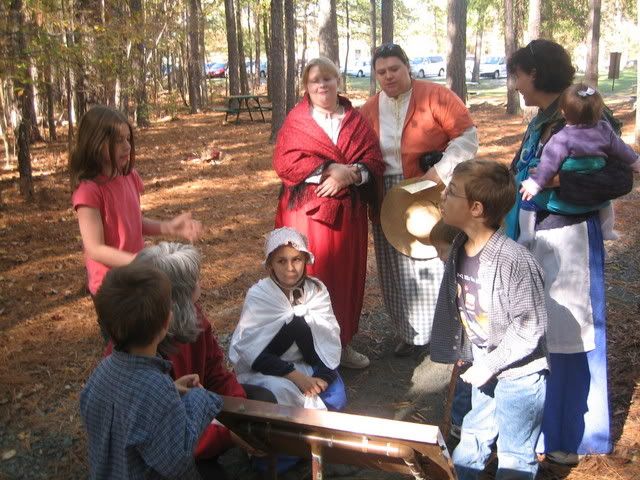 I wanted to share this photo of the start of the trail so you could see a little of how the woods looked and see that it was dense and large enough that one stop could not be seen from another. We followed signs and marks in the woods to find our way.
Our first stop was to see Peg-Leg Joe who was working and told the slaves about the route to freedom.
From there, we had to cross a stream in a boat.
Hide in a tree from wild dogs who were chasing us.
Hide in a cornfield.
Hide in a cemetary.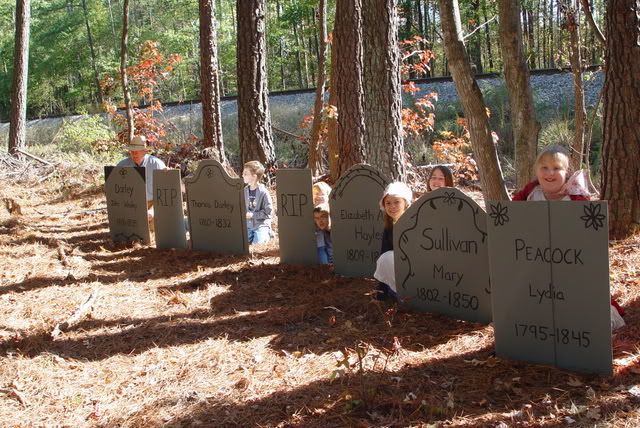 We were met by a kind boy that offered us food.
We were taken in by a farmer who hid us in his barn. (It was an underground secret hiding place in the book.) We were blessed to be able to use a real old building/barn in the woods for this stop.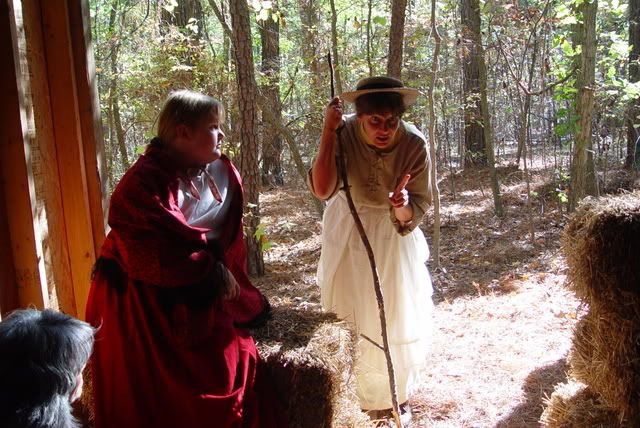 The next stop was at the home of a quaker abolitionist. The quilt outside let us know it was a safe place. While there she treated us kindly and then sent us on the last leg of the journey.
We finally reached Canada and freedom!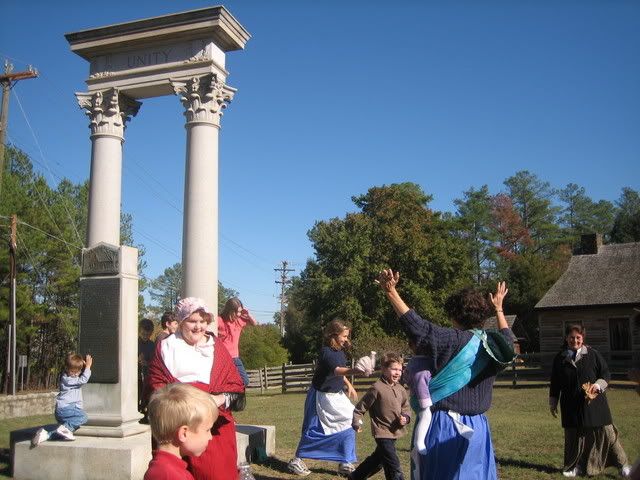 Just a cute photo of Eliana dressed for the day.
I have soooo many pictures that it was hard to narrow it down - even so, this is a lot of photos. I hope you enjoyed having a peek at our day. I love so many things about this day - it's fun, hands-on and interactive. I love including the Dads. I love seeing the moms all work together to pull off a fabulous event. It's teamwork at it's best! I'm thankful to be a part of this group!
Though this happened last November, it's been something I've been wanting to share. It seems that there have been a lot of other things to post about since then and I'm just now getting around to it.
I've been so blessed to be a part of this Five in a Row group. I remember when I had been praying about starting a new homeschool group and approached a friend about the idea. She loved and and added that she had also been praying about it - and that I would start one! I love seeing God's hands on things right from the start. Thank you dear friends for all that you do to make this group wonderful!
With love,
Leslie