Last week I went shopping at a local educational store that was having a teacher appreciation night. While looking at educational things for school, I also wandered into the toy area. There I spotted the cutest doll. I've been wanting a doll for Eliana and debated buying one for her last Christmas. I didn't. She has been playing with Rebecca's Bitty Baby (which is still a little big and heavy for her).
Well, this doll looked perfect - just the right size, soft cloth and not too heavy. I called Roger to see what he thought about buying her a doll and he said go for it! She also has a feeding set (bowl, spoon, baby food, bottle and bib) that we'll give her another day. Small steps.
When I pulled out the doll today, the boys wondered why Eliana was getting a gift. No good reason except that I don't want to wait another 7 months for her birthday or Christmas. I told them she was getting an early birthday gift. I think she'll get good use of it too!
I wrapped the doll up in a blanket and handed it to Eliana.
There are always a few people to look or cheer you on when you are doing something around here.
The doll has a pacifier that magnetically attaches to her face (which is what Eliana is holding in her hand). This is her first doll hug.
Do you think she is a little bit happy to have a new doll?!!! Her comment was "ooooooohhhh".
Next, she gives her doll a kiss. This was all spontaneous with no prompting from anyone else. I love to see the nurturing aspect of her personality!
Rebecca ran up to get her old stroller from the attic. Eliana was thrilled to put her doll in it and give her a ride around the house. First she had to be buckled in though.
Next, she ran to the cabinet with the children's cups and plates. She retrieved a few things for her doll in order to feed her. Again, she inititated all of this.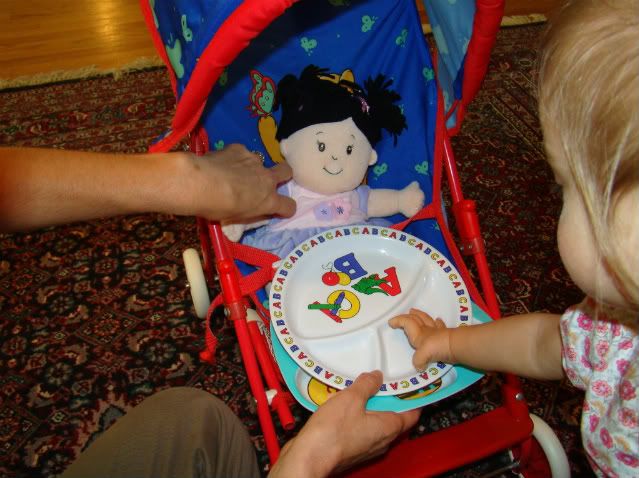 Later in the day, she was reading a book to her new doll. So cute! (Please excuse the grape juice stains all over the chair! lol )
All of this may seem just ordinary - and in a way it is. Pretending is something that 2 year olds do all the time. This milestone though for a child with delays is sweet. It's not something that is always typical and it encourages my heart to see her playing and pretending with her doll. It is often something that has to be taught and learned. Rebecca has been playing dolls with her so she has had opportunity to learn.
It gives me pause to thank God for this milestone - something I never thought to do with my other children. There is much that I don't take for granted anymore.
This is a big step. It was so much fun to watch. Thank you God for the opportunity to slow down and appreciate more. Thank you for the chance to appreciate the small things and celebrate so many little steps. It is sweet and I'm thankful to be right here!
Blessings
Leslie