We had a fun day today tucked with little surprises. All the thanks are due to Rebecca. I am thankful she enjoys holidays and fun traditions. I'm thankful that she is willing to come up with new ones and just looks for ways to have fun with her siblings! I hope they all realize what a great big sister they have. (I'm pretty sure that they do!)
The first surprise came at lunch time. Rebecca made a delicious Irish Soda Bread. (We devoured it!) She wanted to back money in it for a surprise, but I wasn't sure about the cleanliness of it - so the coins were left out. Did I mention that the bread was incredible? The picture doesn't do it justice.
Rebecca also made some green deviled eggs. (A great snack for Joshua because they have no carbs. He however was VERY suspicious of the color and wouldn't buy that they just came that was today. lol )
Lunch also included green apples and pizzas with "shamrocks" (made from pepperonis).
After dinner, Rebecca and Eliana made sugar cookies. (Sorry, no picture) She told the boys that she had seen a leprechaun running toward their room. If they caught him, there would be a surprise. So the boys went to look for him - and find him they did. He had a note to go back to the kitchen.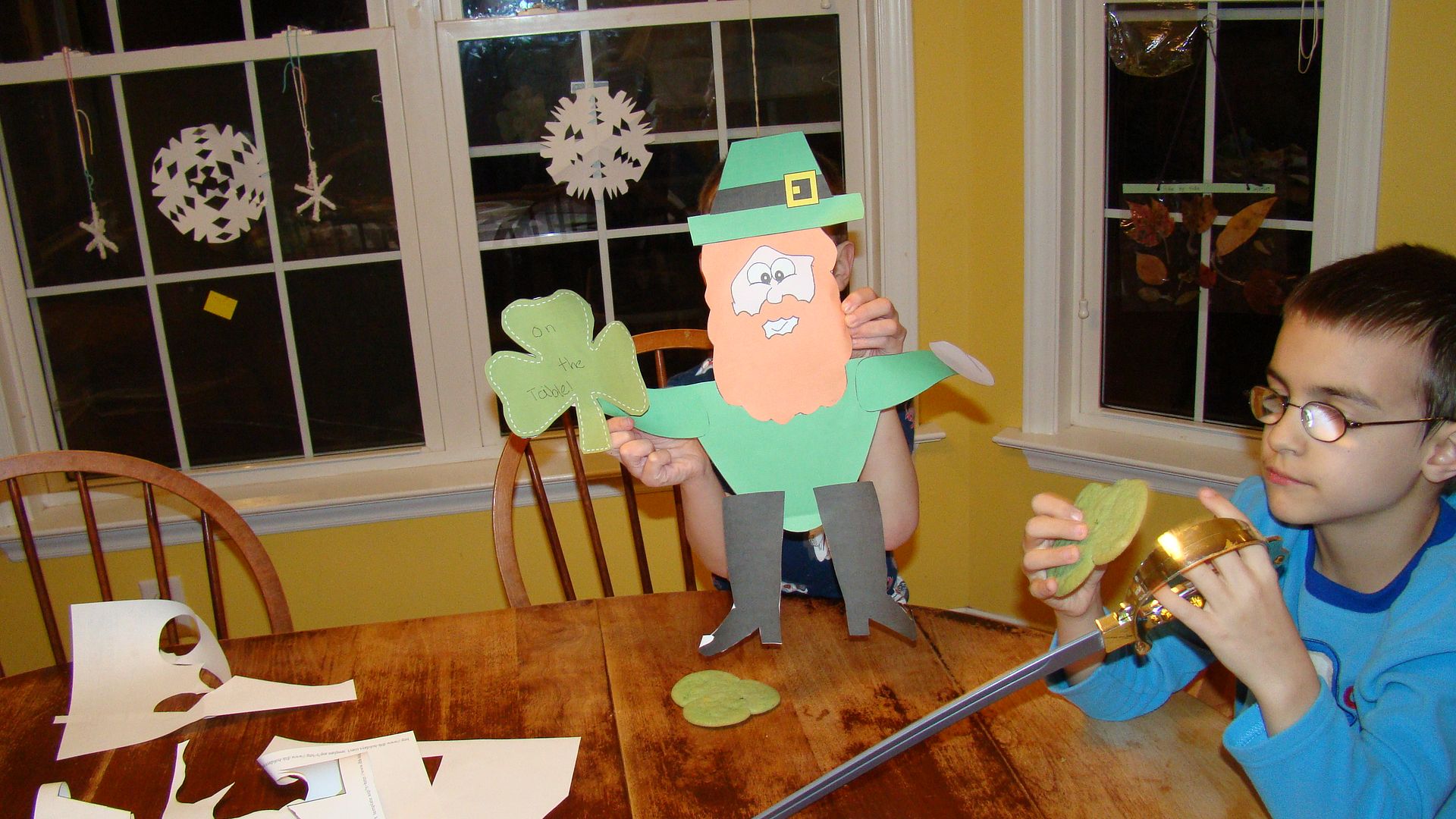 The surprise - green sugar cookies.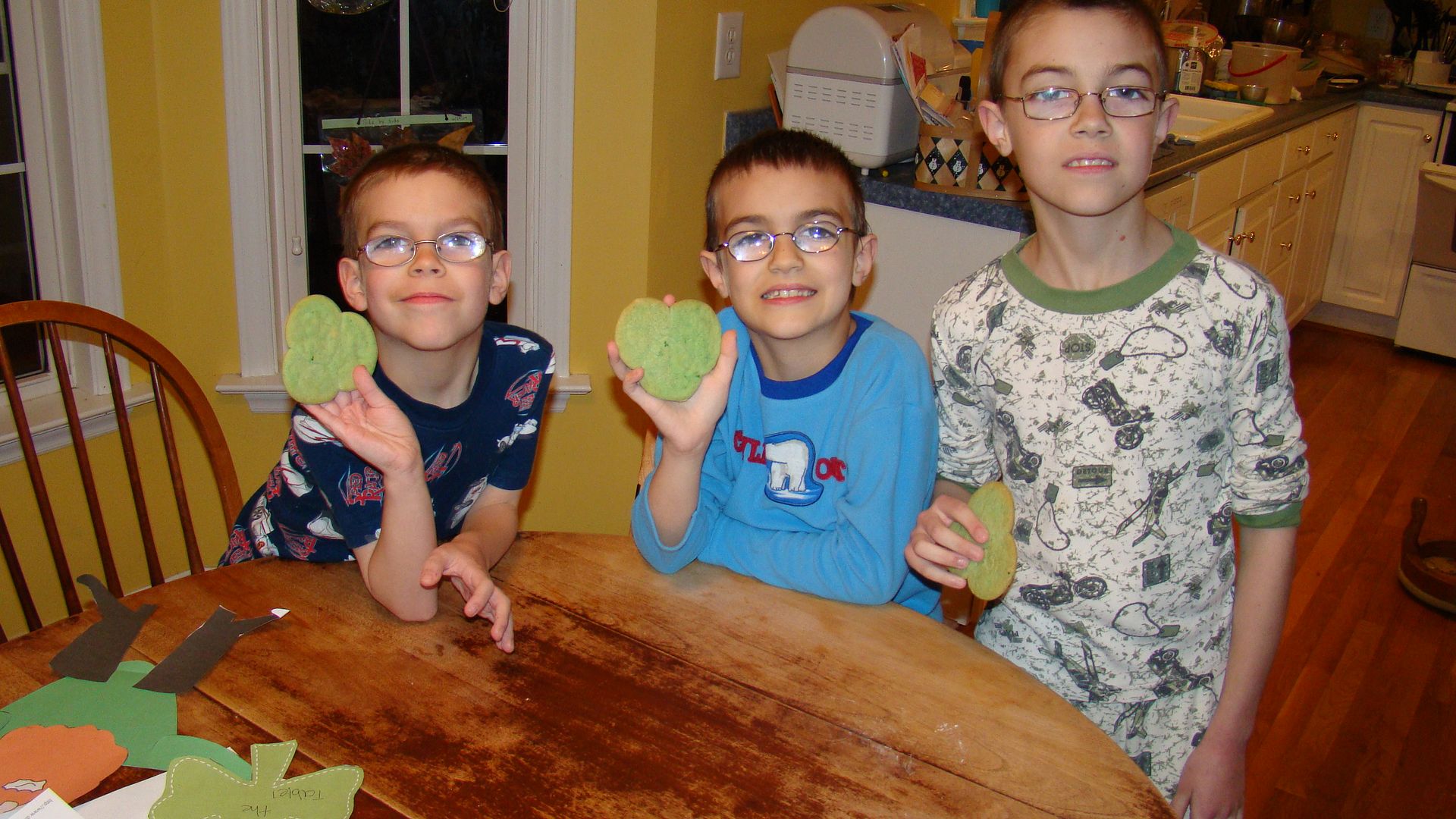 We all thought they were yummy.
Thanks Rebecca for making our day fun - and making sweet memories for ALL of us! You are a treasure sweet girl.
PRAYER REQUEST - Tomorrow (Thur), Daniel has another appointment with the neuro - opthamologist. For those not familiar, he has a swollen optic nerve. He had an MRI a year ago and underwent more testing in November. They have ruled out a brain tumor. The doctor did find some calcification on the nerve. I'm not sure what that means for him in the long run or if anything more will need to be done.
The doctor (who was wonderful!) wanted to wait to see how things progressed. It has been 3 months. I'm preparing for a hard afternoon for our little man. Would you please pray for him?
The last appt had numerous tests which were very hard for him. I imagine that he may be resistant to doing them again. With some of his sensory issues, the tests can just be a little more of a challenge.
Would you please pray for clear results, wisdom for the doctor, no pain for Daniel, patience for me and good news?
I didn't write about this, but I found out at Eliana's last appointment that her optic nerve was looking unusual too. The doctor had thought this in her fall appt - shortly after Daniel's appt. She didn't tell me that then though as Eliana had a bad appt and she had a hard time getting a good look at her eyes. During her last appt, Eliana was very cooperative. She looked for awhile and then left and brought in another doctor. You know that is cause for some concern. Thankfully, Eliana cooperated with her too. She looked and then pronounced that she didn't think Eliana had glaucoma! Happy tears. I was thankful to not even know that this was a possibility. Her issues though are not the same as Daniel's and hers seem to be fine with no further follow-up needed other than her routine eye exams. She is a little far-sighted, but at this point does not need glasses. (My girls seem to have a totally different eye pattern than the boys.)
I'm rambling. We would love prayers for Daniel. I'm not planning on telling him about the appointment until about lunchtime. I think he would just fret and I want him to have a fun morning. Thank you in advance for praying and I'll post something when I know more.
Blessings
Leslie